The Texan pro signs with the Maine brand.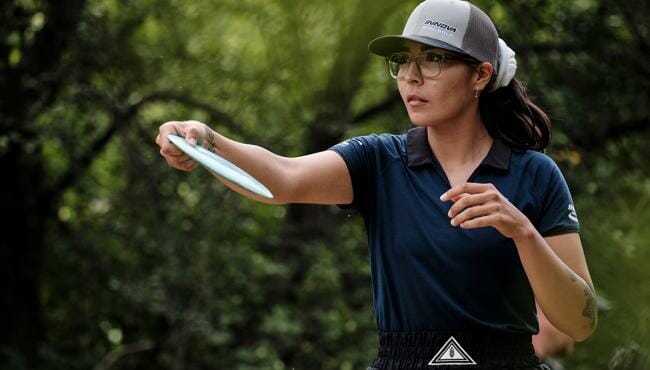 After five years of Innova sponsorship, Maria Oliva has signed a new one-year endorsement deal with Thought Space Athletics.
"I was tired of people not seeing my worth, and TSA immediately helped me out and figured out a contract that was best for me," said Oliva. "I'm stoked to be working with a small brand that I truly believe in!"
She becomes the second major addition to TSA this offseason after the company announced a two-year deal with Thomas Gilbert last week. Oliva will receive a monthly stipend and royalties on signature disc sales, standard with most modern disc golf endorsement contracts.
"Maria is a role model, creative, and kind," TSA said in a statement. "A top-tier talent who is one hundred percent herself. We are beyond excited that she has chosen to represent Thought Space and look forward to what the future has in store as we grow together."
As with other TSA contracts, Oliva will be permitted to throw a mixed bag. She says she will be bagging a TSA Nebula Ethereal Construct, TSA Pathfinder, TSA Votum, Infinite Anubis, Infinite Emperor, Infinite Alpaca, and a Kastaplast Berg. She stirred the rumor mill this week when she posted an Instagram video that showed an MVP disc box in the background; most TSA discs are molded by MVP.
Oliva finished 12th in the Disc Golf Pro Tour standings in 2022, buoyed by five top 10 finishes at Elite Series events and Majors. She held the lead at the US Women's Disc Golf Championships before ultimately finishing in 4th place. Her rating improved from 934 to 947 in 2022.