Lone Star signs Nikko Locastro, re-ups Chandler Kramer, signs hundreds of local players to low-level sponsorship
There are now more than 100 active disc manufacturers with PDGA-approved molds. More than 200 new discs from those manufacturers have been approved in 2022 alone. The disc golf boom since 2020 has driven a huge increase in manufacturing, and for every Innova in the market, there is a company that you have never have heard of.
Lone Star Disc is one of the new kids on the block. Based out of Conroe, Texas, about 45 minutes north of Houston, Lone Star got started in disc golf, like so many, during the pandemic. Terry Dillard and his family run an injection molding business that primarily serves the oil market. When the economy ground to a halt two and a half years ago, Terry's sons — long-time disc golfers — suggested that Lone Star try their hand at making discs.
In 2020 and 2021, Lone Star had eight discs approved for PDGA play and were mostly a niche company familiar to Texas locals. Initially, the discs were all named after members of the Dillard family.
Now, they have buzzy sponsored pros, including Chandler Kramer, who surged into the public consciousness during an inspired run at the European Open; Nikko Locastro, who is in the middle of serving a six-month PDGA suspension for getting into an altercation with a PDGA rules official; and Leah Tsinajinnie. The company has also signed hundreds of lower-level players to its bottom sponsorship tier in recent weeks, sparking a wave of new interest in the brand. And they are up to 27 PDGA-approved molds with more on the way.
Lone Star Takes a Chance on Nikko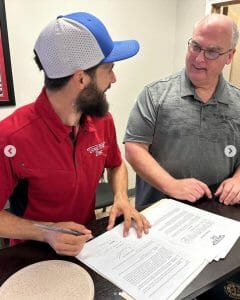 Nikko Locastro has notoriously struggled to hold down a long-term manufacturing sponsorship. He has been in and out of throwing a mixed bag for years, got dropped by Westside Discs after the 2021 season, and then, in 2022, got dropped by his newest sponsor, Clash Discs, after his PDGA suspension.
In November, Lone Star announced that they had signed Locastro to a multi-year deal. Lone Star Director of Marketing Josh Hofstra said that the deal is open-ended. "It's not so much as us sponsoring a player as it is working with him," he said, adding, "We took a chance on Nikko because we knew who he was as a person as opposed to just what he does on the course."
Locastro will be spinning up his own line of discs — Sacred Discs, which will be manufactured and distributed by Lone Star — and will be throwing a bag exclusively comprised of Lone Star manufactured discs in 2023. He already has a Tour Series disc with more on the way and will get a fairly standard industry compensation package that includes a salary, covered entry fees, performance bonuses, and sales incentives. "This is going to be a fun ride," said Locastro.
"I truly believe that with our marketing efforts and our brand being wholesome and family-based that we can showcase who Nikko is as opposed to how he plays on the course when he's frustrated," said Hofstra, who described Locastro's off-course efforts working with children and working to grow the sport. For those wondering: "There are zero clauses in his contract that state 30 seconds" for him to throw, though he does have a new branded stopwatch.
The company got connected to Nikko at the Open at Belton this year, when he stopped by the company's booth. "He picked up the plastic and loved the stuff back then, but didn't want to switch discs midseason," said Hofstra.
Locastro has been apologetic for his actions at the European Open but has also expressed anger at the PDGA for the length of his suspension. On a SportsCenter Instagram post last week about Ja Morant getting ejected for complaining to a referee, Locastro posted, "The PDGA would have kicked him out of the organization for at least 6 months. The world has gone soft."
He also had a comment deleted from the PDGA's Facebook page for violating its community standards, due to it misgendering transgender competitors. In response to a PDGA rules update, he commented, "Are we still going to allow MEN to compete against Women in our association? I can't really bite my lip on this subject any longer. This is unfair to natural born women who sacrifice a lot to be a part of this tour. #makechangesnotexcuses" The PDGA is expected to be issuing new transgender competition guidelines before the end of 2022.
Locastro should be returning to the course with a new bag for the start of the 2023 season at the Las Vegas Challenge.
Chandler Kramer Re-Ups for 2023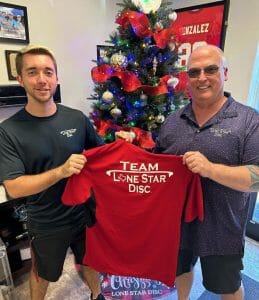 The forehand specialist Chandler Kramer, who finished 5th at the European Open and inside the top 25 at Worlds, is back with Lone Star for 2023.
Although Kramer was throwing a mixed bag in 2022 because Lone Star was lacking in molds, he is transitioning to a Lone Star exclusive bag next season. Like Locastro, he is getting a salary among other incentives in his new contract. "It is a better deal [than 2022], and there are a lot more opportunities for it to be a much bigger deal," said Kramer.
Kramer said he was excited to return to Lone Star because they "really have [his] back" and he loves their plastic. "It is just as good if not better than any other company out there," he said.
"We're very happy to have him back on the team," said Hofstra.
Kramer had just crested the 1000 rating at the end of 2021 and now sits at 1021 rated, while throwing almost exclusively forehand. After outdueling Kramer to win the Butler County Disc Golf Classic, Joel Freeman wrote on Instagram, "This sport has never before seen a forehand with the level of simultaneous power, consistency, and versatility that Chandler plays with."
Lone Star's "Ranger Team" Goes Hundreds Deep
Earlier this fall, Lone Star took a shotgun approach to getting their name out to the world: they sponsored hundreds of players on their "Ranger Team," the bottom tier of their sponsorship levels.
Lone Star posted an application on social media looking for players that wanted to get sponsored. Hofstra said that more than 2,000 applications rolled in; they ultimately offered more than 700 people sponsorships. "The brand that we have is very family based," said Hofstra. "We want everybody to feel included. Our team is massive."
Players were offered four free discs and a t-shirt, a one-time 50% discount on additional discs, an on-going 20% discount, and some other small benefits. The catch? They have to bag 90%+ Lone Star discs, wear Lone Star apparel on the course, and commit to social media posting about the brand. Some higher-rated players and early adopters were offered better deals on the "Tournament Team" or "Founders Team."
More than 600 accepted the Ranger Team deal, leading to a blanketing of social media posts about the offer.
"'Marked safe from the Ranger Team army,'" said Hofstra, mentioning his favorite joke online about the Ranger Team. "Seeing all the memes actually sparked a little joy for me: some of them being negative, some of them being positive, it's all publicity."
More Moves on the Way
The publicity is working. Lone Star's marketing has helped drive the company to drive its Facebook page to nearly 10 times the number of likes that it had at the beginning of 2022. The company's dealer network has more than doubled in size. The company has already added an additional injection molding machine to its production facility as its growth continues.
"Terry never thought we would make $30,000 as a company," said Hofstra. "And now we're doing $30,000 orders from a single dealer."
More sponsorship news is still to come as well. "I don't know if it's the quality of our plastic, our social media presence, or if we're the hot new girl in town, but we've had a ton of pros reaching out to us," he said. Some deals are already done but won't be announced until the start of the year.
The company is also sponsoring the Open at Austin, the DGPT Elite Series event that is moving from Belton to Austin and from Silver to Elite.