Paige Pierce is chasing history.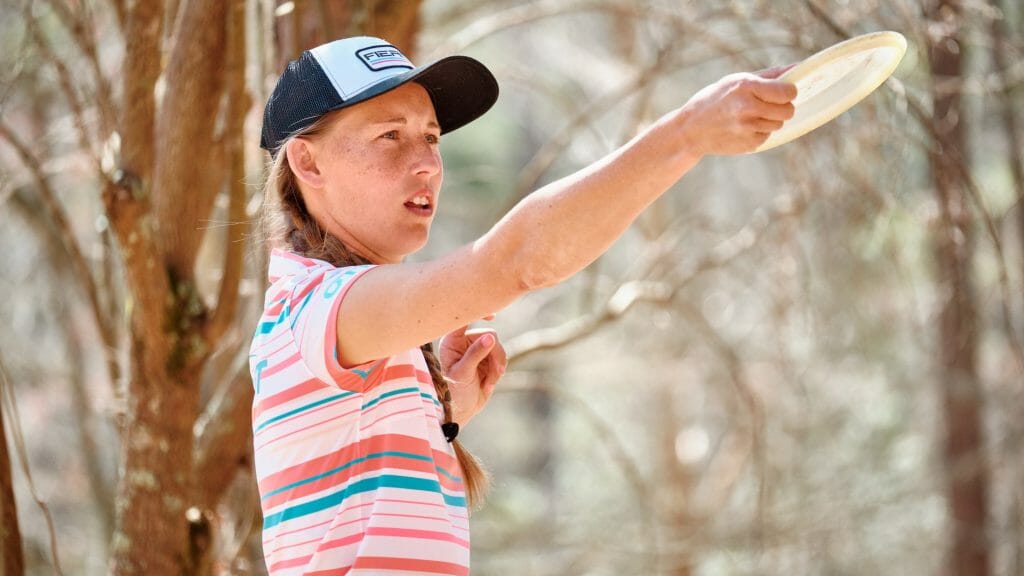 MADISON, Wisc. — One year ago, the United States Women's Disc Golf Championships epitomized the explosive growth in disc golf. The event welcomed the largest-ever field of women to compete at the event, but top FPO players criticized the tournament and the PDGA for not meeting the professionalism standards that had started to become normalized by the Disc Golf Pro Tour.
In another record-setting year of attendance in 2022, the USWDGC, the second FPO Major of the season, still feels a bit in flux. The FPO courses — while highly regarded in Wisconsin — are some of the shortest tracks the top professionals will play all season. Nearly every player in the press conference on Tuesday said that it was going to be a birdiefest, hinting at the fact that the courses could be quite easy. Even as every other Major has separated out the Pros from the Ams, the USWDGC holds firm to keeping the divisions all together, and the course selection reflects that. Is this model still working?
From a pure participation perspective, clearly it is. As of press time, 319 players were registered to compete, making the tournament 23% bigger than last year's high water mark. It's more than doubled in size since 2020. Nearly every top player is in attendance: 44 of the top 50 players in the Disc Golf Pro Tour standings are competing this weekend. The glaring absence is Kristin Tattar, the world's highest-rated FPO player. The 2019 USWDGC champion came down with COVID-19 last week, forcing her to skip her planned trip to the US for The Preserve, USWDGC, and Idlewild. She is also nursing a nagging elbow injury, though she plans to compete at the European Open, the year's third FPO Major, in a few weeks.
With Tattar out, all eyes are squarely on Paige Pierce, who is chasing history. She already holds the record for most USWDGC wins: her eyes are on a bigger prize.
Past Winners
| Year | FPO Champion |
| --- | --- |
| 2022 | Hailey King |
| 2021 | Paige Pierce |
| 2020 | Paige Pierce |
| 2019 | Kristin Tattar |
| 2018 | Paige Pierce |
| 2017 | Paige Pierce |
| 2016 | Sarah Hokom |
| 2015 | Hannah Leatherman |
| 2014 | Paige Pierce |
| 2013 | Sarah Hokom |
| 2012 | Catrina Allen |
| 2011 | Valarie Jenkins |
| 2010 | Valarie Jenkins |
| 2009 | Sarah Cunningham |
| 2008 | Angela Tschiggfrie |
| 2007 | Elaine King |
| 2006 | Angela Tschiggfrie |
| 2005 | Elaine King |
| 2004 | Des Reading |
| 2003 | Des Reading |
| 2002 | Des Reading |
| 2001 | Lesli Todd |
| 2000 | Lesli Todd |
| 1999 | Juliana Korver |
Three Things We'll Be Watching
1. Paige Pierce is currently tied with Valarie Jenkins Doss with 16 career Major wins, the most in FPO history. With a win this weekend, Pierce can officially take over the solo lead in FPO Major victories, a record that feels unlikely to be broken anytime soon, if ever. This is Pierce's first opportunity to take the outright career lead, as she won her 16th Major just two months ago at the Champions Cup in Georgia. Pierce's dominance can hardly be overstated. She has finished either 1st or 2nd at 12 straight Majors dating back to 2017, winning 9 of them. She has won nearly half of the Majors she's entered since becoming a professional. She can also become the second woman to win three straight US championships after Des Reading did it from 2002-2004.
2. Because this year's courses, Elver and Token Creek, are on the much shorter side of the spectrum for the FPO field, could we see a surprise winner? Sarah Hokom said that she believes that 80% of the field will be able to reach every hole for birdie, and Pierce noted that 15 of the 36 holes are under 300 feet long. There's an old school, 'birdie or die' vibe to this year's event, and it could make for tight scoring conditions and a thrilling finish. Putting seems poised to be a major factor: keep an eye on the green's sharpshooters like Ohn Scoggins. Don't assume, though, that big arm players like Pierce won't have any advantage. Last year, on similarly short courses, Pierce was dominant, averaging 1024 golf to obliterate the field.
3. Six Major champions are in this year's USWDGC field: Pierce, Catrina Allen, Eveliina Salonen, Hokom, Juliana Korver, and Des Reading. Each of the players except Salonen has won at least one US championship in their career: Korver won the very first event in 1999, before it was called the USWDGC; Reading won three straight from '02-'04; Allen won in 2012; Hokom won in 2013 and 2016; and Pierce won in '14, '17, '18, '20, and '21. Are we more likely to see one of these veteran players take down this year's title, or could a rapidly growing group of up-and-coming players take down their first capital M? Ella Hansen had her first breakthrough performance at last year's USWDGC when she finished on the podium after shooting her first career 1000-rated round. Kat Mertsch has been hanging around the top of the leaderboard all season. Valerie Mandujano already has two DGPT wins to her name and has proven to be one of the most well-rounded players in the field. Missy Gannon and Hailey King obviously have what it takes to win. It's going to be fascinating.
The Courses
Token Creek (Vallarta Ast): par 60, 6,576 feet
Rounds 1&2
Designed by Larry Ast in 2001, Token Creek was the first public pay-to-play course in Wisconsin. While controversial at the time, the course has become a beloved part of the Madison disc golf community. The USWDGC features a mix of the two teepads and three pin locations on each hole as determined by TD Mike Batka and the PDGA's Patrick Graziani, Rebecca Duffy, and Shawn Sinclair. Elevation is not a factor at Token Creek, and it's the more open of the two courses that the FPO field will play. Birdies will be available on the majority of holes, but precise shots will be required. OB is minimal.
Elver Park: par 59, 6,266 feet
Rounds 3&4
The first-ever course in Madison, Elver Park is a legendary course in Wisconsin. Built in the early '90s, Elver climbs, traverses, and then descends a large sledding hill, setting up what one Madison disc golfer said is the signature tee shot in the city: the big, downhill drive on hole 18. It's more wooded than Token Creek but should be scorable for the top FPO competitors. There is a mix of technical wooded shots and more full-power drives. The USWDGC layout features a mix of the two teepads and two pin positions.
Here is the 2022 USWDGC caddie book.
Extended Forecast
Absolutely gorgeous summer weather is on deck for the US Championship.
Thursday: Sunny, highs in the upper 80s. Windy in the afternoon, 15-20 mph.

Friday: Sunny, highs in the low 80s.

Saturday: Sunny, highs in the mid 80s.

Sunday: Sunny, highs in the mid 80s.
How To Follow
UDisc Live will have livescoring available all weekend. For video coverage, see our How To Watch post.
Read on for PrizePicks Lines & Best Bets…
Bonus Content for 2022 United States Women's Disc Golf Championships Preview: Major #2 is only available to Ultiworld Subscribers
Already have a subscription? Log in
Whether you visit Ultiworld for our reporting, our podcasts, or our video coverage, you can help us continue to provide high quality content with a subscription. By becoming a subscriber, not only do you receive benefits like bonus content and full article RSS feeds, you also help fund all of Ultiworld's coverage in general. We appreciate your support!