Paul McBeth didn't get voted into the Hall of Fame. Now, he'll have to wait at least 14 years.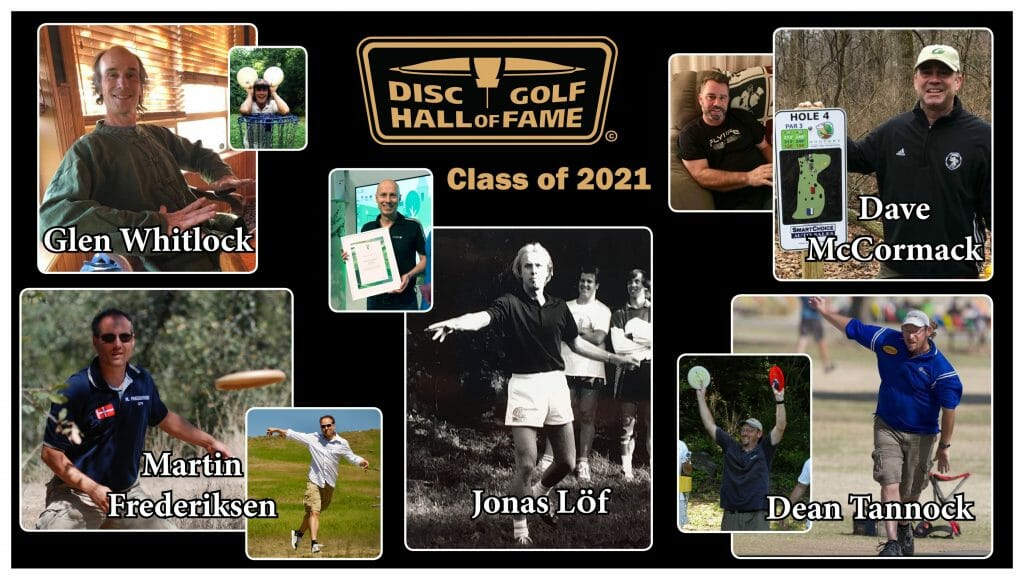 The 1995 disc golf season fell right in the heart of Ken "The Champ" Climo's prime. That year, he won his 6th straight PDGA World Championship title, part of his record-setting 9 in a row from 1990 to 1998, along with 22 of the other 25 events he played in. He won his 8th and 9th majors on his way to the 20 he would win in his career. In 1995, he was also voted in to the Disc Golf Hall of Fame (DGHOF).
16 years later, in 2021, the other player in the conversation for the greatest disc golfer of all time, Paul McBeth, won his 16th career major at the United States Disc Golf Championship, his third time winning the event. Just a few months prior, he had been nominated for the Hall of Fame. He didn't get voted in.
***
A lot has changed about the Disc Golf Hall of Fame, an independent non-profit organization, since its start in 1993. Alabama's Lavone Wolfe, who also created the Headrick Memorial Museum housed at the International Disc Golf Center in Georgia where today's pros will compete for a major title at next month's Champions Cup, founded the organization to help promote disc golf and celebrate the sport's pioneers and top players. In the inaugural year, the father of disc golf, "Steady" Ed Headrick; Dan "Stork" Roddick; Jim Palmeri; Tom Monroe; Dave Dunipace; Ted Smethers; and Vanessa Chambers were welcomed as the first Hall of Fame class.
The Hall, of course, is dotted with famous players and organizers, from course designer extraordinaire John Houck (class of '98) to multi-time major champion Elaine King ('97). Like so much of the sport, the DGHOF is working to modernize amidst the tremendous growth in recent years.
"We needed to bring the disc golf hall of fame into the 21st century," said Andi Young ('18), who works with George Sappenfield ('18), who designed the first-ever competitive disc golf course using vertically oriented hula hoops as targets, to oversee Hall activities. There have been more efforts to reach today's disc golfers through media efforts, like announcing the new Hall of Fame class on live video at the USDGC and speaking during Disc Golf Pro Tour press conferences, and a new focus on clarifying eligibility and the voting procedures.
Historically, the Hall has lacked structure. Because current hall of famers both nominate and vote for future inductees, some members admit there can be an insular nature to the selection process. The criteria for who could get in has long noted that both contributors ("those who have impacted the game significantly in areas outside of the competitive arena such as administration, course design, innovation, instruction, promotion, etc.") or competitors ("Professional and/or Amateur who have produced a substantial body of high-level competitive success") are eligible for the Hall, but there is no distinction made about who is in for what reason.
"For a very long time, the election process was fair, but it's always been a closed process," said Young.
Now, there are efforts to increase transparency and provide more guidelines about who can get in — and when. The Hall website was recently updated to note an addition to the eligibility criteria following the induction of the class of 2021: "Candidates must be at least 45 years old as of January 1st of the year of election."
Previously, eligible candidates needed only to have had "15 years of active disc golf participation" in order to be considered, along with meeting the following criteria:
Exhibit integrity, character, and sportsmanship with dignity and wisdom to foster the greatness of the game.
A favorable standing and an honorable reputation within the disc golf community that warrant consideration to The Highest Honor in Disc Golf.
Those expansive rules meant that even young players like the 31-year-old Paul McBeth, who played in his first PDGA tournament as a teenager in 2005, were eligible to be nominated. He was not the only active pro player on the 30-person Hall of Fame ballot for 2021; none got elected.
Although ballots are kept secret, another Hall of Famer told McBeth earlier this year that he'd been on the ballot and didn't get voted in, prompting McBeth to post to Instagram with the caption "2nd ballot @pdga."
"It's a cool thing to say and to have: 'yea, I was a first ballot hall of famer,'" McBeth told Ultiworld Disc Golf. "That's not ever going to be a possibility now."
***
In other sports, current competitive players are rarely if ever voted into their respective Halls of Fame. Major League Baseball players aren't eligible for getting onto the ballot until at least five years after they retire. The same is true in the NFL. NBA players can get in after three years out of the league. The World Golf Hall of Fame also has an age minimum of 45 years or three years retired.
In the disc sports world, the Ultimate Hall of Fame considers only players whose peak playing years were 13 or more years before the current year.
That most other sports are considering players well after their competitive peak drove many DGHOF voters to look reluctantly upon voting in a current player, even one as obviously deserving as McBeth, especially as the number of older players and contributors that deserve Hall spots continues to grow.
Two years ago, Valarie Jenkins Doss was inducted into the Hall just four years after winning her last World Championship. "For me, I even thought it was a little too soon," she said, noting her continued involvement in the sport as a broadcaster among other roles. "But I had enough to get into the Hall of Fame for what I've already done, so it fuels me for what I will continue to do."
Following the rule change requiring eligible candidates to be at least 45 years old, Jenkins Doss will now be the youngest person in the Hall for at least the next nine years. She said that it was a bit strange but that it better aligns with how other sports handle inducting new players.
McBeth doesn't mind the change but isn't happy about how it played out. "You don't turn someone away," he said. "If you just lay their career out and look at their statistics and they are clearly qualified, you vote them in and change the rules after."
Some current members of the Hall said that McBeth should never have been nominated in the first place. "I didn't think it was fair to let Paul in the process when you know he's a gold star, slam dunk candidate and he might not get voted in," said one Hall of Famer.
Everyone contacted for this story was adamant that Paul McBeth couldn't be a more obvious lock for the Hall, even if they felt that he was not yet due for induction.
For McBeth, though, that does little to salve the wound of not getting in, even if he knows he'll be recognized 14 years from now. "It will be a cool thing, but I think it's tainted for sure," he said.
Young and Sappenfield said that McBeth and other current players' nominations last summer weren't the reason for the new age limit. "We modified some of the criteria this year, not based on anything other than what is best for the sport," said Sappenfield.
In addition, there will be a new two-step voting process — an initial list of potential candidates for a given class will be voted on by current members in order to narrow the ballot for the official vote to follow. Previously, there was just a simple screening process for candidates to ensure they met the 15 year minimum along with the character and reputation criteria. All eligible nominees were placed on the official ballot.
"I guarantee you that our board is on track with what we're doing and the changes that need to be made," said Sappenfield.
Members of the Hall take seriously their responsibility to enshrine the sport's most important figures. After years of inducting just two or three people each year, the Hall is focusing on catching up on a growing list of deserving candidates. In 2020 and 2021, 10 people were inducted — Jenkins Doss, Bob Harris, Al "Speedy" Guerrero, Cliff Towne, Jesper Lundmark, Martin Frederiksen, Jonas Löf, Dave McCormack, Dean Tannock, and Glen Whitlock.
"It is time to bring more awareness to what the Hall is and does, and as much as we can, how it works," said Young.