Heimburg comes up just short; McBeth slides down the leaderboard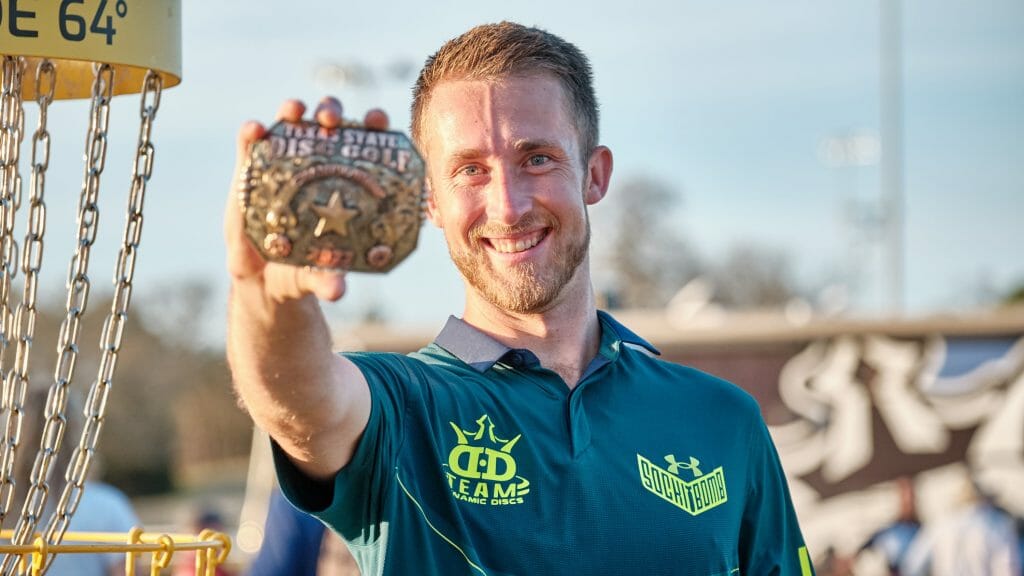 Despite heading into the round down a pair of strokes to Calvin Heimburg, Ricky Wysocki came out firing to take down his sixth win at Texas States in six tries. He kept his remarkable streak alive even though he did not outright lead the tournament until hole 13 of the final round. His -10 effort on Sunday was the best score of the day, and even then it felt like Wysocki was still leaving strokes on the table on occasion. However, his excellence off the tee was enough to get the job done on the majority of holes at The Thorn, and, when needed, he was more than capable of scrambling out of tough spots.
"It just turned into a chess match," Wysocki said after the round. "I grinded through the bad breaks and I just fought hard mentally. That's what I do best. I feel like I'm a mental warrior; I can fight through bad breaks."
After Heimburg conceded his two-stroke lead early in the round, it looked as though we were going to continue the streak of thrilling finishes in 2022, but the 13th hole proved to be the catalyst for Wysocki to pull ahead. After he threw an excellent flex shot to ideal position, Heimburg attempted to rip a drive downhill to match. However, he overdid the angle, turfing the disc early and putting himself out of position for the relatively easy birdie, which Wysocki claimed to pull level. On the very next hole, Heimburg missed a putt off the band from just outside the circle, settling for par. Wysocki's birdie put him in the driver's seat. Heimburg continued to play well and waited for a crack, but the pair matched scores on the final four holes, and Wysocki eked out the comeback win.
The two takeaways are clear for these two: Wysocki put together two consistently great rounds that looked to signal a return to form, and Heimburg again disappointed late despite strong play throughout the tournament. For Wysocki, it will be a chance to ride the wave and establish the momentum for his season — "raptor legs are back!" he said in the post-round interview. It's something he clearly has on his mind.
"I'm gonna take a couple weeks off, kind of still work on some things, the seasons not even close to being over, and I'm just getting started," he said. He becomes the first Dynamic Discs sponsored MPO player to win an Elite Series event.
For Heimburg, it's likely starting to feel like a bad case of deja vu, as his putter has let him down too often in big spots to take down championships as of late. That his one close miss in the final round arguably cost him the tournament is especially painful.
Elsewhere, we saw the wind come out of Paul McBeth's sails for the first time this season, a potential point of intrigue heading into Champions Cup, the first major of the season. McBeth got off to an excellent start, shooting the hot round on Friday and carrying a two stroke lead into round 2. Based on the year he's been having so far, it looked as though he might run away with the tournament, but he coughed up his advantage and then some, falling to 8th after round 2 and finishing in that spot with just a 3-under round on Sunday. At his best, a 2-stroke lead is a near untouchable gulf between McBeth and any hopeful, but his play on Saturday especially looked especially poor as mistakes seemed to snowball and his frustration boiled over. He showed some cracks at Belton but was able to overcome them, but it proved too much to bear at Texas States.
Texas States is a unique event on tour in that it has had several iterations of courses over the years, for better or worse. Rather than leaning on iconic holes and familiarity, it has moved and melded in an attempt to stay fresh and keep up with the rapid growth of talent and power the Pro Tour demands. This version seemed to be the closest to other tour stops in terms of layout and demand. Long, sweeping shots largely replaced the tight woods of Dogwood, and while success may have been less accuracy-based as the 2021 iteration, a significantly improved field from the 2021 event (average rating jumped from 992 to 1008) and the less random nature of open vs wooded disc golf meant that scoring was high, and the cream really seemed to rise to the top.
Course designer Gregg Barsby referenced wind as a significant factor in upping the difficulty of the course, but without it, many holes were attacked relatively easily. Time will tell if the Thorn will return as a venue, but by-and-large, players seemed to like the layout. While it may have not been as hellacious as Barsby forewarned, it still presented an interesting challenge for the Pro Tour's best.
Texas States 2021 (Dogwood): Field averaged +.22 to par, | Hottest Round: -11 | Birdie Percentage: 27%
Texas States 2022 (The Thorn): Field averaged -.12 to par | Hottest Round: -12 | Birdie Percentage: 25.6%
Notes
Third-place finisher Gregg Barsby looked right at home on the course he designed. He was a couple of key putts away from having a real shot to win the tournament, ultimately finishing four shots back of Wysocki. He flashed some vintage long-range putting and excellent control, avoiding the OB all weekend. It was his best finish at an Elite Series event since the Hall of Fame Classic in 2018, the same year he won his 1st and only World Championship.
It's been a couple years since Jeremy Koling finished this high at an Elite Series event as well. He took 6th at Texas States, his best finish since USDGC 2019 (2nd place). Koling used excellent putting to help him avoid mistakes; he finished just one of the 54 holes over par on the weekend. He had fewer birdie opportunities than any other player in the top 10, but he cashed in most of those chances, tallying 19 birdies on his 26 greens-in-regulation.
Ricky Wysocki, Calvin Heimburg, and Chris Dickerson are the three players atop the DGPT standings through three events. Early leader Luke Humphries has fallen off the pace, finishing 45th at Texas States, and now sits in sixth place.
Gannon Buhr and Joel Freeman both finished inside the top 10 for the second time this season. They sit at 5th and 8th, respectively, in the DGPT standings.
Niklas Anttila made a nice US debut, finishing in a tie for 15th. He was the top-finishing European player in the MPO field in his first DGPT event.