It was a thrilling start to the 2022 season.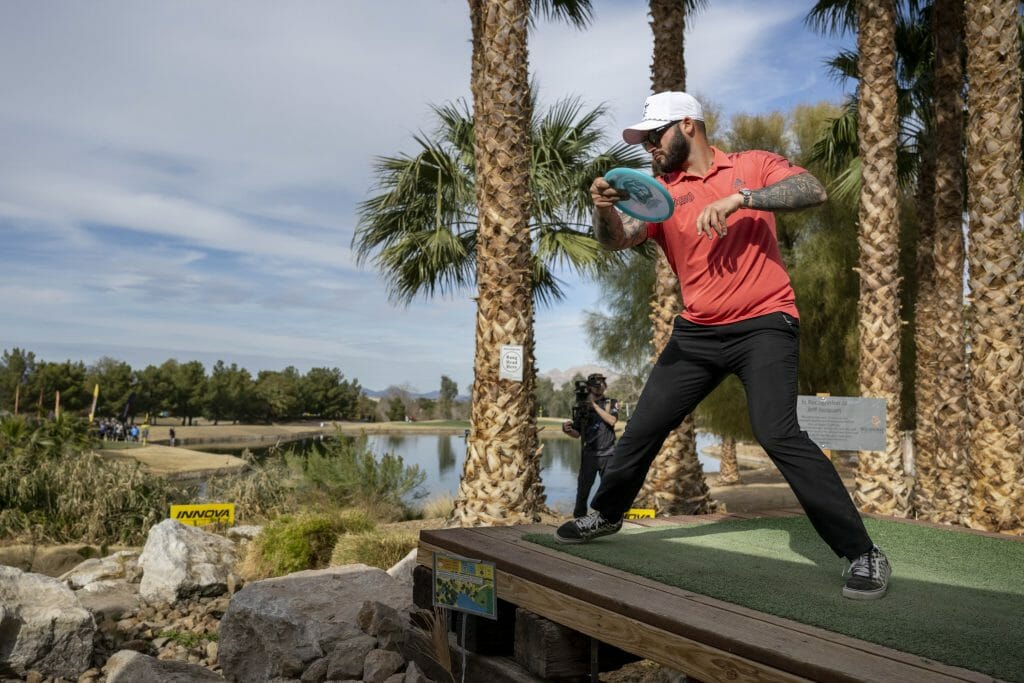 From the turn to halfway through the back nine of the final round of the 2022 Las Vegas Challenge, challengers for the lead were dropping like flies.
First went Adam Hammes, then Calvin Heimburg, then Scott Withers, as the spotlight continued to zero in on the lead card competitors. Even then, 16-year-old Gannon Buhr held a lead going into the final four holes — three strokes — that would be improbable to concede. To that point, Buhr had not only played excellent but gutsy, nailing jump putts throughout the early part of the round, including this standout 70 footer (DGN 1:28:24), picking up birdies to solidify his lead against those left in the hunt:
However, a late cold streak of pars reared its head–a rare airball just outside the circle here, an errant drive there–and the door creaked open for the only player still within striking distance, Drew Gibson.
Gibson, as he put it, had been "playing his butt off for the past two days," but hadn't been able to overcome an early deficit to catch Buhr. However, after four rounds, the moment finally presented itself. As Buhr went 1-under over the final 7 holes, Gibson shot 4-under in that same stretch, thanks to incredible accuracy off the tee. He seemed to know his advantage over Buhr was his distance, and he went to work making things easy for his short game. Gibson was clutch down the stretch, placing every putt right on the pole, putting every drive in a position to score. The pressure seemed to finally get to the leader.
On the dramatic hole 18, with Gibson down by a stroke but in perfect position to attack for birdie, Buhr changed up his game plan from earlier in the week and got aggressive, pulling out a driver to make his upshot a surety. He launched the disc but hung it out wide over the water below. As the disc dived back toward the thin strip of land between fairways, it caught the cart path just past the edge of the water and skipped toward the middle of the fairway. One sigh of relief later, and Buhr was left with a 279 foot upshot between him and the win. His approach hit right near the basket but slid just out of bounds, Gibson parked his upshot, Buhr cleaned up on his par save, and Gibson tapped in his birdie to force a playoff.
The first three holes were tense but not remarkable: both Buhr and Gibson refused to yield, and made makeable if nervy putts. The fourth — hole 7 — presented the first real challenge with a dangerous hazard by the green, and it was Buhr's turn to tee off first. This proved to be a real strategic disadvantage, as he got aggressive off the tee, choosing a driver where he had previously went putter, and put his drive in the hazard with a circle's edge putt awaiting him. Gibson, seeing the error, switched his game plan to grab a slow speed disc, laid up, and put his upshot next to the basket, forcing Buhr to hit the tough putt to continue the playoff.
Although putting had been his trump card all weekend, Buhr finally showed the slightest crack in his game and his steely demeanor, catching the band and immediately burying his face in frustration. Gibson quickly sank his putt and claimed his first Disc Golf Pro Tour Elite Series win since the 2019 Portland Open.
"To battle the way I did this weekend, to come back from 50th place, to end up winning the event against the best players in the world feels really good," said Gibson.
Gibson walks away from the tournament with improved confidence, specifically in his putting game. It began to trend upwards all of last season, culminating in his stellar DGPT Championship performance, but a reputation for streakiness certainly still followed him. His putting in the playoff at LVC — and really throughout the entire event — was not a stretch of long jumpers. These were ice cold, dead center makes from medium range: no flukes, just cash. This will be confidence builders for the upcoming season and the big moments that surely await him.
"I finished last year on a really good note, had a chance at winning USDGC, had a chance at winning the Pro Tour Finals, so I just told myself to play every day," said Gibson. "I was already on a pretty good trajectory with my game and the stuff I was working on, so I just didn't really have an offseason. I played every single day, sometimes 2 or 3 times a day, just to try to keep that moment rolling, and here we are."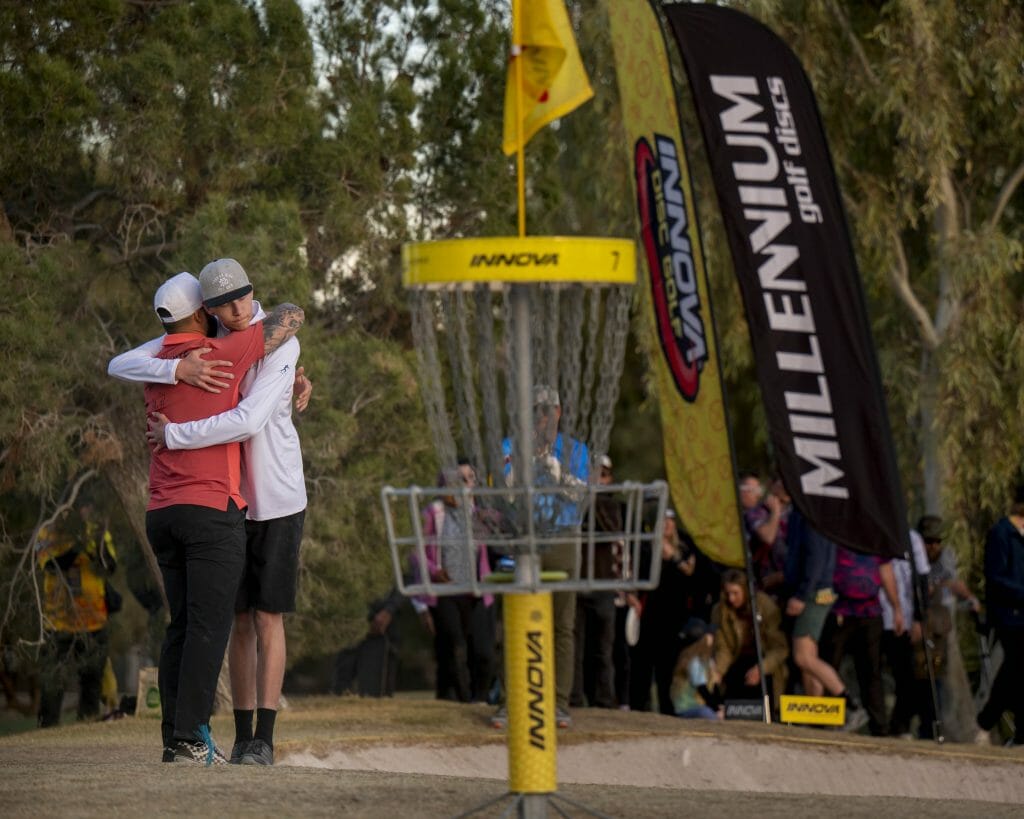 For Buhr, there's no way around it: this stings. However, his play this tournament and this lesson in finishing strong may do more for him long term than coasting to an easy finish. He played like a seasoned veteran throughout the event, laying up when necessary, calculating his potential misses, and nailing comeback putts after bad breaks. But the slightest mistakes down the stretch left too much room for a locked-in Gibson. For three and a half days of play, Buhr looked like one of the best in the world. His putting is world-class, and the consistency and accuracy will come with time.
"That's some of the best disc golf I've ever seen or played against in my career so far," Gibson said when asked about Buhr's performance. "The kid made it from anywhere…To play against that level of competition from a 16 year old kid is unbelievable. I played my butt off the past three rounds, threw a perfect shot on every hole I felt like, and had to go into a 4-hole playoff just to win. I mean first off, that's the future of disc golf right there. That kid is going to be a force to be reckoned with now, next year, and in ten years. The poise of the kid is unbelievable, and he's a pleasure to play with."
One additional point of interest heading into the final round: several players, including Tristan Tanner on the lead card, were penalized two penalty strokes for misplay (PDGA Rule 811), purportedly due to an error in playing the drop zone. The DGPT issued a rules clarification after play on Friday, and Tanner and several other players came forward and acknowledged their infraction. Tanner stayed on the lead card for the final round, and was in contention late but ran cold with a bogey and several pars.
Eagle McMahon and Calvin Heimburg at points looked like contenders for the LVC crown, but each struggled in a key area. For McMahon, his lack of a sidearm due to his shoulder injury seemed to hamper him at points, and down the stretch of the final round he no longer looked to be pushing with his full ability. He will be taking off the Texas swing of the tour, and looks to return at full strength and pick back up where he left off last year's stellar campaign. For Heimburg, he came out firing again on Saturday (one of five players to shoot a 13-under) but was hamstrung by his play in round three where he missed four Circle 1 putts. He'll take home third place, and will look to continue his strong final round momentum into his next event in Waco.
Final Round Highlights