Tanner impresses, Heimburg cracks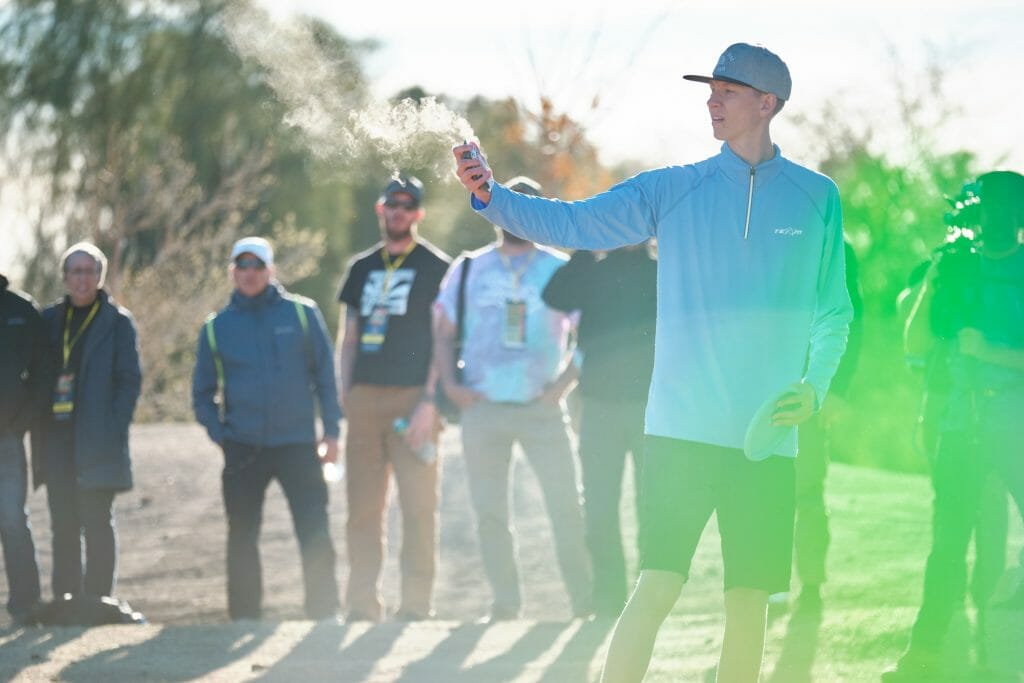 The 13th green at the Factory Score Course may be the moment we look back on as the moment Gannon Buhr stepped into the elite echelon of disc golf.
After another strong day of putting, he stepped up to an edge-of-circle putt to stack another birdie on top of his strong round. However, he missed just low, caught an edge, and rolled to a longer look than his initial lie. In McBeth-ian fashion, he walked to his new lie, threw some chalk to read the wind, and sent a step putt into the dead-center of the chains. It was the cherry on top of a day filled with strong play and remarkable poise for the young Iowa pro, his 3rd consecutive effort where he has looked like one of disc golf's best.
Buhr leads the tournament at 29-under par, two strokes clear from his nearest competitor, and he hasn't bogeyed since Hole 16 during round one. While his arm is nothing to sneeze at, he's certainly standing out from the crowd on the green, leading the tournament in Circle 2 conversion and in Strokes Gained Putting, including a stunning 8.5 strokes gained from outside the circle. The final round will be a great opportunity to cement his performance; playing strong throughout the course of a tournament as the pressure builds is no easy feat, and Buhr is still looking for his first Pro Tour victory. Tomorrow, he'll get that chance.
On the flip side of the coin, the other leader going into Round 3, Calvin Heimburg, struggled to uphold his usual standard on Saturday, especially on the putting green. Heimburg hasn't looked right while putting for some time, and this was the culmination of those woes. A 29% C2 mark is no reason to raise the alarm, but his 64% C1X percentage is far from the number necessary to compete at the level Heimburg aspires to. As the first two rounds evidenced, he can succeed without an elite putting performance, but it is worrisome that Heimburg's steely disposition no longer extends to him sinking just about everything within 33 feet.
The Cut
Moving Day at Vegas saw the field whittle down to only the best, and, this weekend, that didn't include some notable names. Gregg Barsby, Emerson Keith, and Cale Leiviska were among those unable to continue their tournaments and will miss the cash. Very nearly among them was Nate Sexton, who staved off elimination by putting together a clutch run of four birdies over the final four holes. As Sexton walked off the 18th green, he reportedly was well aware of how close a call it was, noting "I haven't missed cash in 14 years," and clearly wasn't interested in ending that streak on Saturday.
Leiviska, though, had an even longer running cash streak come to an end. He had not missed a cash since November 16, 2008, and held the longest active cash streak in disc golf until today. He missed the cut and the cash by just one stroke, averaging 1017-rated golf through the three rounds. That shows you just how competitive the professional scene has become.
We will see if any of those players who just snuck through will make a run for a favorable finish.
Hot Round
The shared owners of the hot round of 11-under at the Factory Store course are two names a casual viewer may not be familiar with.
Tristan Tanner and Scott Withers both proved (and have proven) they have the talent to play with the best in the sport. Tanner currently sits in 2nd place, bolstered by great driving power and stellar scrambling. His putting was not strong the first two rounds, but it came together on Saturday to push him up the leaderboard. He's just two back of Gannon Buhr and is well-positioned to battle for his first-ever Elite Series win. Withers started the day with six straight birdies and rode that momentum to 12 birdies, pushing him to solo 7th place.
Who's in the Hunt?
Buhr, Tanner, Eagle McMahon, and Drew Gibson will tee off together on the lead card for today's final round. McMahon and Gibson both sit three shots back of Buhr. Gibson, especially, has to feel good about his chances after posting a 13-under hot round at the Innova course on Friday (four shots better than Buhr, six shots better than Tanner, and seven shots better than McMahon).
Anthony Barela and Ricky Wysocki will be breathing down the lead card's neck on the chase card, sitting just four shots back of the leader. Heimburg, now six back, may have given up too many strokes in the third round.
Shot of the Day
On the par five Hole 12, Drew Gibson went out-of-bounds off the tee. Laying two, he proceeded to throw a massive roller that curled up within 10 feet of the basket to set him up for a tap-in birdie. This is an early contender for Roller of the Year:
Gibson called it "by far one of the best shots [he's] ever thrown in competition."
Full Round Three Highlights
Statline
At the 2020 LVC, Tristan Tanner shot a 1044+ rating in every round, finishing 4th.
At the 2021 LVC, Tanner didn't shoot higher than a 990 rated round.
So far at the 2022 LVC, Tanner has shot 1052, 1043, and 1072 rated rounds, averaging 1056. Per StatMando, 7 of Tanner's 26 career rounds rated over 1040 have come at the Las Vegas Challenge.
Overheard
"I think just play the same way I did," said Gannon Buhr, on his game plan now that he sits alone at the top of the leaderboard. "If I can shoot another 9 or 10 down, I can take this down. Just staying confident, it kind of feels good now, I've always been intimidated by some of the better players in our game, and knowing that I can compete with them for three rounds in a row now, it means the world to me."