Simplify your swing -- and your practice.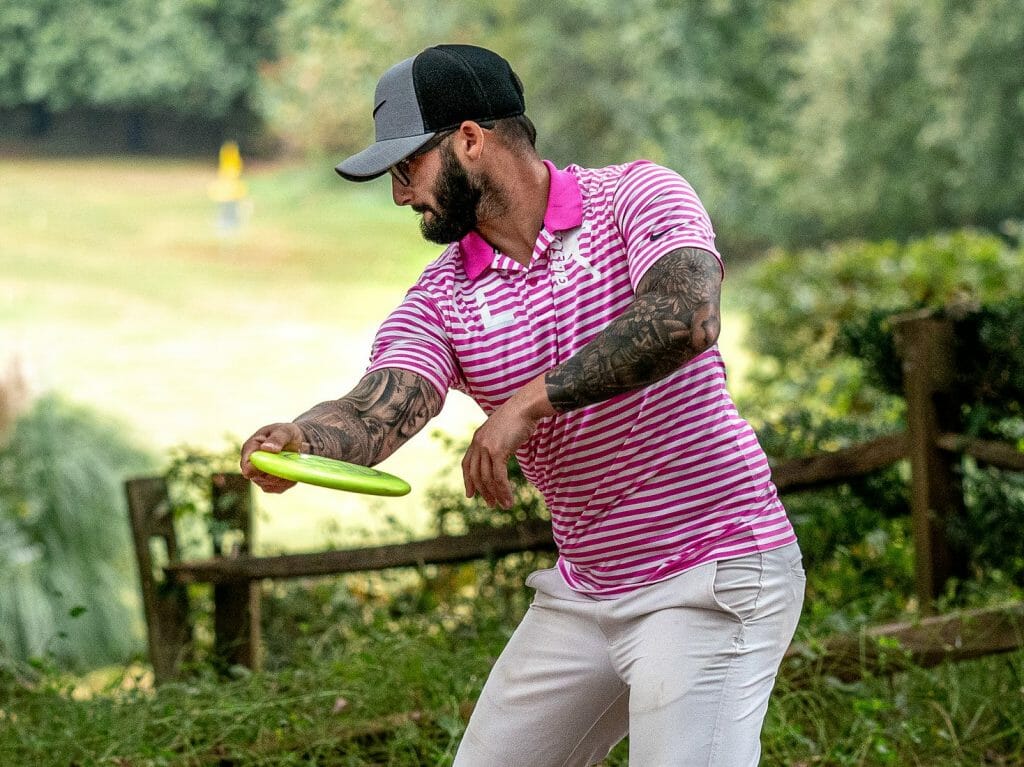 Bruce "Leaky" Lietzke was one of my favorite golfers when I was younger. He was a weird choice, because by the time I started playing golf, he was already an old pro who didn't play very often. But, when he did play, he was always on the leaderboard, sometimes jumping up to grab a win but almost always in the money. He had started on the PGA Tour in the 1970s, obsessed with his career, grinding on his swing, and playing lots of tournaments. When he started a family, he wanted to find a new approach that would allow him to maximize his time away from the game.
That approach to the game was amazing. He decided to hit the same shot every time, a soft cut fade that "leaked" off to the right (giving him his nickname.) He had his shot, and he never practiced.
One year at the end of the season, his caddy (doubting that a top golf pro would choose to not practice during his months off from the tour) stuck a banana in Lietzke's driver cover. At the first event the next season, he pulled a rotten brown mess out of the bag. Lietzke said the off-season was sacred and spent it coaching baseball, hunting, fishing, and spending time with his muscle cars.
He didn't have all the shots and didn't want them. In 2001, he told GOLF WORLD, "I don't want my swing to get better, I want it exactly like it was yesterday." While other players lost their swings trying to chase distance or work the ball every shot, Lietzke kept kitting fairways. He knew his shot, could repeat it every time, and counted on his consistency as his secret weapon.
A guy with no time spent on the range who hit one shot shape played on the 1981 Ryder Cup team, won 13 PGA tournaments, was the best driver on the PGA Tour for nine years, and made the cut 80% of the time on the PGA Tour and 190 cuts in 194 events on the Senior Tour. Between both tours, Lietzke finished with career earnings of over $13 million.
How can a Texas golf pro who last played over a decade ago help your disc golf game?
Lietzke's approach to the game offers insight into one way to build your game: by simplifying your mechanics. Rather than trying to learn every shot and master every release angle with your discs, groove one angle and let the discs do the work. This is a way that players who don't have a lot of time (or an intuitive sense for the throw) can get the most out of their game. Although you could try to make your stock release angle a flat shot or an anhyzer, the most dependable shot to build your game around is a slight hyzer. And this works for forehand and backhand shots.
I stumbled on the usefulness of this approach by trying to fix my worst swing flaw. Like many players, I had a mistake in my swing that showed up early in my development and often ruined my score. It was the kind of flaw that would disappear for a few holes but then jump back up at the worst possible time. It's different for every player: for some it's a tendency to release early or to throw it into the ground; for me, it was rounding and spinning out. This produced soft, nose-up anhyzers with no distance, and, because it came from rolling my shoulders open too early and throwing from the top down, the harder I tried to muscle it, the worse it got. It was maddening.
To fix it, I forced myself to throw from a wide, deep hyzer slot. Real wide. Like Eric Oakley throwing a spike hyzer over a redwood tree wide. I had to make a big change to break my tendency to round the disc behind me because making a small move would never have stuck. It felt awful, but I was gradually able to stay on a hyzer angle and generate more power. I made myself throw only hyzers for weeks as I worked to dial it in and make my angle less extreme. During this process, I was scared to throw an anhyzer because of the nagging fear that a single turnover shot might undo all my hard work. I was committed to sticking with my plan even if it wrecked my scoring. The surprising thing, however, was that I found I could play well and get a lot of different flights from a single release angle. Rather than scoring worse, I scored better.
As I threw that shot and smoothed out my mechanics through repetition, I also started to add distance. Focusing on hitting the same slot made my throw more efficient and I started to see my power increase. But the greatest gift was my swing became reliable under pressure. I knew the feeling of my swing. I could trust it.
The goal is to get a release that is repeatable and then choose your discs based on the flight you need. The hyzerflip shot should be a part of every player's game. It is a way to get more distance with less power and is especially effective from the forehand side, where many players have difficulty producing enough power to get a straight flight out of an overstable disc.
Thrown with a consistent slight hyzer, my Teebird3 will have a smooth finish to the left, my Leopard3 will hyzer flip to a very straight flight, and my Roadrunner will flip up and then move right. I keep my mechanics the same and get very different flights just by changing discs. I can also get different flights, getting less fade or having the disc turn later in the flight, by keeping the angle consistent and just changing how hard I throw the shot.
Focusing on one angle simplifies my mechanics. I have a consistent slot and, if I am hitting it consistently, I know exactly what the disc will do. I still must calculate lots of factors – the wind, the distance, and the slope – but being able to know you will release the disc consistently eliminates one of the biggest variables.
There are undoubtedly lots of players who think this is the wrong approach. Many of those who advocate minimalist bags – carrying as few molds as possible – also suggest learning to throw that smaller set of molds on any line and angle you need. That is undoubtedly the approach that can lead to greater mastery, but it also requires more time and, frankly, talent. If you have a limited amount of time to play and practice, focusing on one release angle will pay immediate dividends in consistency.
This is also not that unusual of an approach, even among top disc golfers. Drew Gibson says he usually plays with a consistent slight hyzer release and changes discs to meet the requirements of the shot. Of course, he can throw all the lines and angles he needs, but he goes with this consistent angle of release when the situation doesn't demand something else. On The Upshot podcast, Kevin Jones said that he also sticks to a single release point.
While we can learn lots of lessons from Lietzke, don't totally ignore practice. One of the great things about building your game around one release angle for your full throws is that there is a so much of transference from one disc to the next. You are grooving the same slight hyzer release all the way through the bag so you can take a smaller set of discs to the field and get the most out of limited practice time. You can also save wear and tear on your body since you are not having to throw every possible angle with every disc in your bag.
Of course, you want to cycle through your bag over the course of your practice sessions so you know what each one does on that angle and at different levels of power. But once you have been doing this for a while, your long throws during field work are mainly maintenance. Out in the field, if you throw 15 fairway drivers forehand and backhand and you are hitting your angle consistently, everything is working fine. Go work on your short game.
You have simplified the long game, so really concentrate on how to get it close inside of 200 feet. Since there will be holes where you probably won't throw the exact angle the hole demands, you need to be able to rely on your short game to save you strokes. If you have limited practice time, use it here. Make sure you can throw all the little standstills and upshots from different angles and releases, because this is where ten or fifteen feet can make an immediate difference in scoring.
Building your game around one release angle doesn't mean you can't learn other shots or pull them out when you need them. There might be courses where you will need long turnovers and power anhyzers. If so, add them to your practice sessions when you are preparing for that event. Even Leitzke had to occasionally – in his case, very occasionally – pull out other shots. On the way to his major win in the 2003 Senior US Open, Lietzke admitted he had to (gasp) hit two hard draws. "Today I won basically because of two hooked shots," Lietzke said, "and that's a word I didn't think I'd say in public." He also guessed he had hit about a dozen hook shots on Tour since 1974, most of them on one particular hole at the Colonial Country Club in Fort Worth, Texas.
If you find yourself with more time, you can always branch out and broaden your arsenal. In most of your rounds, however, you will be able to rely on your consistent throw to get around the course on a good number. Being consistent and having a throw you know you can rely on can be the way to playing your best.