Nashville's long wait to host an Elite Series event ends this weekend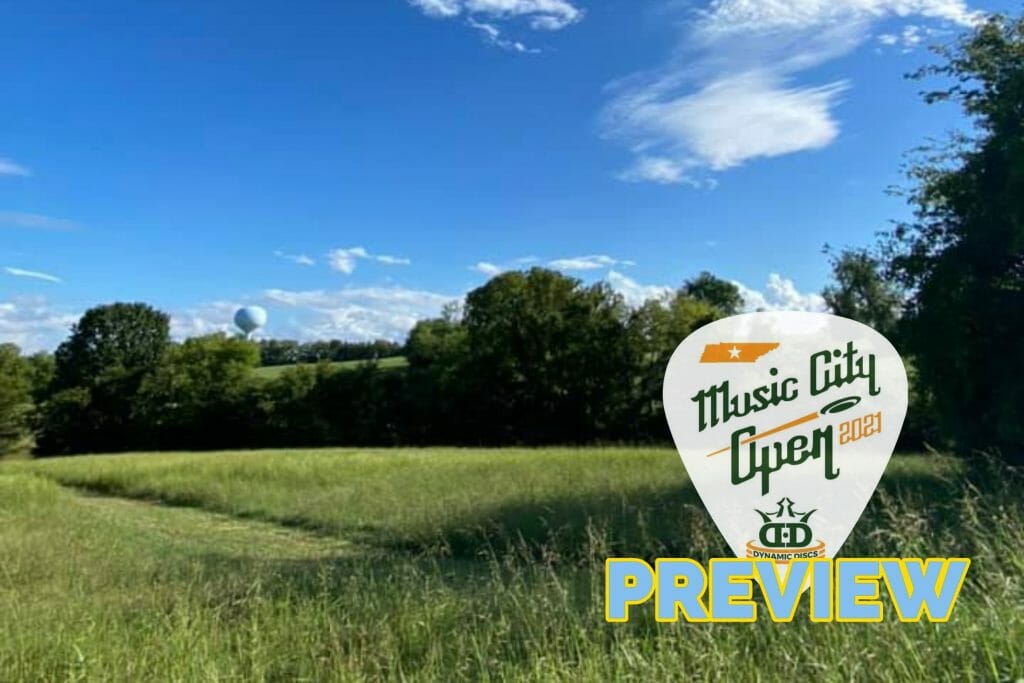 It feels too early for the PDGA National Tour to be finishing its season, but here we are.
The Music City Open has replaced the Hall of Fame Classic on the docket as the final NT stop, and the change also puts it earlier in the calendar than its predecessor. The National Tour version of the MCO is also now several years in the making with its inaugural event postponed from 2020. So what do we get for waiting? Well, a new course for one. And a couple complaints from touring pros, as has unfortunately become normal at PDGA-hosted events this season.
What we should see, however, is still some inspired play over four rounds. Both the Open and Open Women's divisions are in tight competition for the National Tour points title, as Ricky Wysocki and Paul McBeth are 1 and 2 in the ranks with only an 8.5 point difference, and Catrina Allen and Hailey King are a tick closer at 8 points. For those keeping score at home, if Wysocki and Allen don't finish within two places of McBeth or King they may kiss those first place prizes goodbye. And on the off chance that none of those four players performs well over the weekend there are Elite Series winners on their tails with a shot at pulling off an upset.
This season has already crowned a number of first time National Tour winners, so why not in the Music City? A memorable tournament can gloss over any perceived oversights at the event.
Past Winners
| Year | Tier | MPO | FPO |
| --- | --- | --- | --- |
| 2020 | A-tier | Alden Harris | Holly Finley |
| 2019 | A-tier | Chris Dickerson | Catrina Allen |
| 2018 | A-tier | Chris Dickerson | Madison Walker |
| 2017 | A-tier | Chris Dickerson | Sara Lamberson (Sinclair) |
What We're Watching
Like a lot of tournaments in Tennessee, Chris Dickerson has a very good track record at the Music City Open, having won the A-tier three consecutive years from 2017-2019. His reign was ended by young teammate Alden Harris last year, and Dickerson will be looking to follow-up the DGPT finale win at Green Mountain with another bit of magic.
Paige Pierce skipped the Dynamic Discs Open and Delaware Disc Golf Challenge which basically eliminated her from the NT points race, but it doesn't mean she won't be attempting to add onto her DGPT Match Play victory with another signature W before heading to Winthrop. She won the last NT she played in Santa Cruz and her aggressive nature could pick-up extra sticks on Mill Ridge
Väinö Mäkelä came to the States last week with Albert Tamm and Luukas Rokkanen with the intention of earning his way into the USDGC at MCO. The event is his last opportunity to qualify for the Major, unless he wants to go the Monday qualifier route, and he's the highest-rated player in the field to not yet have his USDGC ticket punched.
GRIP6 Pick6 Lock of the Week
James Conrad took Chris Dickerson to a playoff in 2018 at this event, albeit on some different courses, so may be carrying a chip on his shoulder as he hasn't returned since. His current form hasn't been up to par on a selection of courses that seemed suited to his style of play, so we'll take a chance on the extra air space the final two days to stir up something good in the US champ.
Including a win at the Des Moines Challenge, Missy Gannon has seven top five finishes at Elite Series and Majors this season, and that's not counting a runner-up finish last week in Match Play or a DGPT Silver Series win at Stafford. When Gannon played here in 2019 she didn't have the distance to keep up with Allen on Ravenwood, so the course updates should benefit one of the hottest players in the game.
The Courses
Cedar Hill, Rounds 1 & 2: MPO – 7,209 feet, par 58; FPO – 7,257 feet, par 62
If you can't score well in the woods at Cedar Hill during the opening two rounds then you may as well count yourself out of contention. The course has been in the ground for more than two decades and while the fairways are plenty fair, the rough can get you into trouble, and not every green offers clean putting lines outside of the circle.
Mill Ridge, Rounds 3 & 4: MPO – 9,190 feet, par 64; FPO – 7,941 feet, par 64
A temporary track on a newly-purchased piece of land by the area parks department, Mill Ridge will offer opportunities to air the disc out. It may feel like you're watching the Great Lakes Open with the way the layout incorporates the tree lines near the baskets.
Extended Forecast
Although rainy conditions were in place in the days leading up to the tournament, conditions look impeccable this weekend in Nashville. The cold front that prompted the showers and storms over the last few days has moved out of the area, and high pressure is settling in it's place. With that high pressure in place, no rain is expected and the wind will remain quite subdued.
Thursday: Morning temperatures near 50° will warm to near 70° this afternoon. Northwest wind of 5 to 10 mph possible.
Friday: Morning temperatures will start in the upper 40s and warm into the low 70s during the afternoon. A southwest breeze will be possible in the afternoon.
Saturday: Morning temperatures in the low 50s will warm to a high in the mid to upper 70s. A southwest breeze will be possible in the afternoon.
Sunday: Morning temperatures in the mid 50s will warm to a high near 80°. Again, a southwest breeze is possible in the afternoon.
How To Watch