The prestigious title has an Elite Series history more than a decade strong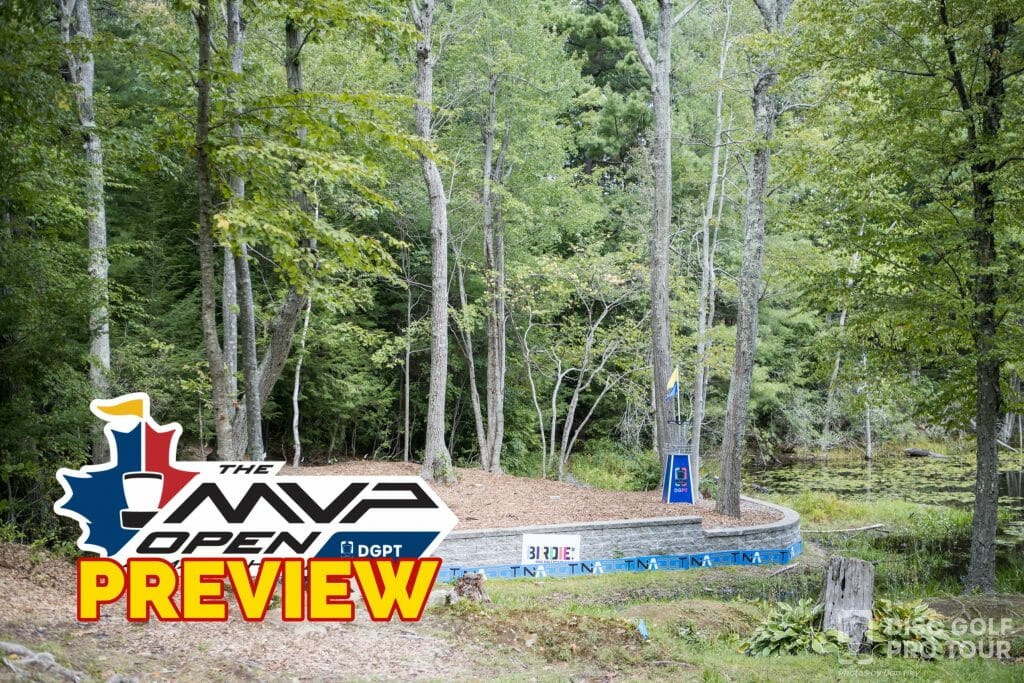 It's safe to call Maple Hill a mecca.
The birthplace of the Disc Golf Pro Tour, Tournament Director Steve Dodge has turned the Christmas tree farm at Maple Hill into one of the premier venues in the sport, and continues to tweak the masterpiece each year.
What makes Maple Hill truly special, however, is the community. The fans pack the Sap House and viewing area around the 18th green, and the "8 Holes" have been causing a ruckus near the turn on one of the course's signature shots for years now.
With an Elite Series history dating back more than a decade, starting as a PDGA National Tour event before transitioning to an OG DGPT stop, the MVP Open has gone through multiple name changes through the years, yet has lost zero prestige during the transitions.
There are a couple of tournaments every pro wants to win, and MVP is definitely one of them.
Past Winners
| Year | Tier | Open | Open Women |
| --- | --- | --- | --- |
| 2022 | DGPT | Simon Lizotte | Natalie Ryan |
| 2021 | DGPT | Adam Hammes | Catrina Allen |
| 2020 | A/DGPT | Paul McBeth | Paige Pierce |
| 2019 | A/DGPT | Paul McBeth | Paige Pierce |
| 2018 | A/DGPT | James Conrad | Sarah Hokom |
| 2017 | A/DGPT | Ricky Wysocki | Paige Pierce |
| 2016 | A/DGPT | Bradley Williams | Paige Pierce |
| 2015 | NT | Ricky Wysocki | Paige Pierce |
| 2014 | NT | Jeremy Koling | Paige Pierce |
| 2013 | NT | Paul McBeth | Valarie Jenkins |
| 2012 | NT | Cale Leiviska | Catrina Allen |
| 2011 | NT | Nate Doss | Sarah Hokom |
| 2010 | NT | Nikko Locastro | Sarah Cunningham |
| 2009 | NT | Barry Schultz | Sarah Cunningham |
| 2008 | NT | Avery Jenkins | Valarie Jenkins |
What We're Watching
It will be fun to see a number of players taking on the MVP Open for the first time, and that includes a couple of Open Women's players who can challenge for the top five, or better. This is Maria Oliva and Ohn Scoggins' inaugural trip to Maple Hill, and, no pressure, we're hoping for a lead card from at least one of them.
Paige Pierce and Paul McBeth both took off last weekend, and come back to tour to a tournament each has had plenty of success in. Both won here in 2019 and 2020, and McBeth has an NT to his name, while Pierce has won six of the last seven Elite Series events on the track. Will the time off serve them well?
Eagle McMahon doesn't have anything to prove, but a W at the MVP Open could silence some skeptics of his woods play. His first go at Maple Hill resulted in a runner-up finish in 2017, but his other two tries were an eighth place finish in 2018, and 14th place last season that included a 1011-rated day. McMahon has been off tour since a 12th place showing at Idlewild.
GRIP6 Pick 6 Locks Of The Week
By gawd, that's Bradley Williams' music. The Cactus hasn't been back to Maple Hill since beating Michael Johansen in a playoff at the 2016 PDGA NT. He'll be looking to capitalize on his recent string of success and get his second Elite Series podium and third top 10 Elite Series finish of the season. We think he's got it.
With the course not playing extremely long, Heather Young and her putting should be able to hit top five no problem. She had a slight slide during the final round at Delaware last week but still finished in fifth, and should be motivated to notch her first podium since June's Tennessee State Championship. Young was third at last year's MVP Open.
The Course
Maple Hill: MPO – 8,577 feet, par 60 ; FPO – 7,234 feet, par 60
While the course will be as pristine as we're used to, some changes have been put in place for 2021. Most noticeably will be the longer tee, larger green, and new drop zone on hole 8. The water carry will be around 300 feet for the FPO division, and just shy of 400 feet for MPO.
Extended Forecast
High pressure centered over the eastern United States will lead to nice conditions Friday and Saturday. That area of high pressure will move over the Atlantic on Sunday, leading to a chance of showers.
Friday: Afternoon highs will top out in the mid 60s. Northwest wind of 5 to 10 mph possible. A stray afternoon shower can't completely be ruled out, though widespread rain is not expected.
Saturday: Morning temperatures in the mid 50s will warm to the low 70s. A northwest wind of 5 to 10 mph possible.
Sunday: Rain chances increase throughout the day. Afternoon highs will top out in the upper 60s. Southwest wind of 5 to 15 mph possible.
How To Watch