Final Round Recap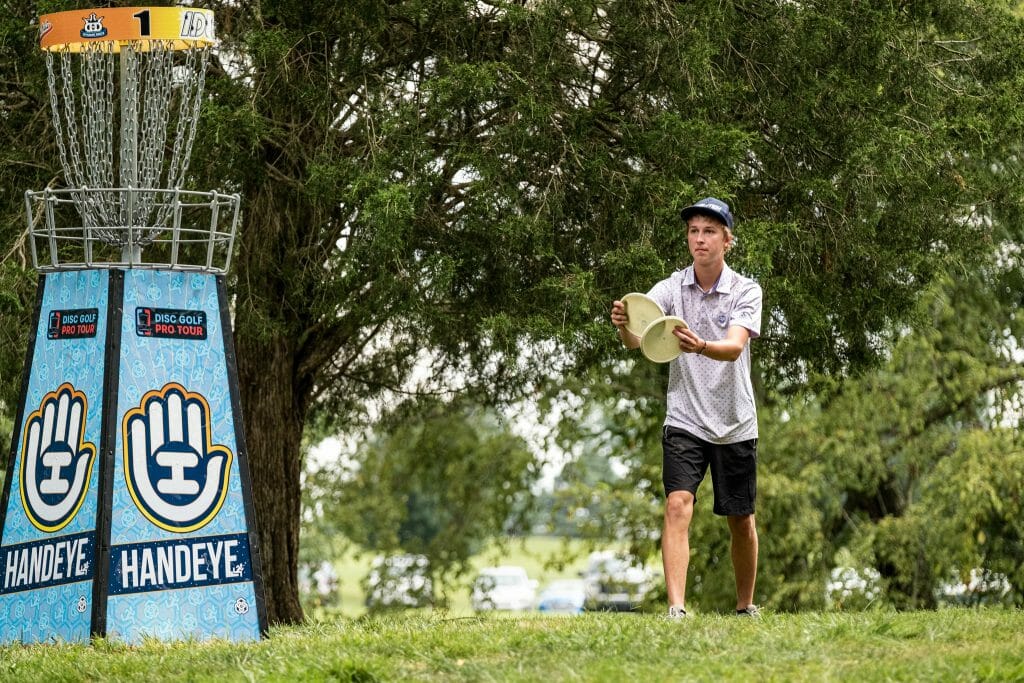 No player is entitled to an Elite Series win, but it sure felt like Kyle Klein was due.
The well-decorated amateur player was close to his biggest pro victory in his home state of Michigan last month, was threatening just last week before a final round cancelation, and is playing some of the most consistent golf on tour in 2021. With a win at the Idlewild Open on Sunday, Klein can finally say he's checked off that next step of his career.
"I really just don't have words right now," said Klein after becoming the fifth Idlewild Open champion in as many years. "I've worked so hard to get to this point. I've had a couple of close ones — DGLO and Ledgestone  — but it feels great to finally have got this one."
Klein entered the round tied with Andrew Marwede in third place at 16-under par, with Kevin Jones in second one stroke ahead, and Paul McBeth leading at 20-under par. While McBeth was unable to get into into scoring positions off the tee on Sunday — he reached Circle 1 in regulation at a 28% rate in the final round, 28 percentage points lower than his second round rate — no other player on the lead card was able to do much to make up the difference on the front 9, as  Jones were bothered by early bogeys and Marwede and Klein were mostly pars.
By the time the leaders were playing hole 7, there would be a new leader, and they would be playing on the second chase card about three holes ahead. Joel Freeman caught and surpassed McBeth by going 7-under par on the front 9. He wasn't alone in making a move either, as Corey Ellis would reach 20-under as well with one of the few birdies on hole 10. When Jones hit an eagle on hole 8, it seemed to jumpstart the scoring of the lead card, and just in time with the new group of challengers.
"It tells you something about the course," said Klein. "I'm not gonna say it's a poke and pray, but it's enough of a challenging course where if you have all the shots."
As Marwede joined a share of the lead at 21-under par with a birdie on hole 11, Klein would still be two back at 19-under par, though starting a birdie run of his own. Klein already had two massive C2 makes to keep pace on holes 8 and 9, and would use another 50-footer on the par 5 hole 12 to pick up a stroke on the card and cut his deficit to one stroke. Marwede would take the outright lead at 22-under par on hole 13, which Freeman would quickly match, and Klein, Jones, McBeth, Ellis, Drew Gibson, Calvin Heimburg, and Ricky Wysocki would all be at 21-under par and within two holes of each other with the final third of the course left.
Jones' par on hole 15 seemed to essentially end his chances at a win. Freeman (24-under) and Gibson (23-under) would eagle hole 16 as Klein and Marwede birdied hole 15. Wysocki (23-under) and Heimburg (23-under) would also both eagle hole 16 as the lead card waited to tee.
An errant drive from McBeth on hole 16 would also close the door on any title hopes, but Marwede and Klein got C2 looks for eagle. Meanwhile Freeman would go OB on hole 17 and settle for a par (24-under) and Gibson would park his drive for birdie (24-under). Neither Marwede nor Klein would convert their eagles, though birdies would still give Marwede the outright lead at 25-under par and keep Klein in the second place logjam of 24-under par with four others.
Freeman and Gibson would stall out on hole 18 for pars to finish at 24-under par total. Klein teed first from the lead card on hole 17 and found the OB near the basket for an easy tap-in par. Marwede would not be as fortunate, hitting an early tree to go OB well back from the green. Jones, who seemed out of it, parked his drive for a birdie to bring his total to 24-under par as well. A bogey save from Marwede — his first bogey of the tournament — would drop him to 24-under as well, meaning it was all on the line on hole 18.
On the chase card, Heimburg would put the pressure on first, pinning his approach shot on 18 with a big turnover backhand from the right side of the fairway. The birdie would tie him at 24-under par in the clubhouse with Freeman and Gibson. Jones, Klein, and Marwede would all get off the tee of hole 18 cleanly. With the first approach of the group, Jones left his approach to Circle 2 with a slight obstruction. Klein stuck his approach within 10 feet on the backstop green for birdie, solidifying a playoff spot at worst. Marwede had the best drive on the hole, and the best approach as well, landing his disc inside of Klein's. Jones would not make his birdie and would finish at 24-under par in a tie for third with Gibson, Freeman, and Heimburg. Klein and Marwede moved to a playoff at 25-under par with birdies.
Going back to hole 1, Klein got to C2 off his drive but had nothing, forcing a lay-up for birdie. Marwede found a tree at the bottom of the hill and had to stretch out to forehand up an approach, finding another tree in the process. He still sat at the edge of the circle needing to make a putt on the elevated basket to push. Marwede would make it to move the Michigan duo to hole 2.
Both players were clean with forehands off the tee on hole 2, a hole neither had birdied all weekend. Marwede's forehand approach was caught up again though, and nestled in C2 for the birdie try. Klein would make it extra difficult, cresting the last ridge before the green with a backhand and skipping into backpack-on putting range. With a last effort, Marwede's birdie putt hit the top band and rolled into the OB water, making Klein's birdie putt for the sudden-death win a formality.
"I think it means no limits," said Klein of the win. "There's no tournament I can't win, and I'm going to push for more."
Over three rounds, Klein was first in fairway hits (79%) and finding C2 in regulation (75%), second in C1 in regulation (52%), and third in strokes gained from tee-t0-green (12.97). Marwede was third in strokes gained in C1X (4.62). It's Marwede's best finish at an Elite Series event.