Final Round Recap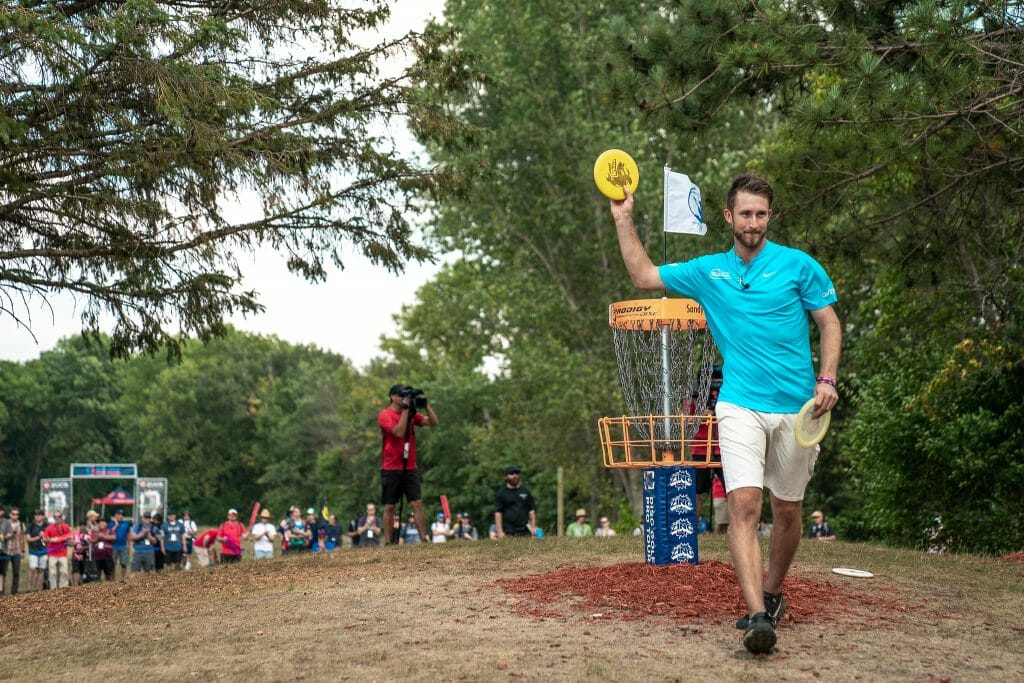 With deteriorating air quality on Saturday and overnight Sunday, the final round at The Preserve Championship was literally up in the air. Ricky Wysocki and Eagle McMahon were tied for the lead after two rounds, and before the Disc Golf Pro Tour confirmed the tournament would finish Sunday morning, those fighting for the title were unsure if they'd get one more crack at the Black Bear layout. All that didn't change the mindset of the players much.
"After yesterday, it was basically two rounds that felt like the final round, so the pressure was insane," said Wysocki. "I was prepared to play no matter what. Obviously, I always want to have a chance to solo win, that's always a great feeling."
Paul McBeth was trailing Wysocki and McMahon by two strokes heading into the third round and immediately made good on the new chance to compete for first place. As both leaders had early two-putts and struggled to get the scoring started on a still windy day, McBeth hit every tester on the opening third of the course and had caught first place by hole 7 with a birdie. Wysocki, who was only 1-under through six holes, also birdied the par 5 hole 7 to McMahon's scramble par to create a now three-way tie for the lead at 26-under par.
Through the end of the front 9 and as the leaders made the turn, McMahon and McBeth eked out a minor advantage by picking up one extra birdie over Wysocki, but were using up valuable concentration on multiple Circle 2 and edge of circle looks. Wysocki's four birdies between holes 8 and 13 were all tap-ins.
Down a stroke with five holes to play and two of the other top-ranked players in the world ahead, Wysocki started his Raptor-legged charge. No one in the trio put themselves in good scoring position on the treacherous green of hole 14. McBeth was left with a C2 look to save par, and McMahon and Wysocki both had death putts for birdie from C2. McMahon threw a quick lay-up for par first, but Wysocki stared his down from 50 feet, willing his disc into the chains with a body lean and hop.
The score was tied at 31-under par with four holes to play.
After birdies on the par 4 hole 15 for all, it was McMahon's turn for the big putt on hole 16. Wysocki and McBeth were caught up short in C2 looking up at the basket, and McMahon was long on the other side of the elevated green. McMahon connected first for a 50+ foot birdie from a slightly obstructed angle. McBeth drew metal but missed, and Wysocki kept pace with McMahon by answering with a birdie from just outside 10 meters.
Off the tee of hole 17, McMahon would not give himself a look for birdie on the raised basket. Wysocki would go a bit long to the edge green by the water but was inside the circle. McBeth would park it. With McMahon unable to extend his share of the lead, and McBeth a lock to tie for the current score, Wysocki was staring down a headwind for the outright lead and one hole to play. He canned the putt with authority to go up one.
"I had some awesome putts down the stretch of the tournament that kept me in the hunt, and kept me ahead, so the putter was hot when it needed to be," said Wysocki, who was using a less-familiar yellow KC Pro Whale-stamped putter for many attempts. "I think situationally I was good, that's the most important thing. I missed some points early, but down the stretch when I needed to make them I did."
Hole 18 is eagle-able, and Wysocki was playing for an easy birdie, forcing the other two to eagle to push a playoff. McBeth only got into position for an eagle look from the fairway, needing a throw-in he would not convert. McMahon was more aggressive, putting his drive well clear of any water hazard, and his second shot into the bunker short of the basket for a C1 eagle opportunity, slightly below basket level. McMahon's putt hyzered early, hitting the left side of the chains but continuing its flight past the basket. He'd make the comeback birdie but Wysocki was also finishing off an easy 4 to take the title.
Wysocki's six hole birdie streak to end the final round tied him for the hot round 11-under, and gave him a final winning score of 35-under par. McMahon finished second at 34-under par with a 10-under day, and McBeth was third at 33-under par with an 11-under of his own. The Preserve Championship is Wysocki's third Elite Series win of the season, and first since Jonesboro in mid-April.
"The environment's totally made out here, Cale [Leiviska] did a great job, and I'm just on a high," said Wysocki. "I played solid down the stretch and that's how I got it done."
For the event, Wysocki was first in fairway hits percentage, and second in parked shots, finding C1 and C2 in regulation, and strokes gained from tee-to-green at 18.81.
Gannon Buhr matched the hot round on Sunday and finished in solo fourth, a career-best finish at an Elite Series event for the teenager and 2019 Junior <15 World Champion. Perennial crowd favorite Matt Orum, who played on the lead card the final two rounds, finished fifth place at 30-under par, his second Elite Series top five in 2021.