Some thoughts from top pros on the week in Utah.
Ultiworld Disc Golf's coverage of the 2021 PDGA Pro World Championships is presented by Skybreed Discs, a top online retailer and preferred vendor of the 2021 Ledgestone Insurance Open, and Aria Discs, a new disc golf brand making discs designed for beginners.
Top professional disc golfers have been taking to social media to share their thoughts on the stunning finish in both MPO and FPO. Here's a collection of what players have had to say from around social media.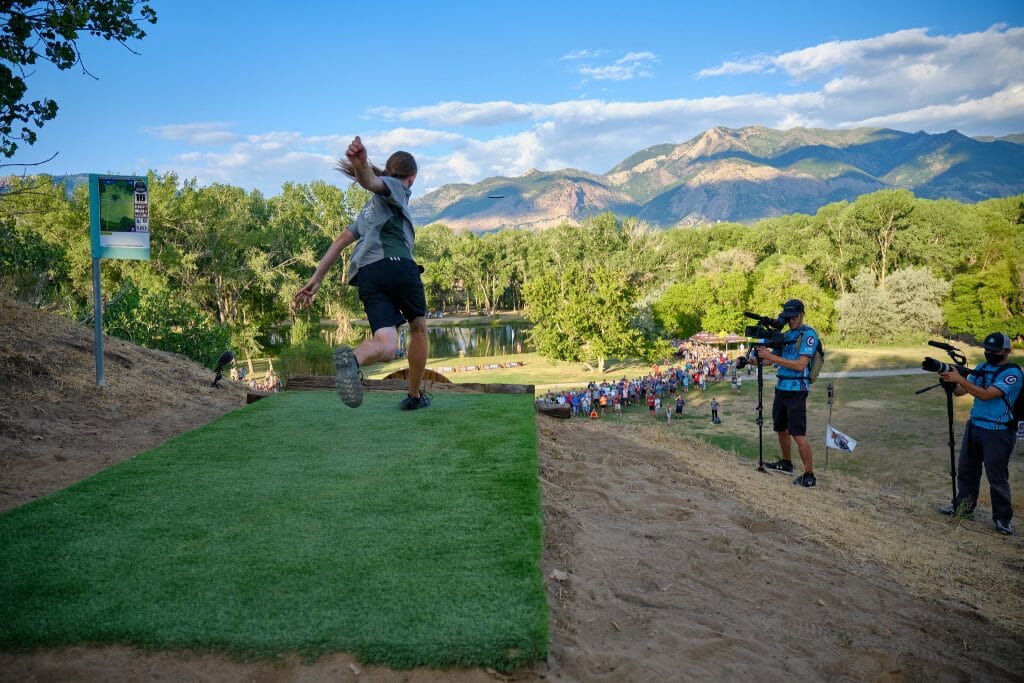 2021 Professional Disc Golf World Champion!
I am deeply honored and extremely proud to have earned this title!
It is hard for me to express exactly how my final shot on hole 18 went down — it felt like magic. I honestly believe I was able to tap into something special and that the hopes, dreams, support, and energy from the 1,000+ people there watching in person helped me reach an absolute maximum level of focus. I centered myself, visualized the entire flight of my Envy, took several deep breaths, and tried to throw it in from about 250 feet. I held the follow through as I watched the flight.
A disc flying can be a special thing to watch and this flight felt outside of time if that makes any sense. It was in the air for an eternity and for no time at all. In near disbelief, I saw my Envy settle right in the basket for birdie! The eruption of emotion and love and awe from so many people was unreal and unforgettable and better than any dream! Just trying to write this almost makes me shake and laugh and cry. I certainly have not wrapped my head entirely around it.
This throw in birdie tied it up after Paul got up and down for his par and sent us to a sudden death playoff for the World Title! After a short break to calm down and get ready, we hiked back up to the 16th tee. Seeing the crowd gathered below and hearing chants of "Con-Rad, Con-Rad" was a spectacular feeling. This boosted my confidence and for the first time all week the tournament and title felt entirely like mine to win or lose. Still incredibly high off the emotional outburst just moments earlier, I focused on my breath, managed to settle down, focus up, and park the island hole putting the pressure on. This shot ended up securing the win, and my first World Title!
Comments on Conrad's Post
Simon Lizotte: "One day I want to be like James Conrad 🙌"
Nate Sexton: "

Congratulations! I've been playing 20 years and you absolutely blew my mind out there. One of the most memorable amazing moments I have seen in my life! 🏆"

Nikko Locastro: "

You deserve this James ❤️🏆 Legendary finish my brother 🙏🏹🛸"

Gregg Barsby: "Way to bring one home for the longhairs! 🔥 So incredibly stoked for you, what an amazing show you put on! Great throw in, and way to seal the deal."
Ricky Wysocki: "

You have the best visualization for throw ins and aces EVER! Congrats buddy! 👏"

AJ Risley: "So beautiful. Thank you so much, James! I will buy you an onion, my friend. ❤️"
Dustin Keegan: "

Legendary!!! I still get chills thinking about that moment. ❤️❤️❤️"
My brother James Conrad just threw one of the greatest shots in sports history en route to winning the 2021 Disc Golf World Championship.
There was this special phenomenon that happened in the moment leading up to the shot. The "self" of everyone in attendance drifted away. Every single human gathered their focus to help James will the disc into the basket. It was a true collective consciousness. When the disc came to rest in the basket there was an eruption of energy that many of us if not all of us had ever felt before.
I will never forget the moment. I will never forget where I was when the shot went in. I will never forget running around with my friends hugging everyone in sight.
James, I've looked up to you since day one. I couldn't be more proud of your accomplishment and I couldn't be more proud to call you a friend.
Comments on Perkins' Post
James Conrad: "

Thank you so much Nate! I'm forever grateful for your friendship and support. It seriously feels magical to have shared that moment of collective consciousness with you and everyone else there ❤️🙌"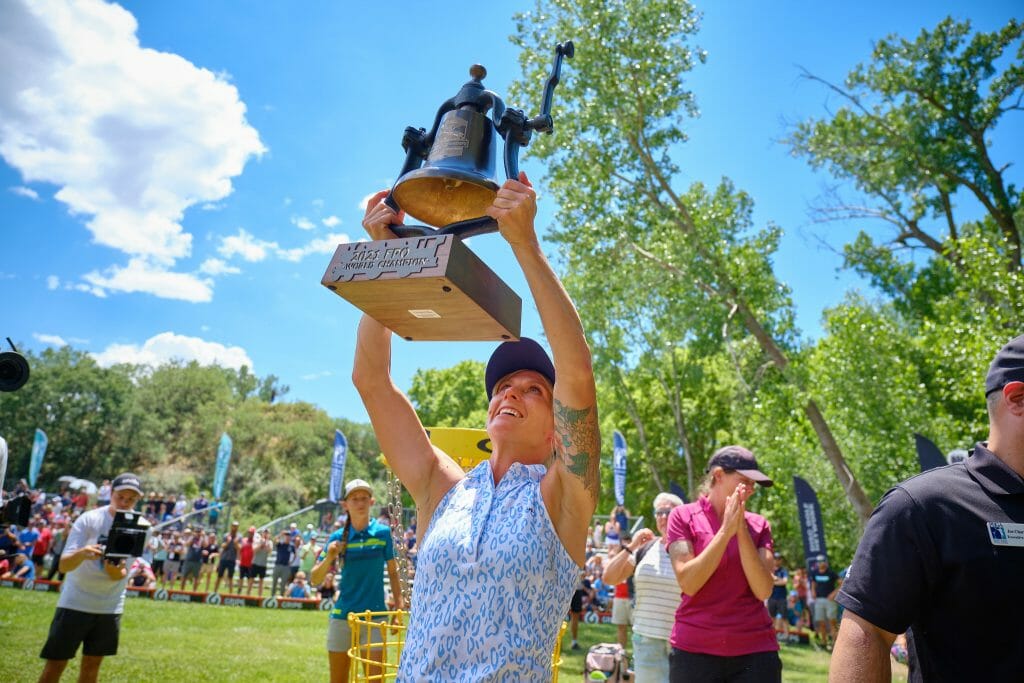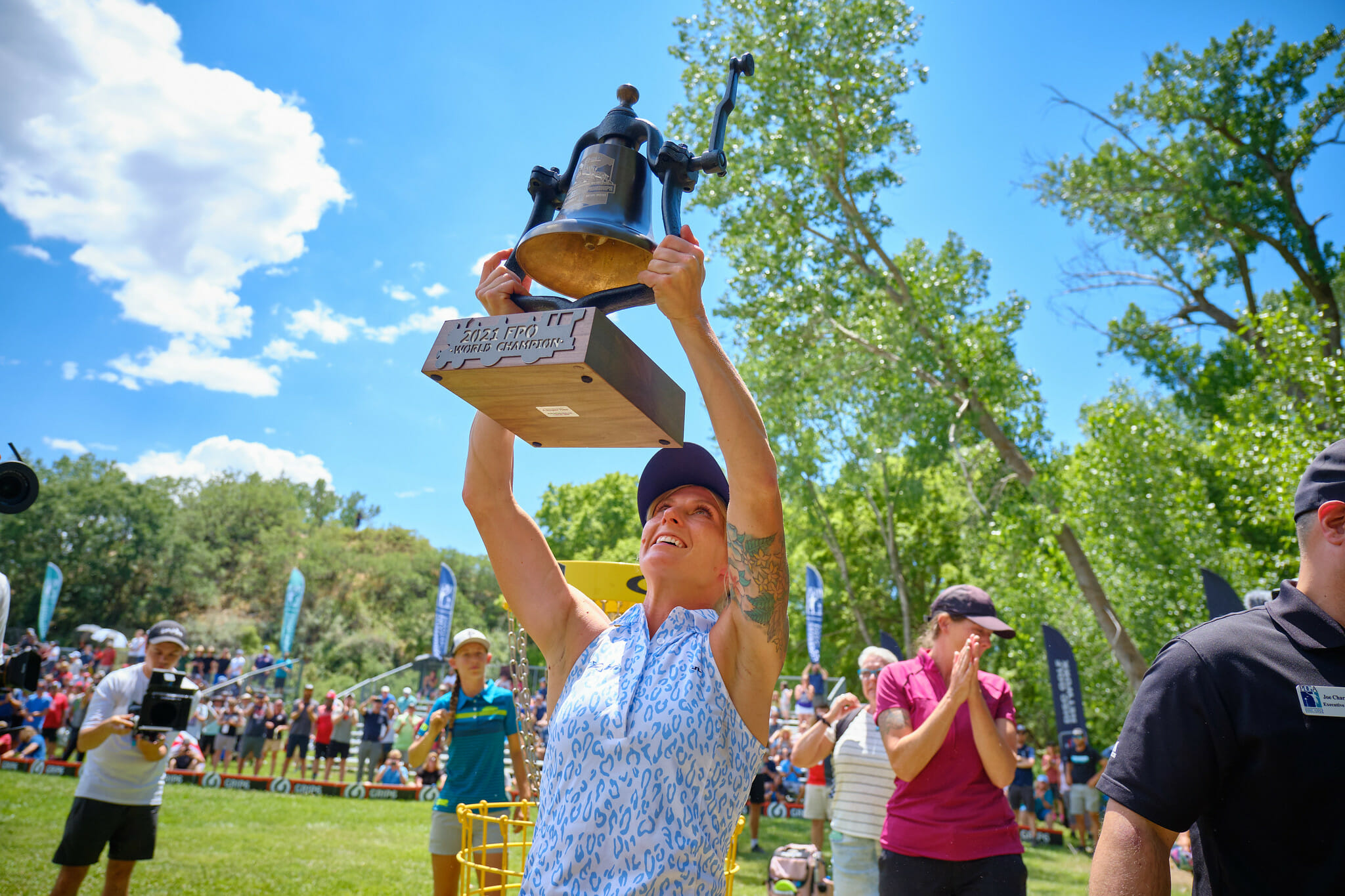 2021 and now 2X PDGA World Champ! 🏆🏆
It has been a long hard journey to get here and I am still so overwhelmed with emotion. The amount of love and support I have received is incredible and makes all the hard work and sacrifices worth it. I'm so lucky to have so many amazing people in my corner to encourage me and celebrate with me! A special thanks to Austin who has been there for the lows and the highs. My mom who drove 14 hours to come spend the week supporting me. Thank you to Prodigy for also sending so much support throughout the week! All the spectators who came out and cheered us on! One of my favorites has been the videos of people celebrating the win from all over through the live coverage. Again, I am just so overwhelmed with love and support and I just feel so grateful for it! I am home in Minnesota enjoying the win by relaxing and spending time with my friends and family!
Comments on Allen's Post
Holly Finley: "👑"
Paige Shue: "Congratulations Catrina!! So awesome!!"
You can also hear from Catrina Allen on this segment from a local Minneapolis radio show.
The 2021 PDGA Pro Worlds are over and I'm back home. I had a great time this past week competing for the title in Ogden, Utah. It was so close I could taste it at times, but in the end I came up a few shots short in solo 3rd place, my best World Championships finish and 4th in the top 10. It felt really good to be in the hunt at a major again after the time away during COVID — thank you to all my fans for cheering me on all week!
I want to thank my caddy Andrew Gilpin and his wife @s_gilpin for their support and for a fun day of mixed doubles to kick off the week. Thanks to my sponsors @innovadiscs and @pounddiscgolf for their unwavering support throughout my career. Thank you to the tournament staff, the @pdga and the @discgolfprotour for the tournament and the live coverage. Thank you to @jomezpro for the opportunity to call one of the all time great major finishes in our sport. And finally thank you to @paul_mcbeth for never making anything easy in this game, for always pushing us forward.
Huge congratulations to my friend @james_conrad_iii on his incredible victory. It was the most exciting incredible sporting moment I have ever witnessed. I was 50 feet from the basket and all I could do was raise my arms and scream at the top of my lungs. It was unlike anything I have ever seen and I can only hope to be lucky enough to experience something like that again. The greatest shot I've ever seen, fitting it was thrown by our World Champion! 👏👏👏
2021 World Championships. We all waited two years for this chance at making history. I myself fell short of that, but history was without a doubt made! Disc golf shined bright this week and I am so very grateful to have been able to be there to push Catrina on her way to her 2nd world title. With my one stroke advantage going into 18, she knew she had to go for the green and nailed it! I can't imagine the thrill of seeing that green flag, but I can tell you how I felt.
I was on the highest stress level I have ever been at for 45 sustained minutes, but that's exciting for me as an athlete. Those feelings are why I play. Then, watching my approach come out of my hand early was devastating. It felt like my breath was taken away.
This week was about SO much more than my short comings. This was a huge success for the growth of not only disc golf in general, but in women's disc golf. @prodigydisc has a 2x world champion, and I am anxious to see what disc they decide to add that new signature to! If you were watching and cheering Catrina on, make sure you grab one and show her some support, and show Prodigy that giving one of the greatest athletes our sport has seen a signature disc was way overdue!
This next part goes without saying, but I HAVE to say that seeing one of my greatest friends @james_conrad_iii not only win a world title, but to do it in a way that will never be forgotten truly felt like a dream all of us were in together. So happy for you Jamesy💗!
That's all for now, but I have many more thoughts. I plan on going live in the next 24 hrs so we can interact and I can let you all in my mind.
Thank you to @discraftdiscgolf I am blown away by you. You all are so supportive of not only me, but for the entire sports' growth. I am excited to get to Michigan next week for some promotion of our next PP mold. The test flight is releasing tomorrow on my site, make sure you check that out!
PS: the ball (disc) never lies. I now know that I missed the triple mando on 10 in round 4. I can promise you, if I would've known in the moment I would have never taken that call. I am certainly not a cheater, and I hope you all can understand how the ruling was made ❤️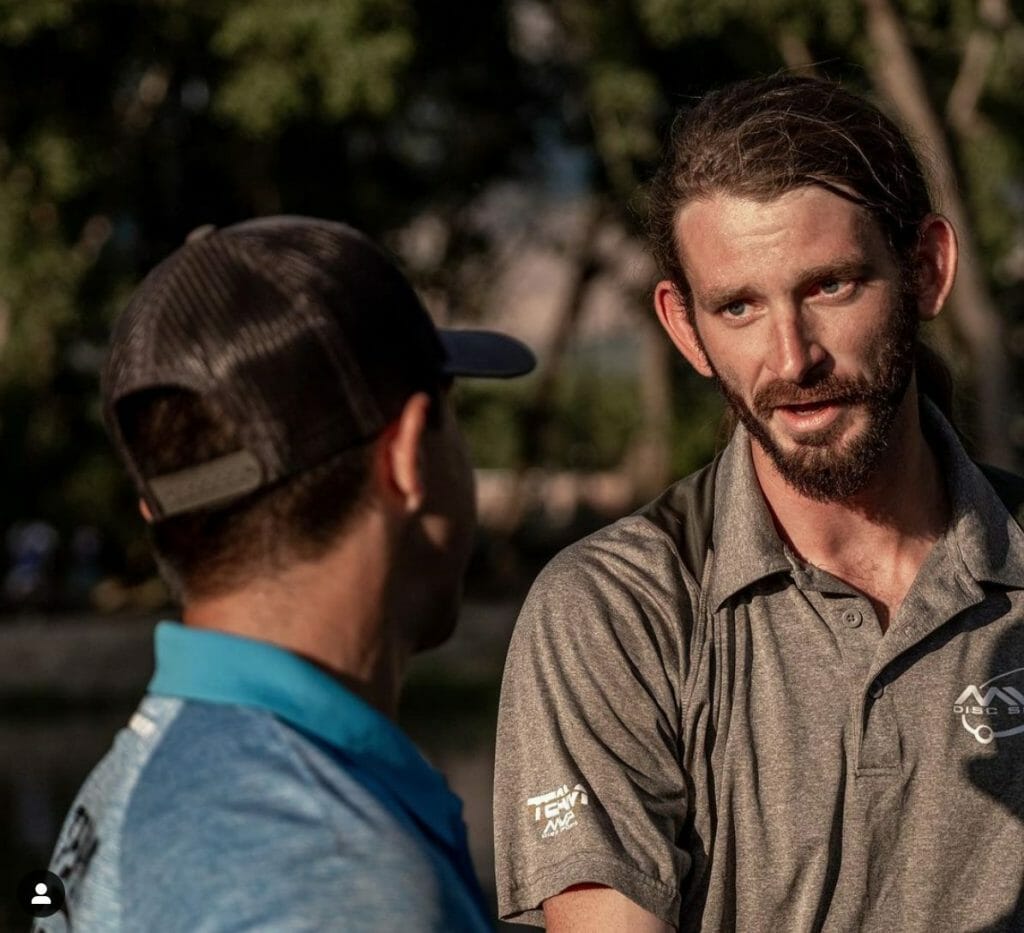 This man threw the greatest shot in disc golf history. @james_conrad_iii as much as it hurts to take 2nd, I am truly happy for you. I know this year you had something to prove.
Huge thank you to everyone who came out to watch in person or tuned in online. I hope we put on a great show!
2021 Disc Golf World Championships – 4th.
This was my first tournament in Utah, and wow was this trip crazy. Huge shout out to my Dad and sister for making the big trip out, this week was absolutely amazing. I want to thank everyone who welcomed my family with open arms, I cant express how meaningful that was. Thank you.
Big shout out to my caddie Lindsay, you're truly amazing and I couldn't do any of this without you.
To @mo_1029, Lindz and @brian_earhart yall are truly my family, and I love yall so much.
I absolutely love the Fort, and Mulligans was quite fun too. I truly enjoyed my time in Utah, and it was the best learning experience I've had in such a long time. I feel so good right now, I never gave up this weekend and it was so tough.
I'm going to be the most honest I have been with y'all. Ive never been that happy and that sad at the same time. I truly have never believed in my self as much as I did in the last round. My approach shot on 18 absolutely killed me, I've never felt that way before. There were so many new emotions and situations this week, it honestly is making me hungry 😈.
I just got home; I'll be here for the next couple of weeks. Im super thankful for all of you who support me. The fans this week was absolutely amazing. I absolutely loved every person I met this week, we are all true fans of this sport. It was so uplifting to see all of you there supporting our goals. Thank you for everything. Love yall🙏🏼❤️
Congrats @james_conrad_iii you are such an inspiration, and a true hero. Much love to you and @caffeinethenchaos !
Brodie Smith on Twitter
UNBELIEVABLE!!!! pic.twitter.com/me49OktnfT

— Brodie Smith (@Brodiesmith21) June 27, 2021