Round 1 FPO Recap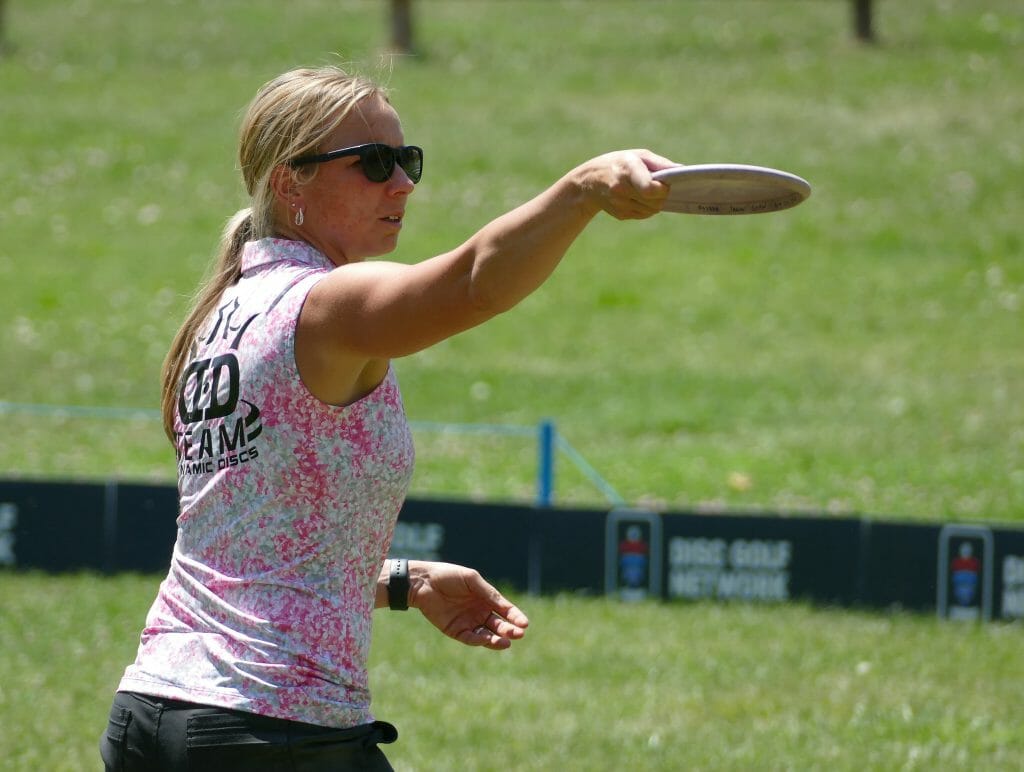 Ultiworld Disc Golf's coverage of the 2021 PDGA Pro World Championships is presented by Skybreed Discs, a top online retailer and preferred vendor of the 2021 Ledgestone Insurance Open, and Aria Discs, a new disc golf brand making discs designed for beginners.
The Open Women's division opened play at the 2021 PDGA Pro Worlds on the wooded Fort course. Scores are extremely tight for the top of the leaderboard as no player was able to create any separation.
After a slow start that included back-to-back bogeys over the opening six holes, Paige Pierce got things moving on Tuesday to take the day one lead at 3-under par total. Pierce was 100% from Circle 1X and added consecutive Circle 2 birdies on holes 7 and 8 to highlight a strong putting day. If it weren't for a double-bogey on hole 18 after finding OB, her only hazard stroke of the round, Pierce would be well in the driver's seat heading over to Mulligans.
Sarah Gilpin was in the clubhouse earlier than the feature cards and she carried the lead into it with her. The Iowan tied for Madison Walker (T-5th) for fewest strokes recorded over par. Gilpin and Hailey King are one strokes behind Pierce at 2-under par total.

King's skills were seen off her driving where she led the field hitting 89% of the fairways in such a tight course. Her drive on hole 11 was her most impressive shot which featured a flexy anhyzer backhand and catching the only birdie from the field.

Valerie Mandujano wraps up the lead card for round 2. She's in fourth at 1-under par. After some early troubles, Mandujano went 3-under par to finish the day starting with a birdie on hole 5.
The long jam in fifth at even par include Lisa Fajkus, Catrina Allen, Kristin Tattar, and Walker. We'll talk about Walker again because she was feeling it on the long putts by hitting three from C2 compared to five two-putts from C2.

Everyone must be wondering where Allen stands. Allen saw strong fairway hits at 68% but was not able to capitalize on her putting when she was within C1 with a percentage of 67%. A textbook drive was seen on hole 13 where she was able to navigate a low ceiling to park the birdie. 

In her return to competitive action, Sarah Hokom is 4-over par in a tie for 15th.
Statline
The Fort plays as an extremely challenging course and will force the winner to prove themselves as the world champion. The FPO division averaged +7.89 over par during day one with only four players shooting under. Holes 8, 11, and 14 saw only one player catch birdies with Pierce, King, and Valerie Mandujano respectively.
Heard
"It's a long tournament and after tomorrow it's going to feel like we have a whole tournament to go. Whatever I can do in the first two rounds to give me a head start would feel good. I feel like I am in control, in a good position, and patient. That is going to be a key to success this week to know that there are still 90 holes to play." –Paige Pierce, on her mentality following day one.
Highlights