Texas duo snatch first trophy in Utah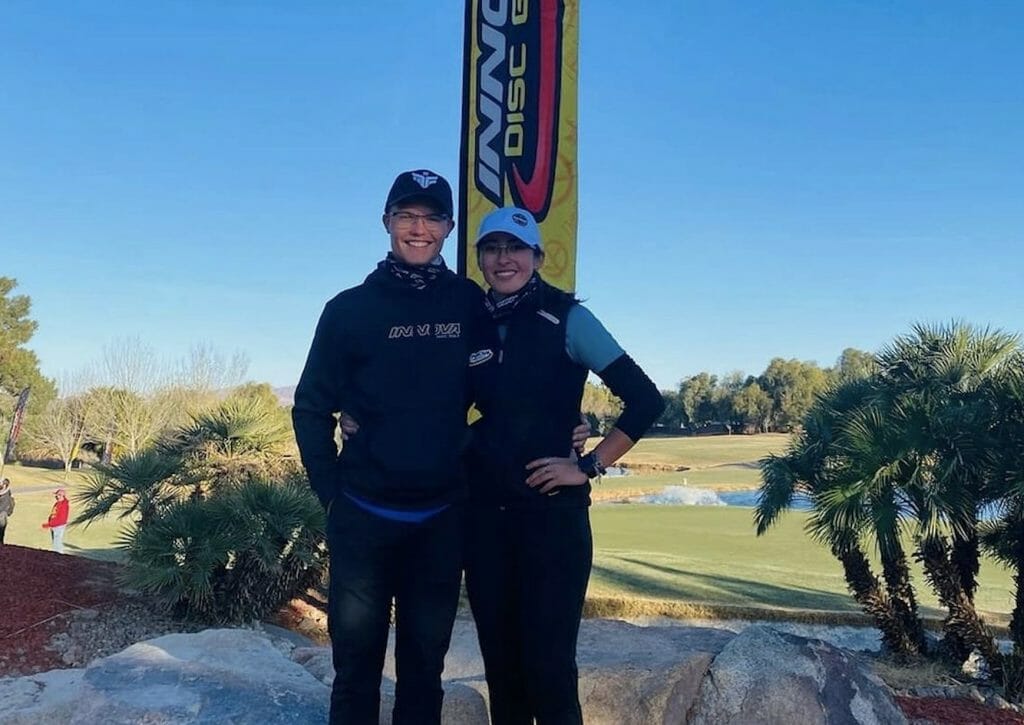 Ultiworld Disc Golf's coverage of the 2021 PDGA Pro World Championships is presented by Skybreed Discs, a top online retailer and preferred vendor of the 2021 Ledgestone Insurance Open, and Aria Discs, a new disc golf brand making discs designed for beginners.
With back-to-back hot rounds, Valerie Mandujano and Mason Ford won the first title at Pro Worlds in Ogden, Utah at the Mixed Doubles event Saturday.
The two-round event was played on The Fort course, utilizing a unique format "designed to ensure that the results accurately reflect a team performance by using both partner's skills and abilities to contribute to the team's score." The morning round saw a modified best shot format, where both players are able to tee on each hole, but no player's drive can be used by the team for three consecutive holes. Other shots after the drive all proceed as traditional best shot, with the team choosing whichever shot they prefer. Second round action was modified alternate shot, with the only twist being that the player to tee on each hole was predetermined by the event Tournament Director.
Mandujano/Ford, who are also a couple off the course, got out to a one stroke advantage with an 11-under par 52 after the modified best shot opener. Teams Ella Hansen/Cole Redalen, Deann Carey/A.J. Carey, and Rebecca Cox/Nathan Queen were tied in second. Hansen and Redalen would DNF during round 2 after Hansen got a nosebleed she was unable to stop.
A 5-under par alternate shot second round wrapped things up for Mandujano/Ford to push their score to 16-under par total, four strokes ahead of second place finishers Ellen Widboom/Joel Freeman. The final podium spot was a three-way tie between teams Sarah Gilpin/Nate Sexton, Heather Young/Chris Dickerson, and Kat Mertsch/Nikko Locastro.