Round 1 Recap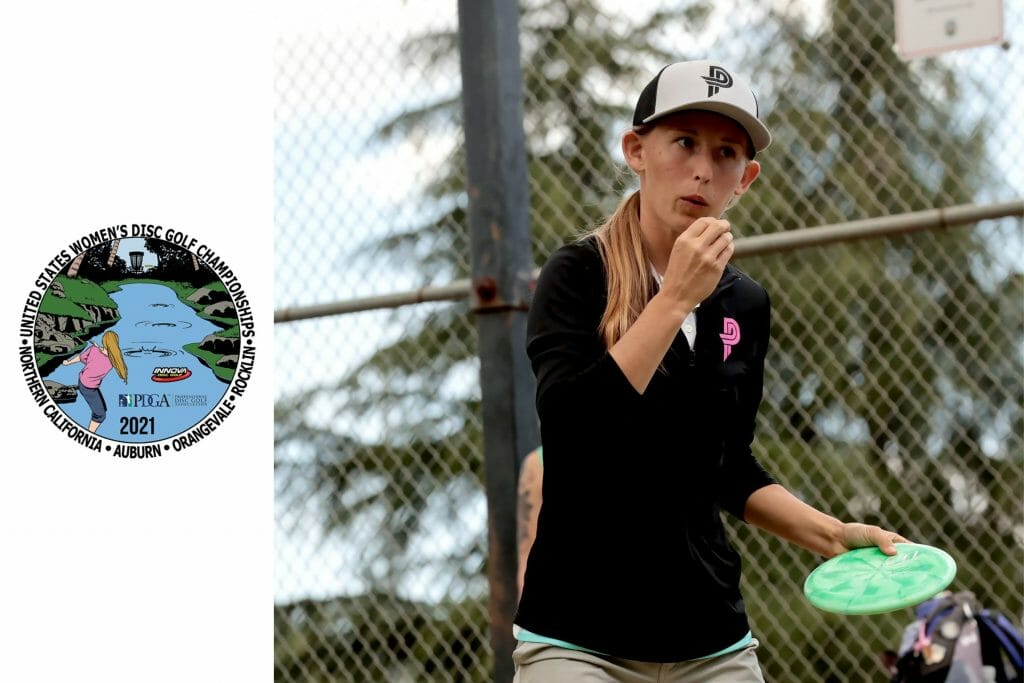 One round down and now the most wooded and technical course the players will take on at the United States Women's Disc Golf Championship is behind them. Eleven players from second to 13th place are within two strokes of each other, but clear of all of them by four strokes sits a single player.
When Paige Pierce rejoined the Tour in Stockton at the OTB Open last weekend, her first round was pretty sloppy on the putting green, and she readily admitted it. On the Auburn course Friday, Pierce was clinical, starting her round with eight straight Circle 1X makes in route to a 100% inside 10-meter rate. In addition to her 13-for-13 mark in C1X putting, Pierce leads the division in fairway hits, finding both greens in regulation, and both strokes gained from tee-to-green and on the green. A lone bogey on hole 2, one of the tougher holes relative to par on the course, was the only blemish on the scorecard. Pierce didn't even have to scramble and is out front in first with a 1014-rated 6-under par.
Four players — Kona Panis, Hailey King, Madison Walker, Holly Finley — are tied in second place, four strokes behind Pierce at 2-under par. Finley and Walker are usually good for strong performances on more wooded fairways, and Walker may have had an even more impressive putting day than Pierce. Walker did miss one putt inside the Circle, yet made her other six chances and chipped in three C2 makes as well. A mark only topped by Sai Ananda.
Kristine King made the most of her livestream feature card inclusion and shot a 965-rated 1-under par and is solo sixth after 18 holes. King is from up the road in Chico, California, and has been playing PDGA events since 2005, yet almost exclusively in NorCal. She won the Auburn Open on this same Auburn Regional Park course about a month ago and showed she knows how to play the track. We'll see how see continues to play on more courses she should be quite familiar with.
Of the six players tied in seventh place at even par, a handful are probably unfamiliar to the larger disc golf fan base. Taylor Foth leads the division in parked percentage after round 1 and traditionally you can find her playing events closer to her Washington home. Amy Lewis is also from the PNW, and has 48 career wins to her name. Ananda, who we mentioned earlier and has toured more extensively than some of the others in the group, had eight C1 makes, three from C2, and a 80-footer for birdie on hole 6.
Catrina Allen (T-13th), Jessica Weese (T-16th), and Ohn Scoggins (T-21st) did not get the starts they were looking for, but should be able to make strides on moving day.
Heard
"This is the course with the most trees on it, the most technical of the courses, so I was assuming this was going to be my worst round. To come out and be on top after this round I feel very happy." — Paige Pierce
Statline
Five players shot 974-rated or better rounds on Friday. Only one other FPO round in 2021 at Elite Series events has seen five players shoot that well, the first round of the Jonesboro Open where five players were rated 977 to 1009.