The Arkansas tournament serves as a bellwether.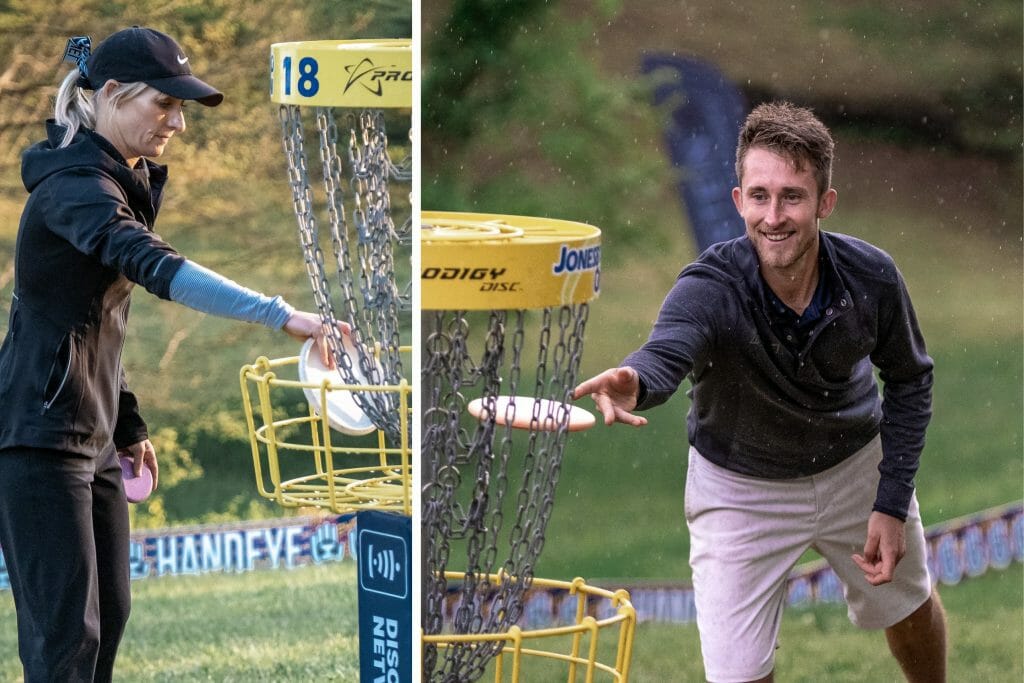 Since 2017, the Jonesboro Open has been a pretty darn good predictor for who will win the World Championships that year.
In fact, with the exception of 2018, when neither Gregg Barsby nor Paige Shue played the event, the winner of the Jonesboro Open has gone on to claim the world title. If you're Catrina Allen and Ricky Wysocki, that is great news. If you are anyone else, you've officially got a trend to buck.
Wysocki and Allen's wins in Arkansas were both healthy, convincing victories. Allen's was an absolutely dominating performance, propelled in large part thanks to her 12-under par, 1041-rated second round, which made the third round more a victory lap than a competitive 18. Allen led wire-to-wire and finished first in most major statistical categories. She kept it on the fairway and avoided those round killer three-putts which have plagued her at times. This weekend, Allen led FPO in strokes gained on the putting green. Money.
Wysocki also went wire-to-wire and recorded zero bogeys on the weekend. He never even went out of bounds. Wysocki only missed two putts inside 10 meters all weekend. Most importantly, Wysocki looks healthy and confident this year, continuing to look as though he is winning the fight against Lyme disease. 
Both players have to be the odds-on favorites to take down Worlds this year in their respective divisions. Both Allen and Wysocki won the Utah Open in 2017 and 2018. Allen did not play in 2019, and Wysocki took second. Paul McBeth and Paige Pierce, their direct foils, are looking less than their normal selves out of the gate in 2021. I wouldn't be surprised if Jonesboro continues to be the bellwether for world champion success.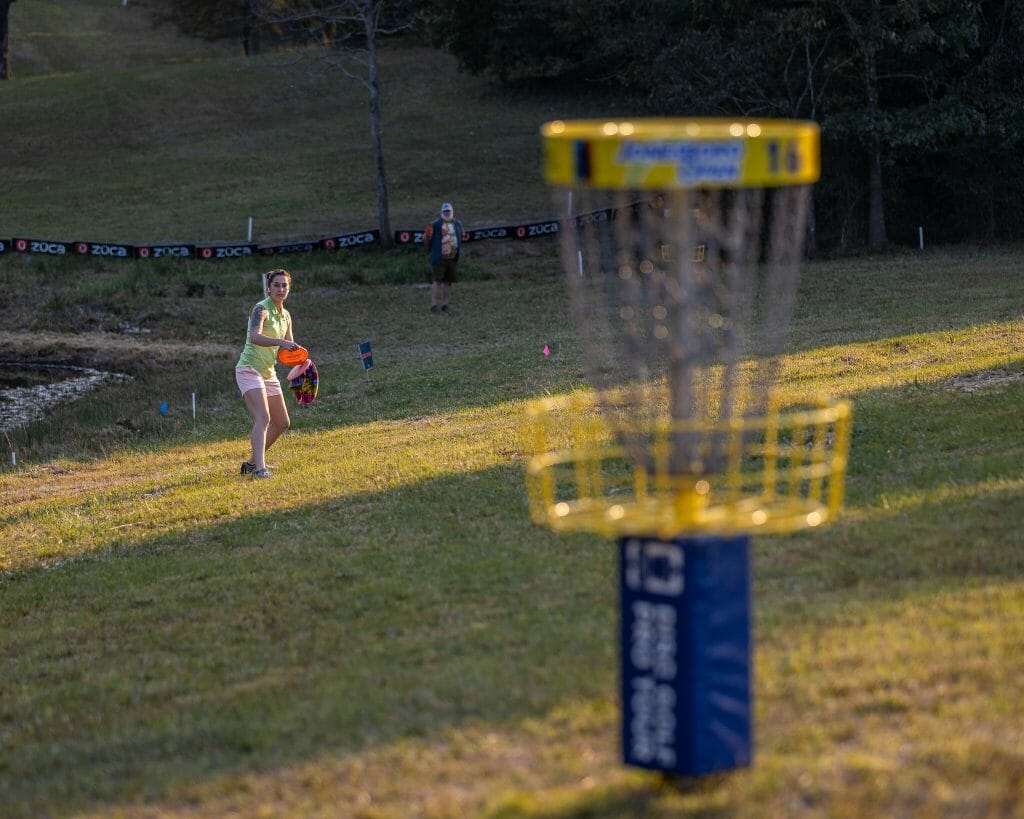 While we're on the topic of Jonesboro, why does it predict later season success?
I would argue that the course perfectly combines the best parts of park or open style disc golf, where the big arms do their thing, with some of the most crucial elements of woods golf, where you have to hit the gap.
Just as the Texas swing we just concluded should be a blueprint for regional swings moving forward, Disc Side of Heaven should be looked at as the gold standard for "open" courses moving forward. The course is visually compelling and allows for great galleries and broadcast sight lines. Maybe it's just me, but a 600-foot hole that is mostly open air space is made much more interesting when accompanied by undulating terrain, water, and a few bunker trees.
If I had my way, we'd see more Jonesboro and less Wildhorse or Emporia in the future: less golf greens and sidewalks, more hills and gnarly trees.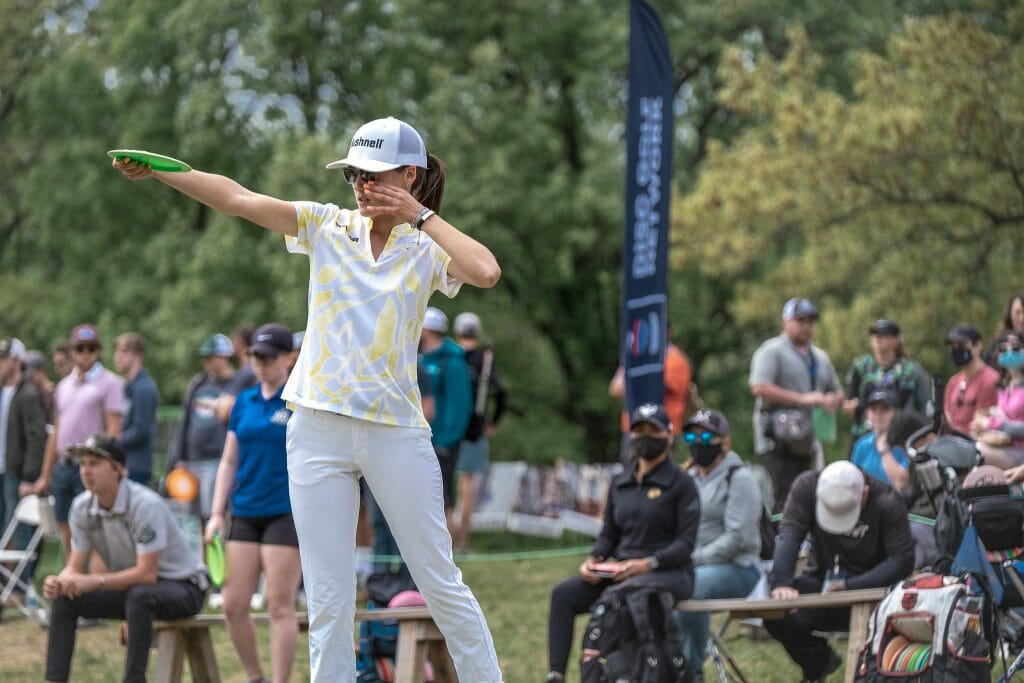 Every early season there are some youngsters which make us pay attention. No, not Paul Ulibarri. I'm talking about Casey White and Kona Panis.
Panis started off the season with a win at the DGPT All-Star event, which was cool, but the funky format does take some of the shine from that W. Then she won BIG in WACO, which made us wonder…ok, is this legit? Folks, it is legit. Aside from a 24th place finish at the Texas States, Panis has finished inside the top 10 at every event, and her only other finish outside the top five is a sixth place finish at the Vintage Open. Panis' putter is the weak link in her game right now–she is only 53% from inside C1X, and lost .14 strokes on the green over the course of this past weekend. Otherwise, Panis is clearly a top 10 player. She is actually third in reaching Circle 1 in Regulation. She sounds, I dare-say, Allen-esque?
Casey White has run off four straight top ten finishes, and had he finished with par instead of carding a double bogey on his final hole of the tournament, would have beaten out Kevin Jones for sole possession of fourth place at Jonesboro. As noted on the most recent episode of The Upshot, White is an elite putter, hitting at 87% from inside C1X. The rest of his stats are pretty middle of the pack, except for his fairway percentage: White is fifth on tour, hitting 76% of his fairways off the tee. Combine accuracy off the tee — he has only gone OB 18/342 holes this season — with dead eye putting, and it means he isn't bleeding strokes. While White doesn't have, say, McMahon level power off the tee (and who does), he doesn't need it. White probably will slip a little bit at DDO and the remaining "open" courses this season, but as we turn east and into the woods, look for the kid from Shirley to shine.
And how about this:
Casey White Tilt Shot Throw-In Jonesboro
Some Asides
Is Sarah Hokom back? Did she ever really leave? Pierce and Allen have rightly dominated the conversation for top FPO player over the past couple seasons, and exciting newer names like Hailey King, Missy Gannon, Kona Panis, and Heather Young take up a lot of air time. But…Hokom hasn't finished outside the top 10 since 2014, and took down two Elite Series wins in 2019 — the SFO and GMC. This year, she has a Silver Series win to her name from the Vintage Open and returned to the podium at Jonesboro.
Hokom's reliance on the forehand may limit her potential to challenge for the win in the first half of the season at the courses which require huge throws off the tee, but this is disc golf, and Hokom has shown the consistent ability over a long career to play excellent golf at the most challenging courses in the world. Hokom has a full schedule ahead of her for the season, with 21 events on her docket, and with almost two years with her "new" bag, the veteran and 2012 world champion will probably be reminding us who she is.
---
Brodie Smith re-tweeted the idea that only the top 10 players at any given tournament should be paid out, which would certainly act to concentrate the winnings from tournament play into the wallets of the top-tier players. This would almost certainly price out the vast majority of touring players and serve to shrink the field, especially in the smaller FPO divisions. While this idea is a non-starter due to PDGA sanctioning guidelines, perhaps it is time again to talk about the value of player packs in professional divisions playing for money.