Round 2 Recap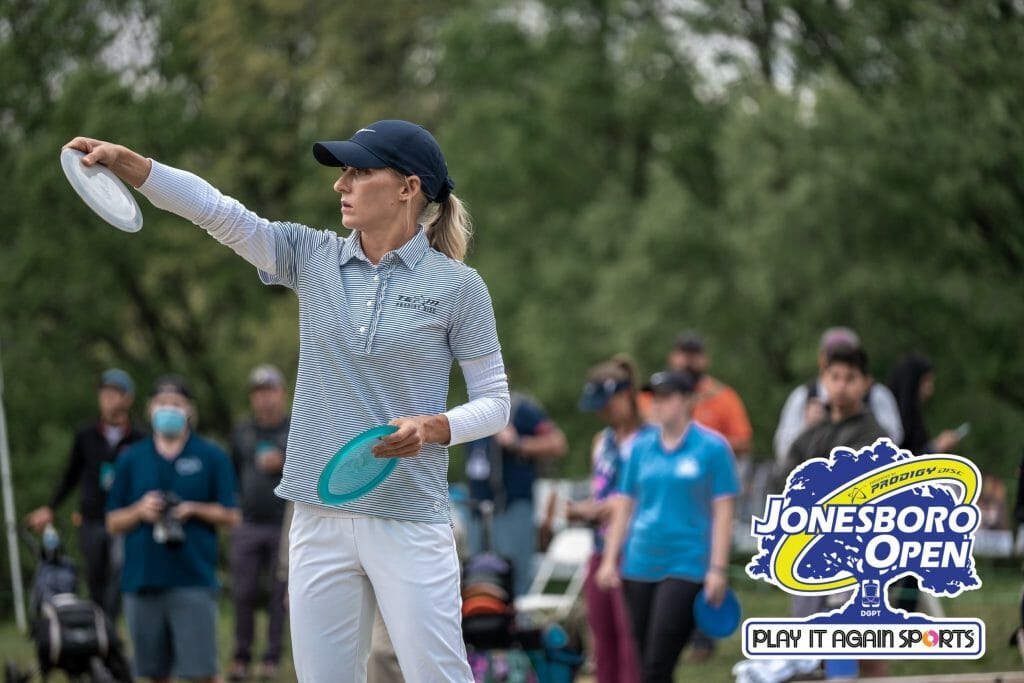 Moving Day at the Jonesboro Open belonged to one person. Catrina Allen turned in one of the best rounds of her illustrious career on the Disc Side of Heaven to grow her lead.
What else is there to say?

Allen was a force on Saturday, combining her elite level distance off the tee with a hot streak on the putting green. Allen's 12-under par was good for a 1041-rated round, and extended her lead above the rest of the field to 10 strokes. On Moving Day, it was Allen's turn to rule both the scoresheet and the stat lines. Her round was dominant in just about every facet of the game, leading the field in…. (deep breath)… birdie percentage, fairway hits, C1 and C2 in Regulation, Scrambling, C1X Putting, Strokes Gained Tee to Green, Gained Putting, and Gained C1X. The only area that Allen wasn't exemplary in was C2 Putting, and she still held a respectable 25% conversion rate with a big make on a 38-footer to keep a birdie streak alive that would reach seven holes. It will take a herculean effort for another competitor to take Allen's cushion away, and with her driving looking laser-sharp, I wouldn't bet on it.

Day 1 star Macie Walker continued to show her mettle but couldn't keep up with her own hot start. After taking a double bogey on the first, Walker strung together an impressive five birdies on the next six holes. However, the putter was not as hot as it had been the day prior, and Walker shot 4-over on the back 9, with a few hiccups on the greens. Not all were Walker's doing, notably catching some bad breaks on the sloped green of 12, with back-to-back rollaways that brought her to a double bogey. Kona Star Panis edged Walker from a spot on the lead card for the final round, but keep an eye on the chase card, there is still room for movement if she can rekindle the fire from day 1.

Sarah Hokom sits in second place, and won that honor with her steady, consistent play. Hokom's versatility was on display on day 2, balancing her backhand and forehand with great efficiency. Overcoming a 10 stroke deficit may not suit Hokom's more conservative style, but she'll seek to chip away at Allen's lead wherever she can, and play great golf.

Paige Pierce had an up and down day, carding seven birdies but suffering six strokes above par to negate the good. After enjoying a stellar day off the tee on Thursday, Pierce wasn't able to play the fairways as consistently on Moving Day. The low point of the day came on the 13th, as she three-putted after reaching Circle 1 off the tee. Pierce is never out of a fight, but the lead that Allen has built will make it a tall order. She is currently third at 8-under par total, 12 strokes behind Allen and two ahead of Panis.

Special shoutout to Emily Beach for carding the sole eagle on the weekend so far, on hole 9. Beach made it easy on herself by parking her upshot, an impressive feat on the 715-foot par 5.
Heard
"Almost a role reversal, if you want to go to the stereotypes of the players. It would be Cat with the pinpoint drives, Paige with a big putt to put the pressure on, and Cat has had those times where the putt hasn't come through for her, we aren't used to seeing it go that way." – Nate Sexton, after the 13th green, with Allen continuing to dominate with a Circle 2 Putt
"Yesterday, I was telling you I wanted to focus when it was my turn, when I'm walking up the fairway, I'm not thinking about whether or not I'm going to make the putt, or what my upshot it, just trying to relax in-between shots, keep my mind quieter, and just step up and try to execute and keep the negative away." – Catrina Allen, on what was working today, and how she stays consistent.

Statline
Hole 16 continued to play the reaper on Saturday, playing a whopping .83 strokes above par. If the race is anywhere close towards the end of Sunday, look to 16 as the place where drama could unfold.

Highlights

sarah hokom hole 11 approach rnd 2 jonesboro
catrina allen hole 11 putt rnd 2 jonesboro
catrina allen hole 12 putt rnd 2 jonesboro
catrina allen hole 13 putt rnd 2 jonesboro