Round 1 Recap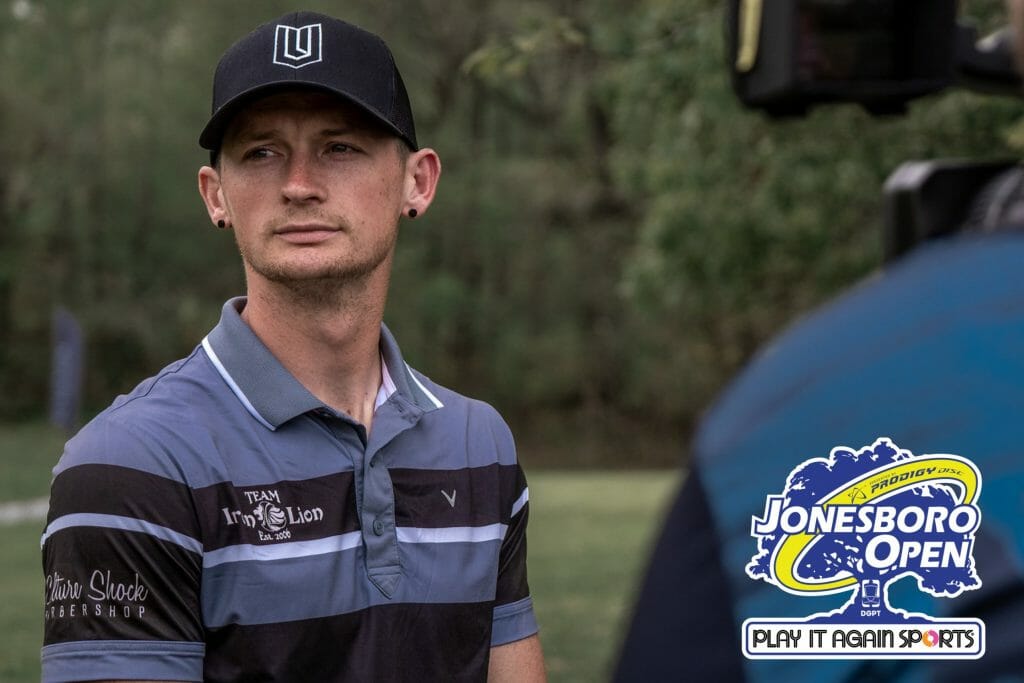 After three weeks off, the DGPT returns with another Elite Series event in Arkansas at the Jonesboro Open.  Even with this extended time off, the field showed no signs of rust while they covered the cards in blue during day one. The bomber course is a contrast to the Texas woods over the past month and the big arms were showing off.
The reigning champion of the event, and coming off a hot tournament at the Vintage Open, Calvin Heimburg has found his rhythm. The course style plays perfectly to his direct approach to the game.  He led the field in fairway hits (95%), Circle 1 in Regulation (78%), and Circle 2 in Regulation (94%). The putting greens were consistent with 88% from C1X, but Heimburg went an uncharacteristic 0-3 from C2. His 13-under par round ties him for first place.

Belton champ, Texas States champ, and hunting down Jonesboro, Ricky Wysocki is playing an elite level of golf right now. He currently sits tied for first with Heimburg after posting a bogey-free 1079-rated round. The name of his game was consistency with no OBs, 79% fairway hits, and going 90% from C1X. His shot of the day came on hole 14, with a beautiful backhand flex, where he nearly parked a 520-foot hole.

Iowa native 2011 U.S. Amateur Champion, Ben Callaway, sneaks into the final podium spot of the day. After seeing yet another bogey-free round, he finishes the day in sole possession of third at 12-under par. He had the early clubhouse lead and was perfect inside the circle leading to 3.20 strokes gained from 33 feet and in. A big C2 make on hole 1 got him going and his putter stayed on from there.

When you think big arm drives, it's hard not to put in Drew Gibson. Although putting has been a known weakness of Gibson's game, he seemed to be pretty dialed in. And, after signing a deal with the first-ever putter-only company, EV7, the prototype Penrose saw the basket quite frequently. While only 80% from C1X, two-putting just once, he cashed in three from C2. His 11-under par round finds him in fourth entering day two.

Who else other than… Paul McBeth. McBeth saw great success on his driving, where he ended the day second in parked percentage at 44%, and had a number of memorable shots on Friday. He missed just once from C1X and made three 60-footers on the day. The most impressive act of the day came on hole 8. After a disappointing missed C2 putt off the top band, McBeth's disc rolled down the slope to the edge of C2. Within 19 seconds of his miss, McBeth grabbed another Luna, walked over to his new lie as the disc was still settling, and, without hesitation, buries the par save.

McBeth is tied in fifth with Eagle McMahon, Adam Hammes, and Casey White at 10-under par.
After a rocky start to his round where nothing seemed to be clicking, Chris Dickerson went 11-under par from holes 7 and 16, but a double-bogey on hole 18 dropped him to 8-under par.
Heard
"A lot of people back home said this course was designed for me. I couldn't agree more with them. The shots are well suited for my game and if I'm putting well I'm going to play well." – Ben Callaway, after taking the clubhouse lead during round 1.
Statline
As previously mentioned, light blue lit up the scorecards at Jonesboro, but an even darker blue was seen on one hole in particular. Hole 16 plays as an 855-foot par 5 which forces players over the lake during their upshot. Seventeen players, or 14% of the field, were able to find an eagle on this hole, with 56 players, 45%, birdieing. This par 5 played as the second easiest hole on the day.
Highlights
paul mcbeth hole 2 approaches rnd 1 jonesboro
thomas gilbert hole 2 putt rnd 1 jonesboro
calvin heimburg hole 4 approach rnd 1 jonesboro
drew gibson hole 5 drive rnd 1 jonesboro
paul mcbeth hole 8 putt rnd 1 jonesboro
ricky wysocki hole 14 drive rnd 1 jonesboro
paul mcbeth hole 17 putt rnd 1 jonesboro