Round 1 Recap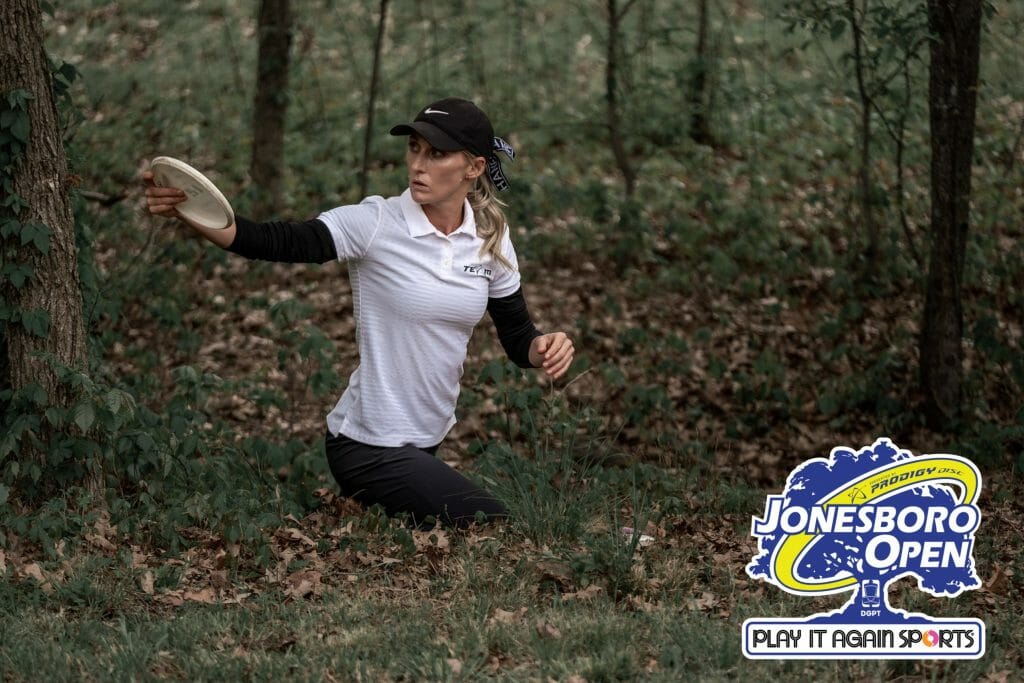 The opening round of the Jonesboro Open was dominated by women who have the arm to tackle the long track in Arkansas.
Distance rules, as Catrina Allen and Paige Pierce are among the top of the leaderboard after round 1. Both Allen and Pierce had stellar rounds with few blemishes that kept them from putting distance between the rest of the field. Allen is in front at 8-under par, with Pierce tied in second with Sarah Hokom and Macie Walker at 7-under par.

Allen posted 10 birdies but suffered back-to-back bogeys on holes 5 and 6 after going OB and struggling to scramble to the green. Pierce played a phenomenal round by carding 11 birdies, but suffered a quadruple bogey on the 16th after finding out of bounds twice. Attempting to cross the pond on the par 4 proved treacherous, both Pierce and Allen found the water with their upshots, and Pierce failed to reach in-bounds from the drop zone as well.

While the rolling hills of Jonesboro are friendly to driving stats, both players had stellar numbers off the tee, with Pierce posting 95% of fairways hit, and Allen following suit with 85%. Both players made it easy on themselves around the green, with Allen only attempting three Circle 2 putts all day, and Pierce only seeing 4.

Disc Side of Heaven served as the venue for Walker's coming out party on Thursday, as the Tennessean announced herself with a 7-down round that was one bad rollaway from taking the top spot. Walker was as clinical off the tee as the longest tenured contenders, finding 90% of fairways on her drives. While Walker was not beating par on quite as many holes as the leaders, she certainly played a steady, clean brand of golf that was unhampered until the last hole. "I think I do better under pressure," Walker noted after her round. "I've never been on a feature card before so we'll see how that goes." It will be a trial by fire as she competes against the sport's best, but if yesterday was any indicator, Walker will stay cool, calm, and collected on her way to another great round.

Hokom rounds out the lead card for day two. While her cardmates suffered blemishes, Hokom shot a bogey-free round, and got herself out of every sticky situation unscathed. A 100% C1X and scramble rates typically mean bogey-free golf, and Hokom played a model round and will look to continue her steady play on Moving Day.

2021 Pro Tour Points Leader Kona Star Panis sits just outside the lead card at 4-under, still within striking distance. While Jonesboro's rolling hills don't have the consistent treachery of some other tour stops, any slip up from the lead card and a great round from Panis will put her back in the hunt. Her Thursday round was solid, but a lack of birdies paired with a double bogey on 16th kept her from Friday's lead card.
Heard
"Honestly, I didn't even know I was 7-under; I was just playing casual." – Macie Walker, on her mentality during the round.
"I feel like I play great the second and third round, I just kind of have a rough start. I think we can all say almost every hole is birdie-able for us, so there's definitely a lot left, and the two hiccups, if those are two, that's more the round I'm looking for." – Catrina Allen, on her round and what she expects of herself at Jonesboro.
Statline
Reading this, you might have guessed that hole 16 was a harbinger on Thursday. The hole played +.8 over par, it requires touchy shots on top of a water carry, and clearly had an effect on the field. Special shoutout to Walker, Hokom, Courtney Cannon, and Valerie Mandujano for carding the only birdies on the day.
Highlights
catrina allen hole 10 putt rnd 1 jonesboro
paige pierce hole 11 approach rnd 1 jonesboro
macie walker hole 18 putt rnd 1 jonesboro