Paul Johnson is shaping the aesthetic of disc golf social media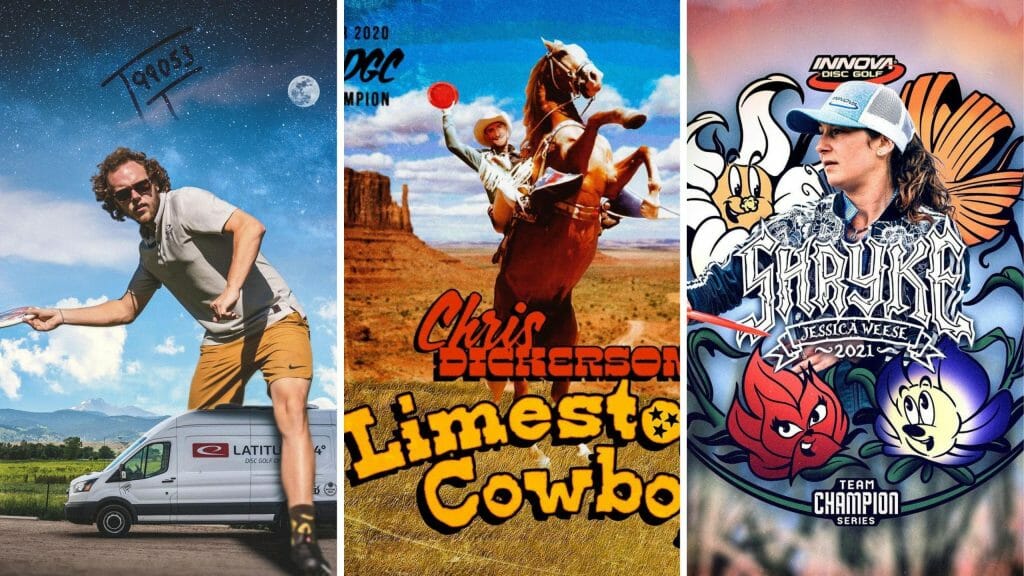 There have been big advances in the production value of both post-produced and live disc golf coverage over the past five years. From FollowFlight to chase card cut-ins to finding just the right way to show the score, graphics and production in disc golf has drawn favorable comparisons to big budget outlets such as ESPN and CBS Sports. 
However, the still image, graphic design aspect of disc golf media has been comparatively under-developed. Players have often designed their own branding and logos with decidedly mixed and often blatantly derivative results, repurpose Alyssa Van Lanen's (gorgeous) photos for self-penned post-tournament statements, and rely on their own wits and skills to put together a visual marketing campaign that oftentimes falls short of their play on the course.
Paul Johnson doesn't think it has to be that way.
Johnson is the man behind Teebox Disc Golf Media. You've probably seen his work on Instagram, either through his own page, or from players like Ricky Wysocki who have started to take the graphic design aspects of their brand as seriously as they would their putting.
Johnson, a North Carolina native and 2019 graduate of Clemson with a Bachelors of Science in Graphic Communications, thinks that the science of his work is what helps set it apart and makes his skills valuable as both the sport — and the market surrounding the sport — grows. 
"It's not an art degree," said Johnson. "It's a science degree. It's print technology; it's web development."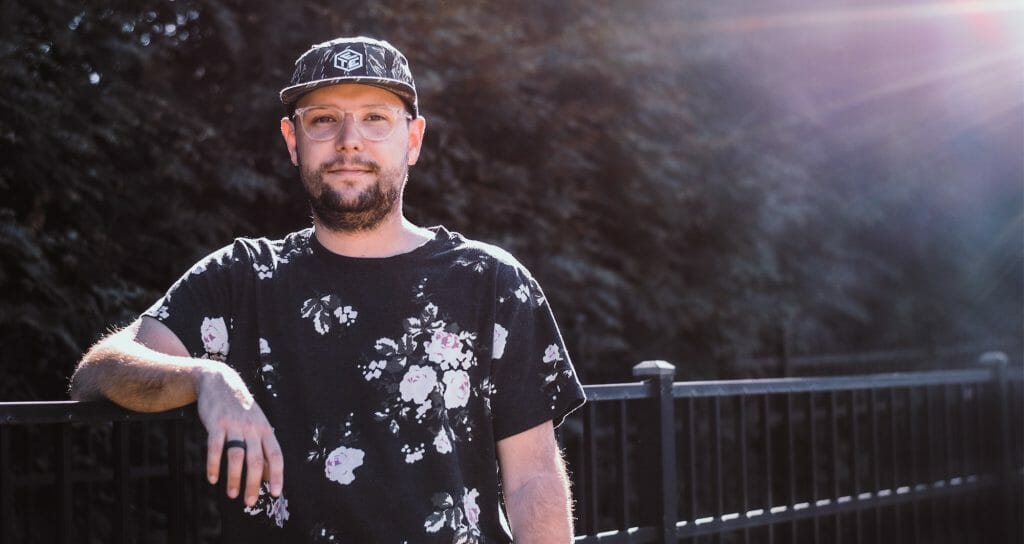 It was during the COVID shutdown and his final year at Clemson that Johnson realized that what had started as a way to keep his photoshop and graphic design skills sharp could translate into a full-time job. Johnson believes that anticipating the growth of the game and establishing high quality branding and graphics services like his will help the sport attract players and help push the sport to be taken more seriously as an option for young athletes.
"I guess it was 2017. I got on YouTube just bored and figured I'd look up you know, best disc golf shots or whatever, and ended up stumbling on 2017 Texas States," said Johnson. "It was a blast to watch. And I think, honestly, the person who got me into disc golf was just watching Eric Oakley. In that video, he showed up and he has a very distinct form, not like anyone else. He shows up in these crazy bright pink pants and the part that killed me was he played the first hole and left his putters in the car. So, like, they stopped. He ran back to his van, got his putters, and then came back and smashed like a 65-foot, 70-foot putt on one knee. And I was like, 'Okay, this sport is super duper cool.'"
Eric Oakley Texas States Forgot Putter
From there, Johnson started exploring the locals spots close to Clemson. 
"I ended up discovering Grand Central Station in Central, South Carolina, which is in the 50s on UDisc's Top 100. I really started to get into the sport and tried to get better at it. And, suffice to say, at my measly 860 rating, I wasn't going to make it in the pros."
To stay around the sport and keep his Adobe skills sharp, Johnson started his first disc golf graphic account, @disctagram, to positive results. He soon pivoted his focus, however.
"Once last season got canceled, I wanted to spend more time promoting players because I knew that everyone was kind of frustrated with the situation in disc golf," said Johnson. "I felt like if I can mitigate some of that frustration with some cool visuals that'd be a neat way to get back to the community."
Like so many disc golf origin stories, what started as playing with starter discs on a family vacation developed into a near obsession and has morphed into a growing career path.
"I started working with different players and some businesses and I knew that there was a potential for Teebox to really be a valuable asset to the industry," said Johnson. "People are seeing the shift in the industry. For the longest time, it's sort of been battling this idea of 'Is it a hobby or is it a sport?' Seeing players like Paul McBeth signing this huge contract shook the foundation of what we thought this was, and I think every single year we're going to see that sort of progression happen."
So while players are cashing in on their skills and the quality of disc golf audio-visual media has grown in leaps and bounds, Johnson sees graphic design as an under emphasized area ripe for development.
"I'm seeing a sort of lack of that same level of progress on the social media side," said Johnson. "There's plenty of people getting on YouTube and doing vlogs, and the players are really getting involved, but from a visual standpoint, the same can't be said for visual branding, for advertising, for graphic design. That's the sort of the niche that I wanted to fill."
After beginning to release more photo edits through @teeboxdiscgolf, the demand for his services from players and companies grew to a point that he needed to step away from his former day job. He often gets requests for high round ratings or tour schedules before the season started.
"I've been working 65 hour weeks to keep up with the demand of players," said Johnson. "It's expanded to the point where people are asking me to do things that they don't even know if I'm qualified to do it. It challenges me, but having worked as a freelancer for about a decade I've collected this knowledge and all sorts of weird stuff." 
Sports fans will know that photo edits and graphic illustrations are common in the social space, yet Johnson believes his disc golf content has been well-received because pro players are not traditional celebrities but rather exceptionally talented people that fans feel easily connected with because of the shared passion for the sport.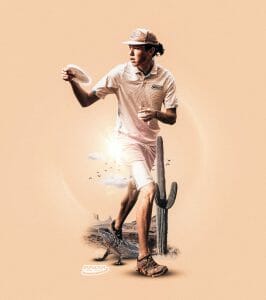 "I did one of Anthony Barela and wanted to really captured his home state, so I used fairly pale, sandy tones and it's got scrub brush in it and some canyons. It looks very hot and arid. I had him stepping over a lizard, and he's like, 'How did you know I like lizards?'" remembers Johnson. "Now, I didn't know he liked lizards, I kind of assumed because he's from the middle of the desert, but I think that's what sets me apart. I'm able to tell stories of players using visuals. It's not a lot of text."
"I'm promoting the players, personalities and things that people recognize in a visual way. I think that's very valuable," continues Johnson. "I think that's the reason why players want to work with me is because they can give me their minimum information and I can give them something that seems personal. I can do that because I've spent months watching them play, watching their vlogs, and reading articles."
Over the past 12 months, Johnson has watched the popularity of disc golf soar and the Disc Golf Pro Tour continue to expand, so he decided it was time to establish himself and Teebox's brand identity.
"There will be an explosion of incredibly talented players, of guys we've never even heard of in the next two to three years, and if I can lay the foundation so that when these new players see the Teebox name and see this level of content development that wasn't there prior, that will be their norm," said Johnson. "That'll be the only disc golf they know, on the professional side is the level of content and the quality that I'm trying to push so that when they get there, it's already there."
So with an eye towards the future and a player-first philosophy, Johnson has already landed some big names as major clients. Johnson counts Ricky Wysocki and Drew Gibson among his roster, and that is just the start.
"I started getting most of my contacts last December because I was posting athletes every single day and most of those athletes were sharing things to their story," said Johnson. "The first big client, the primary client, is Ricky Wysocki, and I've started helping manage his account a few months ago. I help drive through the ideas of things that he posts and made things like his fundraiser stamps."
"I've been working with Drew for the past two-ish months. Me and him have done a lot of work together and have a lot of stuff slated," said Johnson. "He has been absolutely monumental in sort of helping me develop this whole idea for Teebox. I think Drew's a very business-minded person and understands the industry like I don't. He has inherent knowledge of being an athlete and being sponsored by multiple companies, he understands how that slide works, and he was super helpful in helping me get my footing and understanding that there is potential here. I went out to Las Vegas and walking with him, we had a lot of great conversations on the course… from the athletes' perspective."
When Johnson travelled to the Las Vegas Challenge as media, it also opened the doors to the corporate disc golf world. Innova Discs Marketing Director Jeff Panis saw what Johnson was producing as Teebox, which led to a number of new projects with the California company.
"I feel like the amount of content that I'm putting out on my own page has dropped drastically, but the amount of content that people are seeing through other people's accounts has increased," said Johnson. "The exposure has been insane, with so many incredible opportunities slated for the future."
Johnson was clear that his emphasis is on the athlete, the player, and telling their story. As disc golf has grown, the model of a player as an extension of a manufacturer's marketing team is changing dramatically. Players are businesses in their own rights, with interests and dealings across multiple industries.
Products like belts, coffee, granola bars, beer, cannabis, clothes, shoes, hats, and sunglasses are not disc golf exclusive items, yet they are all finding their way into the graphics packages and Instagram tags. Oftentimes it falls to the player to be their own marketing and sales divisions. 
If this is going to be the model moving forward, and if advertising is an arms race, Johnson is betting that his services through Teebox will be just as valuable a tool for athletes to make a living playing disc golf as is the ability to scramble or throw 400 feet off the tee.