The start of the National Tour!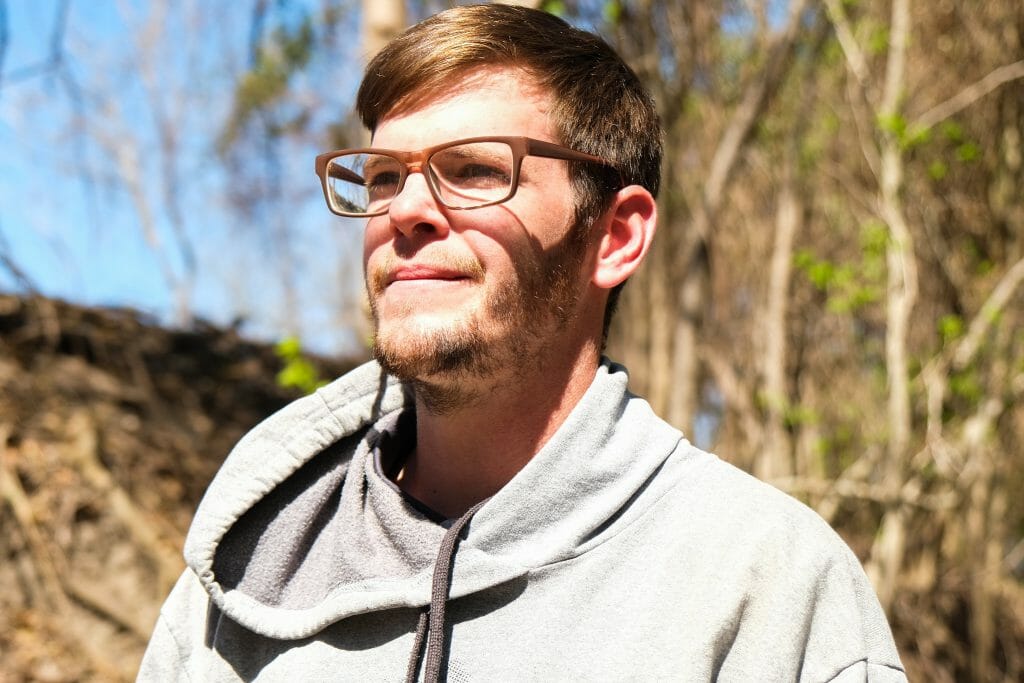 The pros are staying in Texas this weekend for the third stop on the Elite Series and the first PDGA National Tour event since October 2019, the 26th Annual Texas State Disc Golf Championship. The tournament is played in Tyler, TX, less than 150 miles from Waco. The question this week is whether the uneven play we saw from top players at Waco will continue. Eagle McMahon started slow enough that even a solid eight under in the third round wasn't enough to salvage his tournament. His 1012 average round rating was the worst he has played at an Elite Series event since GBO in 2017.
After two rounds, Ricky Wysocki was poised to hold his spot in the top five but came down with a case of the bogies in the final round to finish in eleventh. Catrina Allen shot an impressive two under in the first round, but two consecutive over-par rounds kept her out of the top five.
Of course, all of this is just a lot of lame excuses for why our model did so poorly in Waco. We got Paige Pierce, Sarah Hokom, and Paul McBeth right for a tournament accuracy of 30%. Combined with our results from Las Vegas, we have a running accuracy of 45%. A few of our honorable mentions turned in good performances–Lisa Fasjkus took home fourth and Missy Gannon got to ninth; Emerson Keith finished in eleventh and Eric Oakley grabbed fourteenth. Hopefully our model can deliver better results in the tournaments to come!
Due to the pandemic cancellation last year, this will be the first year since 2014 that Texas States will be on the National Tour. To account for this, we have added data from the past five playings of Texas States. Even though they weren't Elite Series events at the time, the field at the tournament has been strong for years, so we don't think this additional data will bias our training data. Texas States has largely been free from upsets over this time. Across both divisions over the past five years, it has been won by one of the three highest rated players in all but one instance. That one instance was was 2018, when AP Perkins had the weekend of his life, averaging 1040 across his three rounds against an incoming rating of 974. You don't want to call that a fluke, but McBeth and Wysocki both didn't play in the tournament, so I wouldn't bet on that kind of upset again this year.
At the top of the FPO field there haven't been many unfamiliar names: Pierce and Hokom have two wins a piece and Jessica Weese also has one.
To better understand how the field performs at Texas States, we made a chart of the 25 highest rated players and their average round rating relative to overall rating differential at Texas States. Just like in the model, this is calculated as average round rating at the tournament minus their player rating coming into the tournament. Positive (green) means they played better than expected; negative (red) means they played worse.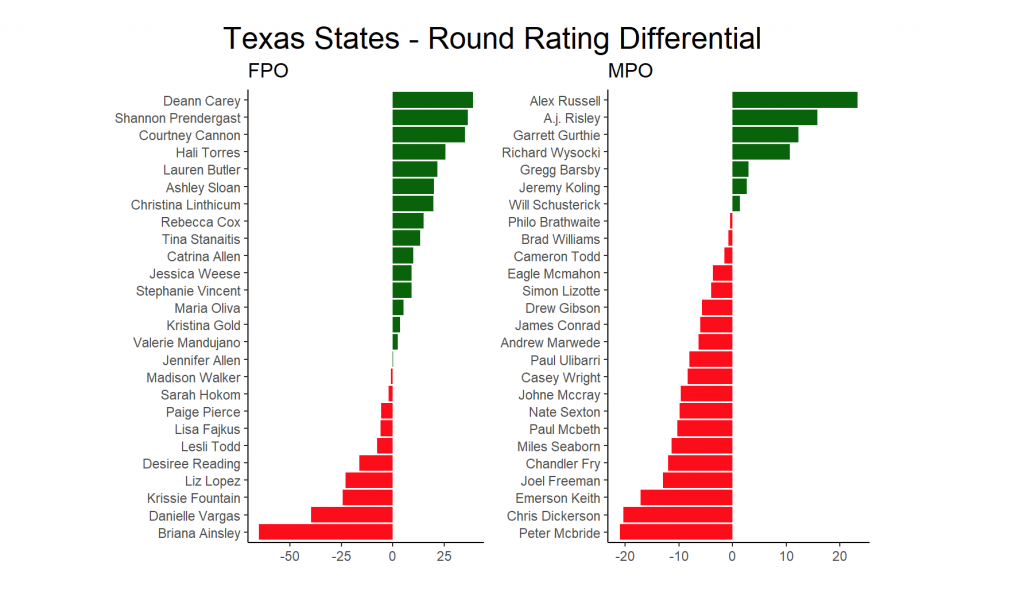 Most of the pros have played Texas States right around their overall rating. On the FPO side, we see a bigger variance in the differentials, but none of the big names are too far off their rating. For the men, Alex Russell is playing Texas States a full 20 points above his rating!
So, on to the predictions!
Our MPO top five picks are:
Paul McBeth
Ricky Wysocki
Nate Perkins
Alex Russell
Gregg Barsby
McBeth is at cruising altitude right now: over the past three weeks, he has won the Memorial, finished fifth at Waco, and took home second at the Open at Belton. Wysocki is also looking strong, with a fifth place finish in Las Vegas and a win at Belton: he seems poised for another strong finish. Barsby, Perkins, and Russell have all had mediocre finishes at Las Vegas and Waco, but their traditional overperformance at Texas States has landed them a spot in the top five.
In honorable mentions, we have Eagle McMahon, Calvin Heimburg, Garrett Gurthie, Nathan Queen, and Kevin Jones. Queen played three solid rounds at Belton to tie for fourth, we think he can continue the high level of play this weekend. The first three tournaments have been slow for Jones, at least by the standard of play he set last year, so we expect a breakout performance soon.
On the FPO side, ratings dominate this week. We predict a top five of:
Paige Pierce
Catrina Allen
Jessica Weese
Sarah Hokom
Rebecca Cox
While Allen is slightly off her career high ratings right now, we feel she is primed for a win this weekend. Her solid 979 round rating average at Belton was enough for the first place finish. As any financial adviser will tell you, past performance is no guarantee of future performance, but I would keep an eye on Allen to turn in another solid finish this weekend. In honorable mention, we have Hailey King, Lisa Fajkus, Christina Linthicum, Erika Stinchcomb, and Ohn Scoggins.