Top pros will not only need to mind the tough course, but also the underdogs gunning for the podium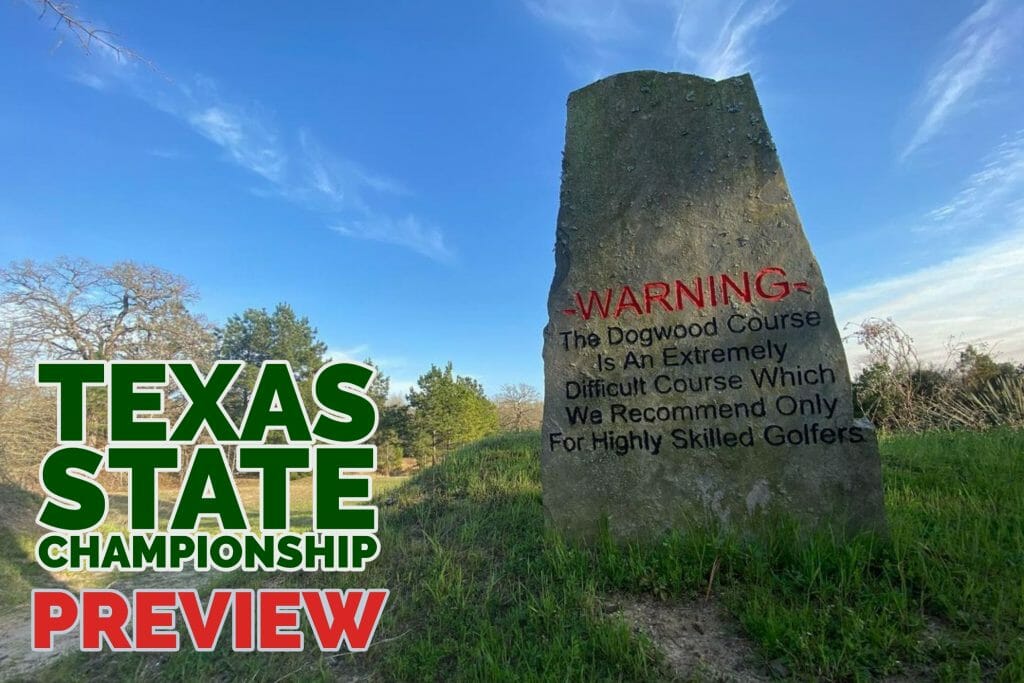 Following the Waco Annual Charity Open and The Open at Belton, the Elite Series spends its final week in Texas at the 26th Annual Texas State Disc Golf Championship. As the first event of the PDGA National Tour, this tournament marks the tour's return after a full year off due to COVID-19. 
This year is also a return for Texas States, as it has not been on the National Tour since 2014. In that year, Ricky Wysocki easily handled the field, winning by eight strokes. Surprisingly, this was a decline from 2013, when he won by 10. Wysocki continued his Texas dominance, winning this same event in 2017 (by 10 strokes again) and most recently in 2019 (six). 
On the FPO side, since 2013 there have only been four different champions. Jessica Weese managed to hold off Sarah Hokom in 2018, but Hokom took away the win in 2013, 2016, and 2019. Paige Pierce has also won three in this span. However, Hokom was only present for one of Pierce's three victories. Valerie Mandujano got the win last year.
All of these championships have come on different courses. Texas States has historically been played on more than one course, sometimes even a new course each of the three days. Additionally, the courses played have not been consistent from year to year. This year, all three rounds will be played at Dogwood, a wooded course that is shorter in comparison to the previous courses seen on tour but no less menacing.
Past Winners
| Year | Tier | MPO | FPO |
| --- | --- | --- | --- |
| 2021 | NT | Ricky Wysocki | Hailey King |
| 2020 | A-tier | Bradley Williams | Valerie Mandujano |
| 2019 | A-tier | Ricky Wysocki | Sarah Hokom |
| 2018 | A-tier | Anthony "AP" Perkins | Jessica Weese |
| 2017 | A-tier | Ricky Wysocki | Paige Pierce |
| 2016 | A-tier | Bradley Williams | Sarah Hokom |
| 2015 | A-tier | Paul McBeth | Paige Pierce |
| 2014 | NT | Ricky Wysocki | Paige Pierce |
| 2013 | NT | Ricky Wysocki | Sarah Hokom |
| 2012 | A-tier | Cale Leiviska | Valarie Jenkins |
| 2011 | NT | Nikko Locastro | Valarie Jenkins |
What We'll Be Watching
Waco gave us an always welcome glimpse of Matt Orum on video coverage, and Bama's finest will be back on a feature card for round 1 in Tyler. Orum won this event over a decade ago, and he still has the skillset necessary to do well at the NT. Watch some footage of Orum on Ace Run Productions from last year's Magic City Mega Bowl or Southern Nationals and you'll see why he can easily finish top 10. Here's to hoping we see Orum as much as possible over the weekend.

Texas States is probably one of the few large events in the country that Catrina Allen does not have a first place trophy from. Allen showed some real mettle in Belton on Sunday, holding off a charging Heather Young and hitting some tester putts down the stretch. That seventh place finish in Waco may have been the wake-up Allen needed. 

While the tournament has moved around the state over the past quarter century, it's often been an event where underdogs overperform. Anthony "AP" Perkins win in 2018 is the most notable recent example, but it's a common trend. Texans should have an advantage here, so look down the rating list at some potential "locals" to outplay the regular names you're used to seeing. We'll highlight Mason Ford and G.T. Hancock in MPO, and Stephanie Vincent and Casey Pennington in FPO. Maybe lefty Christina Linthicum will also overcome her self-described putting yips to crack the top 10. 
GRIP6 Pick6 Locks Of The Week
If you've read anything above, Ricky Wysocki is probably already set in your lineup. Players in the 1050 club don't count here. 
This does feel like a Paul Ulibarri weekend, though. He took Perkins down to the wire in 2018, has been playing very well in 2021 even if he doesn't have a top 10 Elite Series finish yet, and that flip-up backhand he showed off on his Belton albatross will come in very handy on Dogwood.
Much like Wysocki, Sarah Hokom has the history in Texas so feel very good about having her in your six. Let's also add the player who bested her at Idlewild on a similar style of course last season: Ellen Widboom hasn't played in a Elite Series event this season, yet she's got eight wins already in 2021, and her other two events she's played and didn't win she's finished second. Widboom finished three strokes behind Hokom at last week's Throw Down the Mountain, and it should have served as a nice warm-up for Dogwood.
Home Of The Hyzer Odds*
+200: Paul McBeth, Ricky Wysocki

+300: Nikko Locastro

+400: Eagle McMahon, Calvin Heimburg, Chris Dickerson

+600: Paul Ulibarri, Bradley Williams, Kevin Jones

+900: Adam Hammes, Gavin Rathbun, Ezra Aderhold, Brian Earhart, James Conrad
*No FPO odds provided.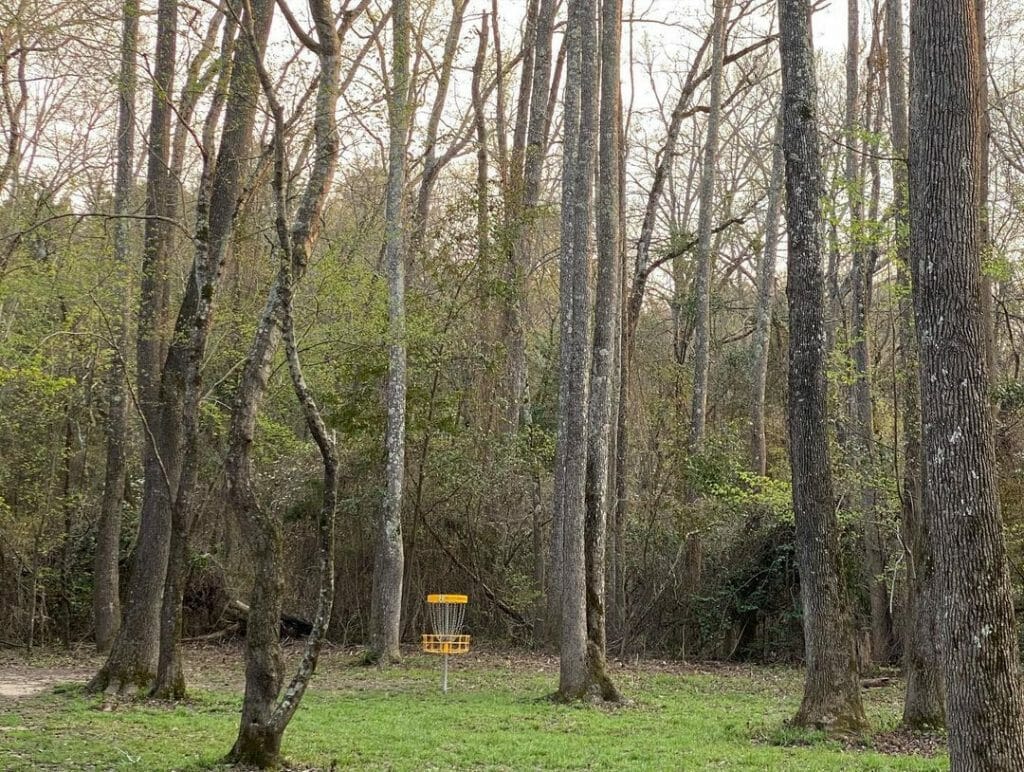 The Course
Dogwood: MPO – 7,683 feet, par 62; FPO – 7,317 feet, par 64
Remember the wooded half of the bEast at the Waco Annual Charity Open, or some of those poke and hope fairways in Belton last weekend? Well, Dogwood has more of that. 
There is water that comes into play at several holes on Dogwood, more so on the front 9, but it's the atypically shaped holes that may perplex players more. Take a gander at hole 14. Pros basically start "pin high" on the par 4 — they just have to go around a forest corner to get there.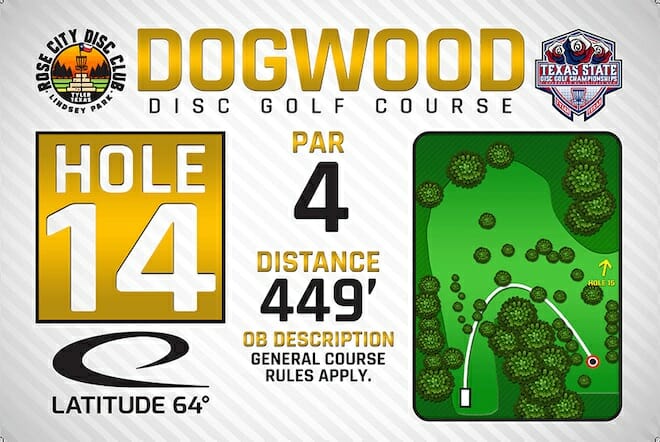 No Spectators
Texas States has been designated a COVID-19 Phase 1 event by the Disc Golf Pro Tour, meaning no spectators or caddies will be allowed.
TD Steven Storrie said the tight, wooded style of the Dogwood course wouldn't give spectators enough room to enjoy viewing the event while keeping a safe social distance.
How To Follow
UDisc Live will have live scoring available all weekend. For video coverage, see our other post: