A legendary playoff battle between two giants of the sport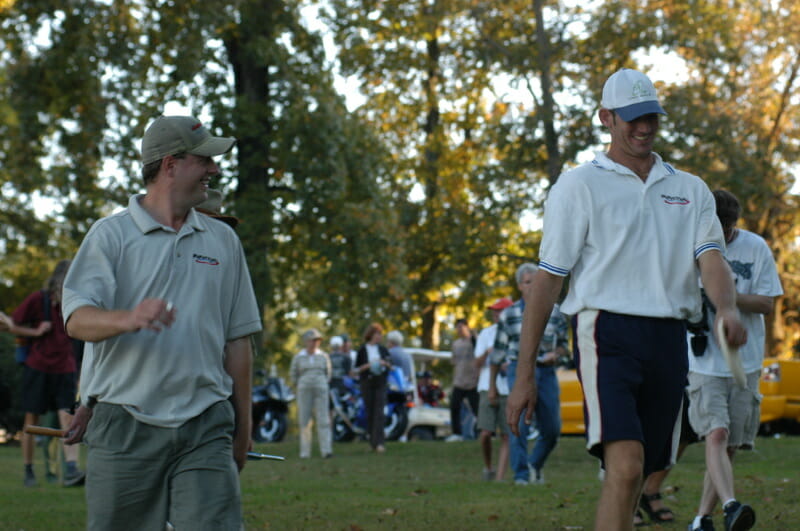 Video Vault is a new series exploring some of the finest moments of disc golf captured on film. 
Borrowing ideas from the traditional game of golf, Harold Duvall, Jonathan Poole, and Dave Dunipace began planning an event that would quickly shape the future of disc golf's competitive scene. From those plans grew the United States Disc Golf Championship (USDGC). Through its unique structure, challenging course, and distinct qualifying procedure, the USDGC established itself as one of disc golf's most prestigious events.
The USDGC was first held in 1999 at Winthrop University just two years after the Professional Disc Golf Association's (PDGA) World Championships were held in Charlotte, North Carolina, and the final nine was played on the first iteration of what has become known as "Winthrop Gold." While the vast majority of the names on the inaugural event's results page are no longer active, the number of iconic and outright legendary players is truly staggering.
Alan "Sugar" Shack finished second, two Mid-Atlantic based throwers (Craig Gangloff and Mike "The Delaware Deucer" Moser) finished 3rd and 5th, and the founder of two disc golf companies, Phil Arthur, finished fourth. Looking downward, the names keep rolling in: Dave Greenwell and Dr. Rick Voake; three legendary course designers (Stan McDaniel, David McCormack, and Gregg Hosfield); New England OGs Steve Brinster and Dr. Doug Ertman; and the owner of the greatest thumber in the history of the game, Brian "Schwebby" Schweberger.
But you're asking yourself who won this inaugural event that has become increasingly prestigious in the intervening 22 years? You can probably guess it: Ken "The Champ" Climo. And then he won again in 2000. In 2001, the top name changed as Barry Schultz won the first major title of his already outstanding 10 year career. In 2002, Climo won his third USDGC title over Schultz.
That brings us to the 2003 USDGC, the focus of this week's Video Vault. The prior year, Barry had finished second to Kenny at both the World Championships and the USDGC and was clearly hungry for a breakout season. In 2003, Barry Schultz played in 31 events, winning 17 times and never finishing worse than 6th place. He won his first world title in Flagstaff, AZ (another Video Vault entry down the road), and even though he had only won a single event after that prior to the USDGC, he was clearly primed to win his third outright major title in the culmination of one of the best seasons in disc golf history.
Thankfully, we have a recording of the entire event by Innova Champion Discs to watch and enjoy the greatest finish to any major tournament in disc golf history.
The Players
The lowest PDGA number was Dan Doyle (#310 – Warwick, NY), who is a well-regarded course designer in the northeast. The highest PDGA number was Tom Knox (#23307 – Waitsfield, VT). The third highest rated player (we'll get to Nos. 1 and 2 soon enough) was Steve Rico (#4666 – Sylmar, CA) at 1032, who is now destroying Pro Masters players. Further down the list were future USDGC winners David Feldberg (40th) and Steve Brinster (52nd), and future world champions Eric McCabe (52nd) and Avery Jenkins (63rd). We also see an early European invasion with Timo Pursio (9th), Jesper Lundmark (15th), Markus "I throw far" Kallstrom (29th), Espen Mokkelgjerd (34th), and Tommi Vesala (43rd).
And, of course, we won't forget to mention Des Reading and Juliana Korver, who won a combined eight women's world titles in their careers.
The Course
The large majority of the Winthrop Gold hole locations have not changed over the years, even as the tournament staff have tweaked each and every hole to make them as challenging as possible. What stood out for me during my rewatch of the '03 event was how much tighter the iconic yellow ropes have become, and the willingness of Duvall and Poole to consistently try something to force the world's best players to be as precise as possible. From the original Hole 7 that morphed from fencing to the triple mando we see today, the infamous Hole 14 "Clown's Mouth" tee shot, and the treacherous Hole 17 "Island Green" that used to run parallel to the lake, the Winthrop Gold course is never finished: that is one of its greatest traits.
Hole 5 at Winthrop Gold is the clearest benefactor of the property and is widely considered one of the best par 5s in the world. Measuring a daunting 1025', Hole 5 is as difficult today as it was back then, and that's with a massive technological leap in disc design and player skill. There's a reason it's only been eagled a handful of times. Reportedly Paul McBeth once got it, there were rumors of a throw-in eagle during the late 2000s, and then, last year, we all watched Garrett Gurthie decimate it with a perfect roller, a colossal air shot over the water, and a perfect 22' putt:
As the course winds its way through the Winthrop property, we eventually get to Holes 17 and 18, arguably the two best back-to-back finishing holes on any course. We've seen titles won and lost in the blink of an eye on Hole 17, and then watched Hole 18 create the requisite drama of winning a title. My personal favorite moment is when Steve Brinster won in 2013. I was watching at my parents' house in Pennington, NJ, ignoring my family in order to watch my friend that had welcomed me into the disc golf community in 2004 win his first major title. Don't lie and say that it doesn't get a little dusty watching this:
The Tournament
After round 1, 2001 World Champion Cam Todd was in first place with a 1061-rated 58, and a one stroke lead over Climo, two over Craig Leyva and Mike Randolph, and a whopping seven strokes over Barry. Climo stormed back with a 1062-rated 57 to take a four shot lead on Todd in round two, and Barry's slow climb up the leaderboard had begun with a 1044-rated 60, though he was still nine strokes back of Climo heading into the weekend.
In round 3, Schultz got it going with a 1071-rated 58, a full three strokes better than the next best score, vaulting him onto the lead card for Sunday's final round. Climo had some rare struggles, carding a 1034-rated 65 that shaved his lead to just two strokes over Schultz.
Championship Sunday's lead card included Climo, Schultz, and Rico in fourth. In third place is one of the forgotten great players of the early 2000s, Craig "Leyviar" Leyva (#5787). He was a big man with a big personality who left us far too soon, but he also gave us some of the biggest shots of the era: I wonder what he would be able to do with today's discs. He was reportedly the first person to crush a putter over Winthrop Lake, and although video of this doesn't exist, we can still see him bomb away:
Distance Competition USDGC 2003
Right from the onset of the round, Schultz is clearly pushing hard for his second USDGC title. He gets the birdie on Holes 1 and 2 while Climo only manages par. They trade punches through the next several holes but by Hole 10, Climo has stretched his lead out to five, and then on Hole 11, Schultz loses another stroke and goes down six. It looks like the title is Climo's.
But on the original incarnation of Hole 12 (aka 888), Ken cards a double bogey while Barry gets an easy birdie, cutting the lead back down to three. On Hole 14, Barry squeaks through the Clown's Mouth and Ken misses it: the lead is two. On Hole 15 (our current Hole 16), Ken's turnover comes up short and OB, Barry drops in the birdie, and, just like that, we're all tied up going into Hole 17.
Both take a birdie on Hole 17 in its original incarnation, a hole that Ken had previously aced (keep this in your memory bank):
And then on Hole 18, Schultz gets into his iconic straddle-squat stance, pumps the disc, and then drops in an ultra-clutch wobbler birdie putt to force a sudden death playoff, sending the gallery into a tizzy:
The Playoff
All USDGC sudden death playoffs repeat Holes 18, 1, and 17, in that order, due to their proximity to the clubhouse and the skill required to complete the holes. It's one of the great disc golf playoff loops. It's best if you just stop now and watch the playoff in its entirety without my platitudes or digressions:
These two titans go on to each birdie nine straight holes, including the best driving, approaching, and putting the game has ever seen on its biggest stage. There's even an ace run that could have spelled disaster.
It all boils down to Hole 18 for the fourth time in the playoff and eighth time in the tournament, and Schultz again crushes a drive up the hill for an easy approach while Climo leaves his drive just a bit short and left. For the first time in 11 holes, we see a missed birdie putt, and, unfathomably, it comes from the hand of The Champ. Schultz drops in a birdie and claims his second USDGC title to cap off a tremendous season.
But what stands out for me most of all is the camaraderie and genuine affection they show each other in that moment. This is what sportsmanship is all about:
Post-Script
A few years ago, there was a movie made of the high-wire walk that Philippe Petit made on August 7, 1974, between the North and South Towers of the Twin Towers in New York City. Prior to his 45 minute performance at 1,350 feet above the ground, the residents of NYC had often said that the towers were soulless and an architectural abomination. Petit's walk embedded something magical in these structural marvels that transformed them from just steel and concrete into a national monument (one that we were robbed of on September 11, 2001).
In much the same way, the USDGC had just been another tournament on the schedule that happened to have a pretty big payout for its participants. The ten hole playoff between the two best players of the era gave the event the prestige that it has maintained to this very day.
Next on the tee, the 2003 World Championship DVD!