Round 2 Recap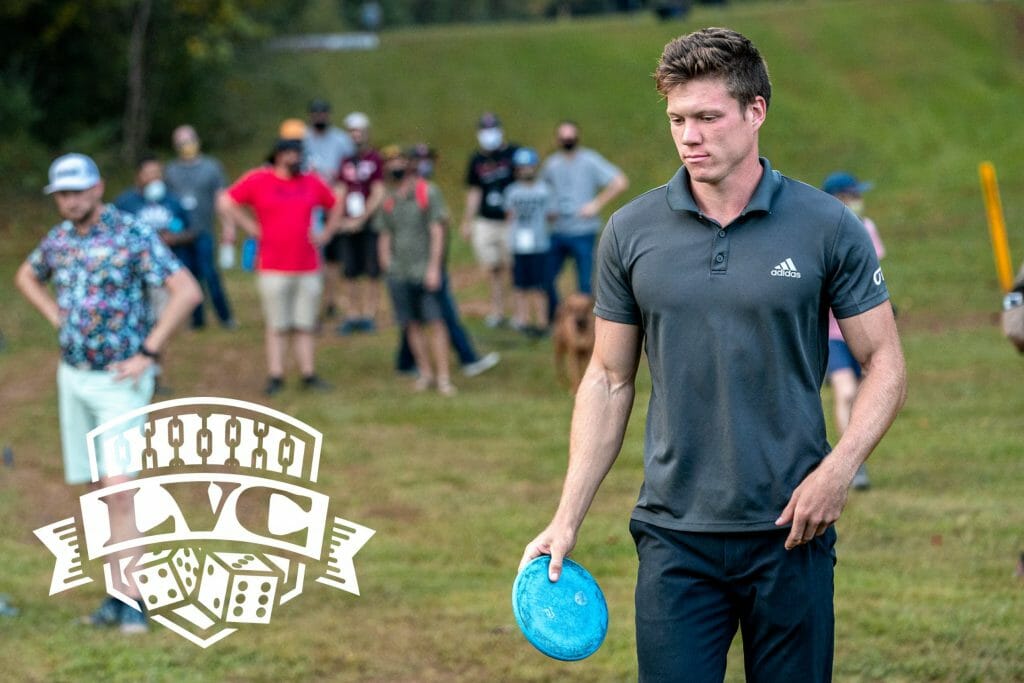 During the post-round studio breakdown, Nate Doss said there was no way a player could record a 1100-rated round due to the low scores and perfect conditions on the Innova course during the second round of the Las Vegas Challenge at Wildhorse Golf Club. Well, even with the average field scoring 8-under par, one player was still able to come in at that magic eleven hundred.
It's still unofficial, but Ezra Aderhold's 1100-rated 16-under par 46 is the South Dakotan's highest-rated round of his young career, and it earned him a move into first place by two strokes at 26-under par total. He was one of seven players to post two eagles on Friday as the winds remained calm and ideal for birdies. Playing on the chase card, Aderhold was dialed in all day, with every check-in during the live coverage showing him in perfect position to continue moving up the leaderboard. Through 36 holes, Aderhold has only missed four greens in regulation and missed two chances from inside 33 feet. Even in post-round interviews, Aderhold looks completely in control.
The lead card of Paul McBeth, Calvin Heimburg, Eagle McMahon, and Garrett Gurthie all turned in 12-under par or lower scorecards, yet were still surpassed by Aderhold. It was that kind of day. Despite a number of Circle 2 connections, McBeth was one of only three players in the top 10 to not get an eagle, and his bogey-free 13-under par 49 included three two putts. He made good on a couple of tough breaks though, such as an awkward stance on hole 11 for birdie. Similar to round 1 when Heimburg seemed to come from nowhere to take the lead late, Gurthie's birdie on hole 17 moved him into a tie for second with Heimburg and McBeth until a bogey on 18 moved him back two spots to fifth place at 22-under par total. McBeth and Heimburg are tied in second at 24-under part, and McMahon is fourtha t 23-under par.
Playing early, Brian Earhart took the clubhouse lead after a 13-under par round that was quickly caught. He moved up 54 spots to a tie for 11th at 16-under par total. Jeremy Koling also had a big jump with a 13-under round and is tied for ninth at 18-under par total. He had a throw-in for eagle on hole 9, the only of the day, but was favoring his right knee as he finished his round. He closed out the day with two pars.
Further down the board, Adam Hammes is putting together an atypical weekend for himself. The normally automatic putter is 2-for-10 from C2 and has missed five chances from C1X. He does lead the field in parked percentage, however, so most of his putts on Thursday and Friday have been drop-ins.
Ty Love announced himself at his first DGPT event with an 11-under round. The teenager is tied for 33rd.
Statline
The winner of the last two LVCs has had the lead going into the third round of the four round event. Eagle McMahon jumped up three spots with a 13-under par during round three of the 2018 event to take the lead, which he held onto for the victory. The Factory Store course is the longest on the docket, but still provides ample opportunities to score, and four players are within four strokes of the lead.
Highlights
Eagle McMahon cashed in on a lucky break for birdie from a knee on hole 3.
eagle mcmahon hole 3 putt rnd 2 lvc
James Conrad showing you how to work your way up hole 5's fairway.
james conrad hole 5 approach rnd 2 lvc
An outside of the circle par save with elevation is easy work for Ricky Wysocki.
ricky wysocki hole 10 putt rnd 2 lvc
Ezra on the Birdie Train -9 through 9.

Aderhold has cooled a bit on the more difficult back nine but is tied with Paul McBeth for the lead.#quickhits pic.twitter.com/CDESVugPYk

— Disc Golf Pro Tour (@DiscGolfProTour) February 26, 2021
Paul McBeth with the $10M birdie on hole 11.
paul mcbeth hole 11 putt rnd 2 lvc