Round 1 Recap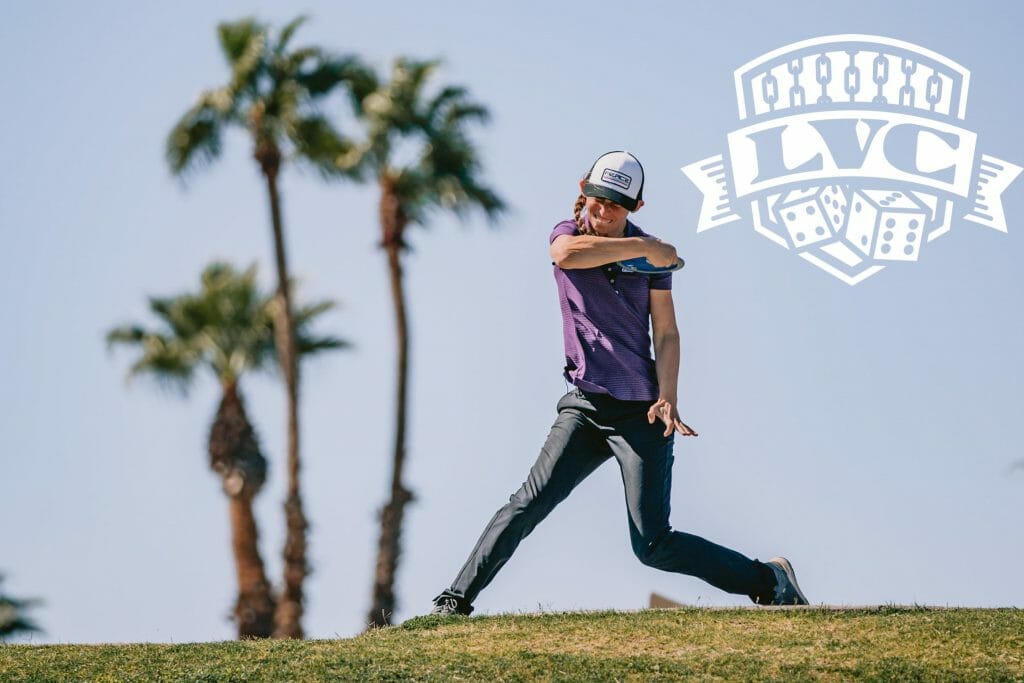 The Disc Golf Pro Tour opened its season in Las Vegas on the Infinite Discs Course at Widlhorse Golf Club. This ball golf course layout incorporates wide and open tee shots with a couple of tight and obstructed greens.  
Paige Pierce heated up significantly in her back 9 with six birdies in a row. Her bogey-free evening puts her in first by four strokes at 10-under par 52, which comes in at a rating of 1032. She was first in tee-to-green strokes gained at 11.48, four better than the next best player. Like the entire field, gusty conditions affected Pierce's Circle 1X putting, but when she was placing drives like she did on hole 14 there isn't much need for putting. 

Reigning champion, Catrina Allen, didn't have an excellent day on the greens but stayed consistent on the fairways at 84%. She was 62.5% from C1X, placing her 11

th

amongst the field, and second in birdies only to Pierce. This performance placed her in second with a score of 6-under par 56, one stroke ahead of third place Jessica Weese.

All-Star weekend winner, Kona Star Panis, saw birdie only three times in the evening. Her 67% C1X putting and two OBs only resulted in one bogey on the afternoon. She currently sits 2-under par after the first day and tied for fifth. She continues to look sharp throwing the disc and is showing us more glimpses of a complete game. A forehand scramble from behind a bush on hole 15 led to an easy drop-in birdie.

Valerie Mandujano struggled during her highly anticipated feature card season debut. She found the OB on four holes and her C1X putting was 40% ranking her 32

nd

. She ended the day at 2-over par and tied for 15th.

The FPO division recorded one eagle on the day, a 200-foot throw-in by Jennifer Allen on hole 9.
A bit of a bummer to see two cards not have UDisc Live stats. We aren't able to see how Rebecca Cox got to 2-under par, or what happened to Sarah Hokom to end 5-over par.
Heard
"Today I definitely feel like it was way above 1000 [rated]. My goal this weekend is 990 or higher, so whatever place that puts me in I'm focused on 991 going up to 1000. So this first round is definitely going to help me on that quest."- Paige Pierce, on her mentality over the weekend. 
"I haven't looked at scores yet, but felt all right, just maybe two or three mistakes that I'd like back but other than that I think overall it was solid."- Catrina Allen after the first round.
Statline
The Las Vegas Challenge was in fact a challenge during its opening day. With 9 mph winds, the average on the course was 4.85-over par. Hole 4 seemed to be where the majority of the pack saw issues. The average on the hole was .63-over par, with Jennifer Allen holding the lone birdie.  
Highlights
It's still nice to see Jessica Weese throwing forehands again, like a park job on hole 13.
jessica weese hole 13 drive rnd 1 lvc
Too easy for Paige Pierce.

Pierce is the FPO leader at -9 after 15.#quickhits pic.twitter.com/gNZGUZ0hcU

— Disc Golf Pro Tour (@DiscGolfProTour) February 26, 2021
Kona Panis getting out of trouble for an easy birdie on hole 15.
kona panis hole 15 approach rnd 1 lvc