Round 1 Recap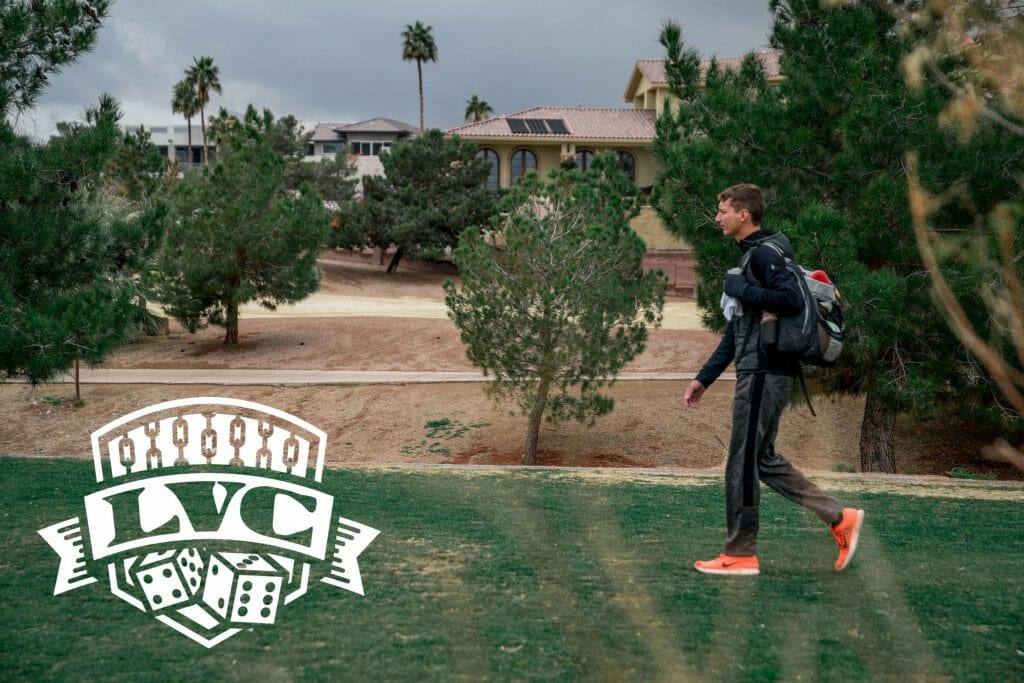 High winds were already proving to be a factor on day one of the Las Vegas Challenge, yet the top of the field was still able to match last year's low scores during the only round on the Infinite Discs Course at Wildhorse Golf Club.
Calvin Heimburg won the last PDGA National Tour stop on these courses in 2019 and was playing like he'd like to take home another trophy from Sin City. An early miscue and double-bogey on hole 1 put Heimburg behind other past champions on the feature card, but he'd record 14 birdies to finish out the round in first at 12-under par 47. Chasing Paul McBeth and Ricky Wysocki, Heimburg pulled close to the duo with one of only two birdies of the day on hole 15, then took the outright lead for the first time on the hanging hole 17 with a 27-foot birdie. The Floridian was one of a handful of players to pace the field in fairway hits, yet he gained the most strokes (5.41) through his putting. Heimburg connected on four Circle 2 attempts.
A slow down around hole 15, the toughest hole to par on the day, may have affected McBeth and Wysocki who were closing in on Eagle McMahon's clubhouse lead of 11-under par 48. Over the final five holes, both players were only able to go 1-under par as Heimburg birdied out. McBeth is tied in second with McMahon at 11-under par 48 but is not ranked above 12th in any major driving category on UDisc Live. Wysocki is tied in fourth at 10-under par 49 and was 11-for-11 from C1X.
McMahon played on an early card and only had to attempt two C1X putts, both of which he hit. He parked 50% of the holes but his highlight came on a 60-footer for birdie on hole 15 while battling the breezy conditions.
Garrett Gurthie, James Conrad, and Ezra Aderhold are tied with Wysocki in fourth at 10-under par. Gurthie had the only eagle on the 597-foot hole 9 of the day. He was able to reach Circle 1 with an air shot off the tee.
Two aces were recorded on Thursday. Cale Leiviska (T-22nd) started his day by ringing up hole 1 and Vincent Polidori (T-31st) ended his by getting hole 18.
Heard
"You always have to push the pace out here in Vegas. You got to get a ton of birdies to be there at the end. So yeah, you got to be pushing." – Calvin Heimburg, on how he'll play the next three rounds.
"The practice round yesterday was dead calm and I was really trying to visualize what to do on each hole if there was wind ripping. A lot of the time I was going FD3, PD2 really low, just keeping it out of the wind and that worked most of the time." – Eagle McMahon, on preparations for the round.
Statline
The Infinite Discs course was extended about 400 feet from the 2020 layout with par gaining one stroke, but scores stayed relatively stable, with averages coming in at 2.7-under par. Hole 15 went from being on the easier side to the most difficult on the course with the tee pad getting moved back 140 feet. More than 40% of the field recorded a bogey or worse.
Highlights
Your defending champ is on fire! Nate Sexton: five holes, five birdies.#quickhits pic.twitter.com/8TPBqcGLPE

— Disc Golf Pro Tour (@DiscGolfProTour) February 25, 2021
Ricky Wysocki approach on hole 8.
ricky wysocki hole 8 approach rnd 1 lvc
Garrett Gurthie bomb on hole 9.
garrett gurthie hole 9 drive rnd 1 lvc
One small step for birdie on hole 12 for Calvin Heimburg.
calvin heimburg hole 12 putt rnd 1 lvc
Calvin Heimburg couldn't place his drive on hole 14 better.
calvin heimburg hole 14 drive rnd 1 lvc
What a way to open the season! @Brodiesmith21 is in the clubhouse with a -7.#quickhits pic.twitter.com/hmCCgzrwfb

— Disc Golf Pro Tour (@DiscGolfProTour) February 25, 2021
Big time putt for birdie on hole 15 by Eagle McMahon.
eagle mcmahon hole 15 putt rnd 1 lvc
Paul McBeth parks hole 18 to get into a tie for second.
paul mcbeth hole 18 drive rnd 1 lvc