Round 2 & 3 Recap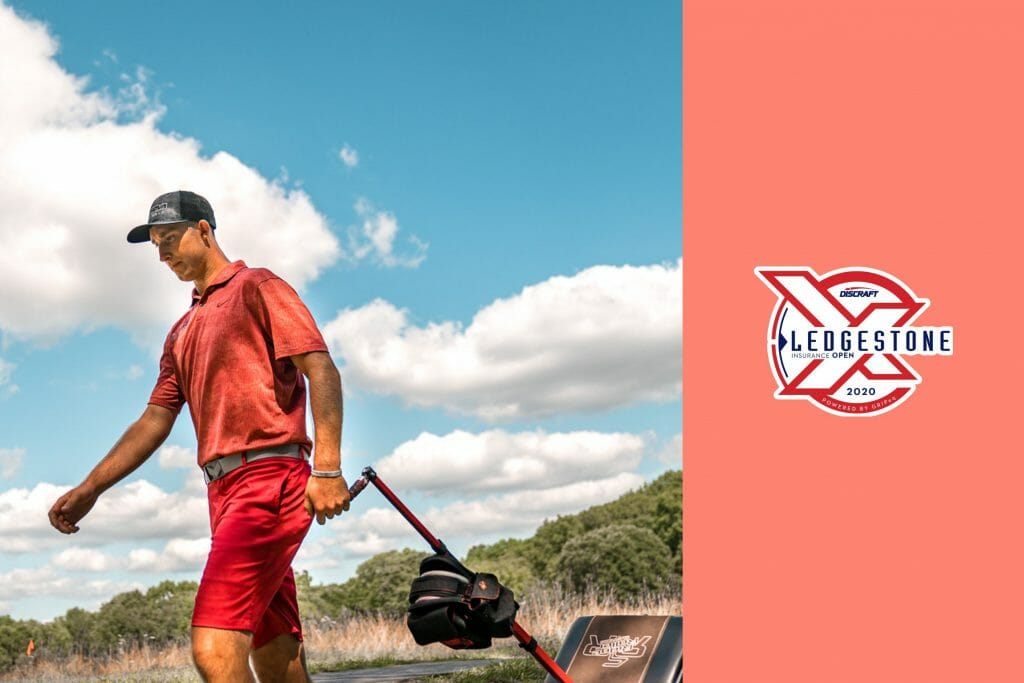 With two moving days and moving between courses, the Open field was wide open after one round, but after three, it's one player in control at the Ledgestone Open.
Going into the second round at Northwood Gold, Ricky Wysocki was four strokes off the lead. He used five straight birdies to close out Friday to shoot a 1072-rated, 9-under hot round to move into the lead. Another strong 1060-rated third round on Lake Eureka solidified his spot as others he shared the lead card with failed to make up any ground. He is ahead of the field by seven strokes at 23-under par total.
Wysocki leads the division in finding Circle 1 and C2 in regulation, and has only missed one C1X putt all weekend. His 7% holes above par rate is the lowest in the event, and he has no double-bogeys or worse.
Kevin Jones was out front early, and despite two lackluster 3-under par rounds on Friday and Saturday, he remains in second place at 16-under par. He was able to salvage a rough start to Lake Eureka — 4-over through 5 holes — to maintain his lead card position. He leads the event in birdies and is tied with Wysocki in finding C1 in regulation.
After two rounds below his rating, Paul McBeth looked to finally get off the mark in round 3 at Lake Eureka, shooting the hot round 9-under par while moving up the leaderboard into third place at 14-under par total. He corrected a poor putting round from Friday by going perfect from C1X Saturday.
Paul Ulibarri and Gregg Barsby are still in the top 10 after starting their tournaments bogey-free on Northwood Gold, but each shot a near, or sub, 1000-rated round to keep them off the lead card for the final round. Ulibarri's came on the second round at Northwood, and Barsby's was with the move to Lake Eureka. Anthony Barela moved into a tie for fourth with Barsby at 13-under but takes the final lead card spot due to shooting the better third round.
Wait times continue to hamper the MPO field on Lake Eureka with backups on multiple holes. Wysocki looked a bit slow to restart after backups hit around hole 14 at Lake Eureka.
Statline
Justin Rosak had the only bogey-free round at Lake Eureka on Saturday. The 7-under par was 1054-rated, the highest of Rosak's career by 30 points. Rosak, currently 982-rated, also plays collegiate disc golf at Liberty University. Since 2016, there have only been 20 other bogey-free rounds on Lake Eureka during the Ledgestone Open.
Coverage
Jomez Ledgestone round 2 front 9
Jomez Ledgestone round 2 back 9
Central Coast Disc Golf Ledgestone round 2 front 9
Central Coast Disc Golf Ledgestone round 2 back 9
Gatekeeper Ledgestone round 2 front 9
gatekeeper ledgestone round 2 back 9
Jomez Ledgestone round 3 front 9
Jomez Ledgestone round 3 back 9