The young Finn is leading the Prodigy Disc Pro Tour heading into this weekend's final event.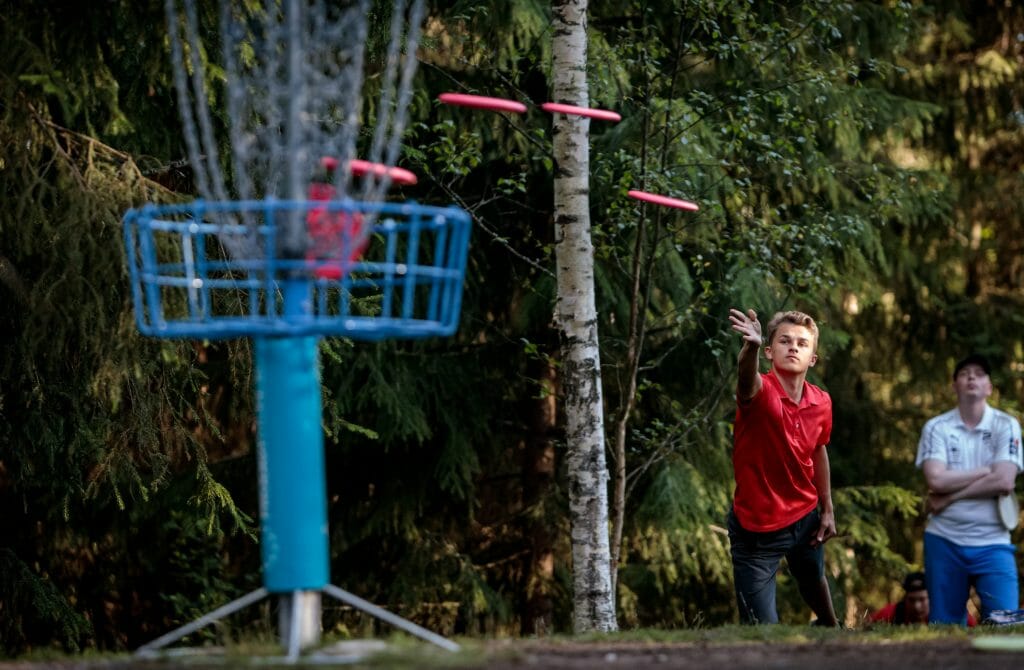 Age: 18
Career wins: 12
2018 Finnish Junior Champion
Niklas Anttila has been lurking behind the top players in Finland for a few years. This season, he has risen to the elite and leads the European Pro Tour.
Anttila has been close to the top even in recent seasons. He raised his profile even more this year, having taken the victory over Väinö Mäkelä in Tampere at last weekend's PDPT event. Anttila is the current points leader in the overall competition of the Pro Tour. We talked to Niklas before the last event of the season, which will take place in Puijo, Kuopio, on Niklas's home course.
---
Ultiworld Disc Golf: Niklas from Kuopio, how long have you played and how did you start?
Niklas Anttila: The very first time I saw the sport being played as a bystander, I found disc golf a bit weird. I wasn't quite fascinated yet by the skill of the sport. When I actually tried to throw myself for the first time, I was immediately hooked! I started training seriously in 2016. I was introduced to the sport in 2015. 
Ultiworld: Did you get help from anyone to get started with the techniques, or did you follow someones example from video?
NA: I didn't really get help at first. There weren't any pro players in Kuopio at that time to ask for help. I was a fan of Paul McBeth. I tried to model off him from the videos. 
Ultiworld: Was it natural and easy for you to learn the techniques then? You have evolved really fast.
NA: Yeah, I learned to throw pretty quickly with the backhand, putting came pretty natural too. Throwing with the backhand is still a safer way for me to play than forehand. 
Ultiworld: You progressed to the top quickly and won the Finnish Junior Championship in 2018. Immediately after that, did you get a sponsorship deal from Discmania, whose team you still play for?
NA: Well, I was actually in the McBeast Challenge 2017 at Puijo on the same featured card as McBeth. Paul gave Jussi Meresmaa a hint about me, apparently convincingly, because soon after that I signed an agreement with Discmania.
Ultiworld: Surely it felt pretty nice to get recognition from the best player in the world back then?
NA: Yep, that was great.
Ultiworld: Are you still in contact with McBeth?
NA: We say hi if we happen to meet, but not much else.
Ultiworld: So you live in Kuopio and your home course is Puijo. Do you know what the course record is there and what is your own record there?
NA: I don't know what the course record is. I once played -17 there.
Ultiworld: Umm, -17 ok…ugh… I cant' get over -17…
Niklas Anttila In The Bag 2020 – Discmania
Ultiworld: How do you usually train? Who are you going on a practice round with today, if in 2016 there weren't really any pros to practice with yet?
NA: I don't usually do a lot of 'training rounds,' but if I do, I  usually play with Jesse Nieminen and Mikael Räsänen. They are also out on the Pro Tour. 
Ultiworld: So how do you practice?
NA: I like to train more on the field and putt myself. In the winter and during the week, I do exercises related to the sport five to six times a week. I stretch almost every day and from time to time I go to the masseur. In the summer, you hardly have time to practice. That's when I just try to keep fit.
Ultiworld: You are now leading the Pro Tour ahead of Väinö Mäkelä. You last defeated Väinö in Tampere by only one stroke, having to birdie the last hole to take the win. Is a high tolerance of pressure in a tournament setting a strength for you?
NA: Yes it is. I'm pretty good in playing under pressure. It may sound weird, but I enjoy playing under pressure. Actually, it improves my performance. If I play a casual round with friends in free time, it doesn't usually go so well.
Ultiworld: Now it's time for the "home event" in Puijo from July 31 to August 2, 2020. So would you like more spectators to come to the venue than less if the pressured game situation is more favorable to you?
NA: I always wish there were a lot of spectators on site. That's what disc golf needs. Playing in front of spectators is the best! 
Ultiworld: Indeed, nowadays the players are required to have some visible participation in social media. Have you ever thought about getting into the "game of vlogs" so to speak?
NA: Well it's not completely out of the question, maybe the vlog bug will bite.
Ultiworld: Do you have time to do anything besides disc golf? Are you in school?
NA: I just finished high school in the spring. I got ok grades. In winter, I have to go to the army in Rissala. There is a flying/fleet brigade there. 
Ultiworld: Is Rissala a place where athletes have the opportunity to get free due to competitions?  Is there a sports track, a designed way for athletes to go through army service?
NA: It should be possible to get sports leave. Rissala is sports-focused to my knowledge.
Ultiworld: Is the idea to stay for a whole year to make the most of it?
NA: Well, we'll see. At the moment, I'm not very eager to leave, but it may be that my mind changes along the way.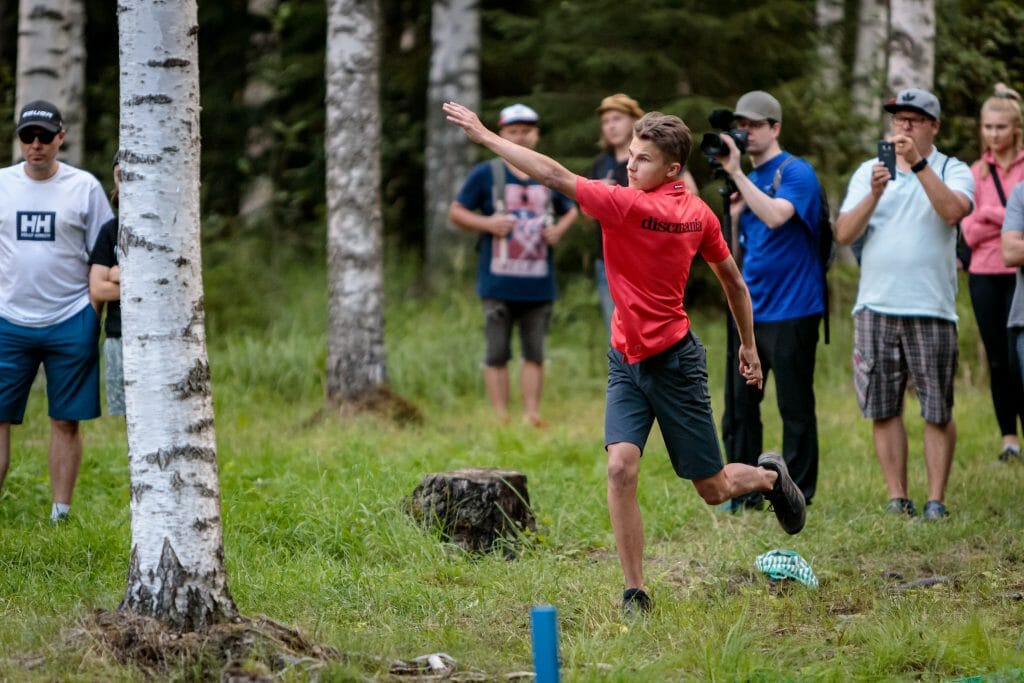 Ultiworld: Somehow, you have managed to stay a little "invisible," under the radar, so to speak, in previous seasons, even though you can't be called anonymous. This season has been a coming out party with your success. How have you been able to rise to the elite level?
NA: Maybe the jump from the juniors straight to the Open series was too steep at first. I have been practicing diligently and persistently for a long time. At the moment, I rely on my own game strongly and I have always been a steady player. In 2018-2019, I was close to winning many times (Lahti Pro Tour 2018, Helsinki and Oulu Pro Tours 2019). Now I have found something  "necessary," so that I am able to win.
Ultiworld: What are your thoughts on going to the Puijo event? The course is quite familiar to you.
NA: I'm pretty confident. I know what I have to do at Puijo. I'll try to do my best; it should be enough.
Ultiworld: Has the Pro Tour been the main goal of the whole season, or are you prioritizing Finnish Nationals in Sibbe?
NA: Actually both. However, both are really hard to win. The top players are the same in both.
Ultiworld: Are you familiar with the Sibbe course?
NA: I've played maybe 10 rounds there. However, the national competitions layout is new to me.
Ultiworld: How would you like to be known on and off the courses? What do your friends say about you?
NA: I would like to be known as a positive dude who takes playing disc golf seriously.
Ultiworld: A few multiple choice questions to complete our chat…DD3 or PD2? You throw both.
NA: DD3, but yes I do throw both of those. Great discs .
Ultiworld: Veggies or meat?
NA: Meat only.
Ultiworld: One 1111-rated round once in a lifetime, or all of the putts inside Circle 1 every round for the rest of your life?
NA: Uh, that's tough one. One 1111-rated round! Putts always go in anyway so…in my dreams at least they do.
Ultiworld: Thank you Niklas Anttila for your time! 
NA: Thanks to everyone who has supported me and keeps supporting me: Discmania, Frisbeemarket, and Komerofood. Thank you Mom and Dad for your continued support! Follow @anttilaniklass on Insta!