Scoring stayed hot even as conditions cooled.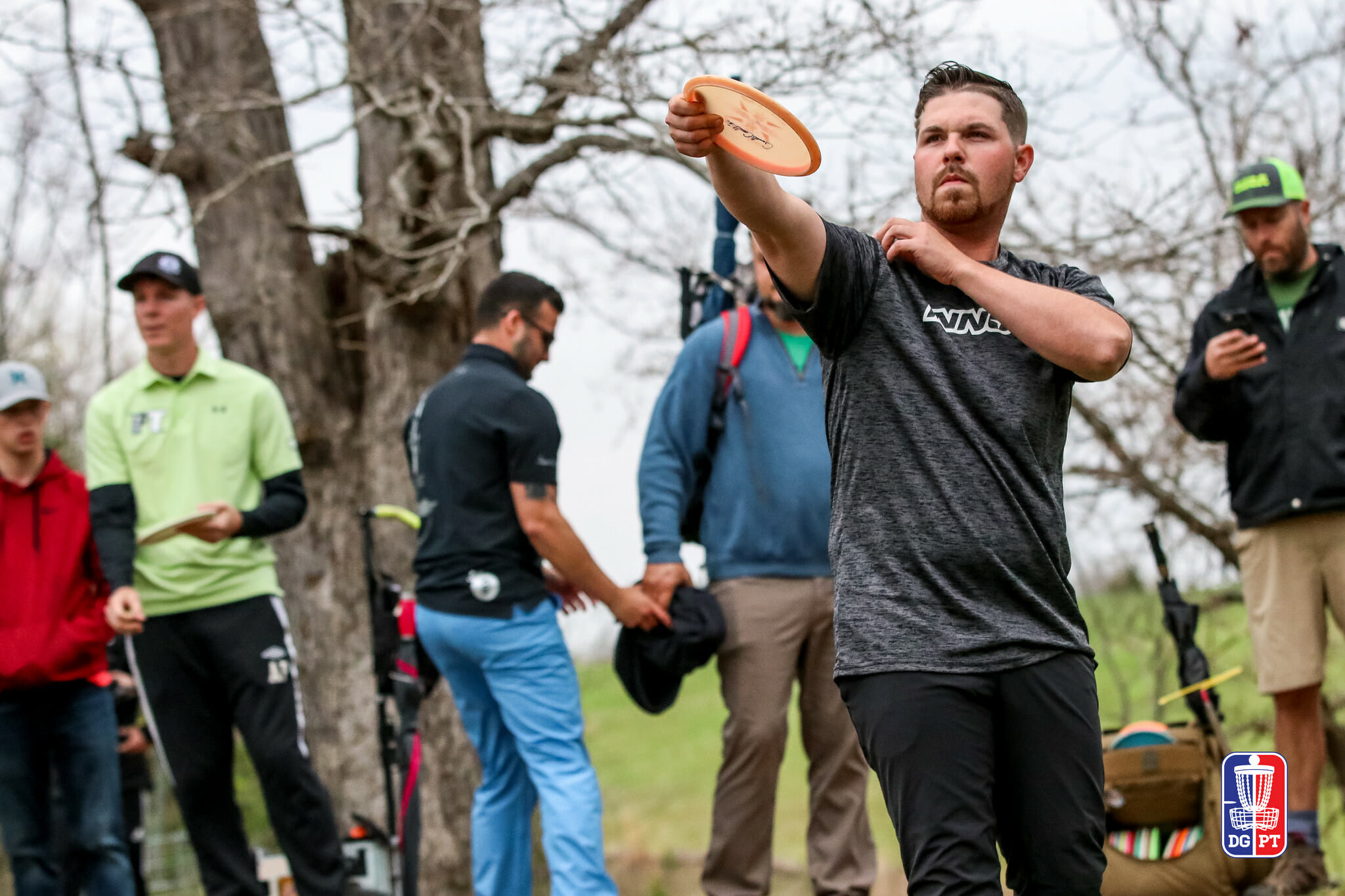 Ultiworld Disc Golf's coverage of the 2020 Las Vegas Challenge is presented by Innova Discs; all opinions are those of the authors. 
April showers bring May…and what happens in Vegas…hmm. There's no good cliché for soggy, drizzly winter weather in the desert and for good reason. Smiles from sunny yesterday were grimaces at best as the cards trudged off of the Factory Store course. In contrasting fashion to the "start fast and take chances" type of rounds we've seen over the past two days, the front nine was about managing par and not giving your leaderboard position away with so many holes left to play.
According to Terry Miller and Matt Grayum, who are covering FPO lead card, they held out hope for a pleasant, if overcast, round. However the weather had other plans. "It was about Hole 6 when it began drizzling," said Miller.
"That's when the umbrellas started appearing," agreed Grayum.
Typical for Las Vegas, a little rain goes a long way towards saturating the ground, and towards the end of the round low-lying-lies had the bonus challenge of soft or uncertain footing.
UDisc course stats corroborate this line of thought, as the five hardest holes on the course played at least .75 strokes over par on average, and all five are on the back stretch of the course between #12 and #17.
There were bright spots, however, on this unmoving moving day (nobody in FPO moved more than three spots in either direction).
Miller specifically highlighted Callie McMorran. "I was impressed with her composure on the green, as I watched her step back from her lie multiple times to reset mentally," he said.
Grayum followed, "It reminded me of a batter stepping out of the box and beginning the routine again."
McMorran would connect from C1x 78% of the time, 5th best in the field in Round 3, and sits atop the chase card for the Final Round.
The European women also stood out on Saturday. First, props must be given to Lykke Sandvik. The Norwegian, in her first year of a new contract with Prodigy Discs, entered the event sporting a pedestrian 902 player rating but has averaged 953 golf through three rounds. She is currently tie for 6th with Hailey King, six throws behind Eveliina Salonen.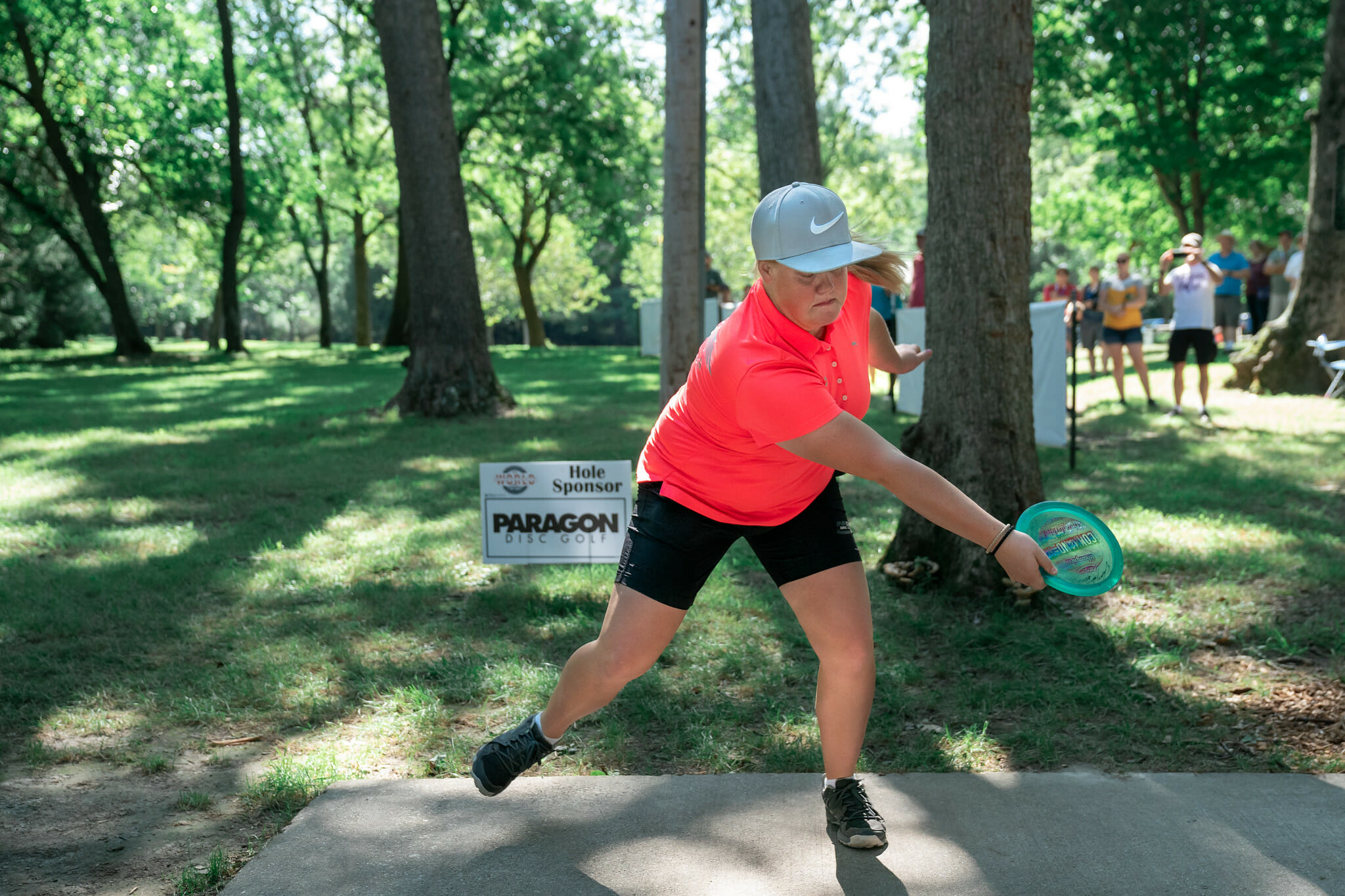 Salonen, who regained her lead by one throw over Catrina Allen on the back of the 1-over-par (63) hot round of the day, said of the conditions, "The wind wasn't a factor, but the discs felt a bit sticky so my putting wasn't great at all. I missed a lot of short putts that I should have made."
Despite the early struggles, Salonen's seven-meter birdie putt to take the outright lead on #18 capped off a late push where she played the final three holes of the course 2-under par. During the same stretch, Catrina Allen would play +2, simply unable to find a comfortable putting stroke on the rollaway-prone greens at Wildhorse.
Henna Blomroos used her elite level power to scratch out just enough birdie looks to make the lead card for the final round. Blomroos, who is 2nd in Birdie % and C2 in regulation this weekend, also leads the field in C1 in regulation – which has rewarded her with birdie looks from inside 10m on nearly a third of the holes she's faced. Nevertheless, Blomroos was less than enthused with her efforts when speaking with Ultiworld's Ville Maki.
"I am a bit disappointed," she said. "I was hoping to play on a higher level than I managed today. There were some good moments but hopefully tomorrow I can do better."
Despite her high expectations, she has found herself within striking distance of all three of her cardmates with 18 holes remaining, three off of the lead.
One ahead of Bloomroos is defending champion Paige Shue, who has been boxed into a more conservative looking scoresheet than we are used to seeing from her. Shue, who was Top 5 on tour in 2019 in Birdie, Scramble, and Parked percentages leads the field this week with a 67% scramble rate. However, her Birdie % is halved from her '19 Tour average. Whether that is a factor of internal or external factors isn't entirely clear, but nevertheless she is in the mix for what is shaping up to be a dogfight for the title on Sunday.
A break in the clouds teased a return to the same type of conditions we'd seen earlier in the week as MPO cards in contention to make the cut line filled the course, but sky dimmed into a deep grey as the afternoon wore on. Nevertheless, if you weren't able to get 4- or 5-under on the front 9, you were falling off the pace. The accompanying drop in temperature and rise in wind speed made intermediate putts, which were sure fires in the sun 24 hours prior, into ones that required that little bit of extra focus.
While these characterizations do risk making mountains out of molehills — after all, nobody is adjusting their target scores and "get at least half" is still the name of the game — it further emphasizes the biggest key to success at this event: execution. A very large percentage of the MPO field can play these courses well under par, which makes the multitude of storylines hard to sort out. For a reference point, at about the halfway point of the MPO rounds, the top 10 on the UDisc Live leaderboard were separated by a mere five strokes, and the top 20 separated by eight.
When the dust settled on moving day, however, Nate Sexton and Garrett Gurthie remained at the top, separated by one stroke. Though neither had a stellar C1x putting percentage in Round 3, Sexton entered today with a slight cushion to his lead and Gurthie cut into it by parking nearly half of the holes and going bogey-free.
Holding his own during moving day was Tristan Tanner, who has managed to essentially keep pace with the red hot Gurthie after playing on the same card for the second consecutive round. The Longmont, CO, hucker went 3-for-5 from C2 and only missed one C1x putt. Were it not for two OB throws in his final four holes of the round, he very well could have been tied for the lead outright.
The only member of the Round 3 lead card not to retain his place is Ricky Wysocki, but it took a hot round (-13) from Eric Oakley, a tremendous bogey-free effort that included a 7-birdie streak from Holes #6 through #12. Oakley then capped off his round by snagging additional birdies on each of the final four holes. His 91% C1x putting and 3-for-4 performance from C2 were the standout stats.
18 players in MPO finished at (-9) or better despite the change in conditions, compared to 12 players in round 2, matching the total from the opening round. The rapid pace of birdies or better at this event means great shots often feel mediocre, and good shots are often under-rewarded on the scorecard. We should expect to see more of the same tomorrow as the pros tackle the Innova course one more time.
There has been plenty of magic on this particular course since the event moved to the Wildhorse venue a handful of years ago – from JC Kester's Thumber Eagle on #18, to Paul McBeth's sportscenter-worthy Ace on #13 in an unsuccessful attempt to run down Ricky Wysocki, to Eagle McMahon's 1100-rated attempt to steal Calvin Heimburg's thunder, to GG's "Albatrace" just yesterday.
The only question that remains for the handful or so of competitors who have a legitimate chance at winning the 2020 Las Vegas Challenge is, who can execute? It may be birdie-or-die golf, but it's high stakes, 1050-rated birdie-or-die, and we can't wait to watch.