Women's turnout at events can suffer due to course design and division limits, and changes have been slow to catch on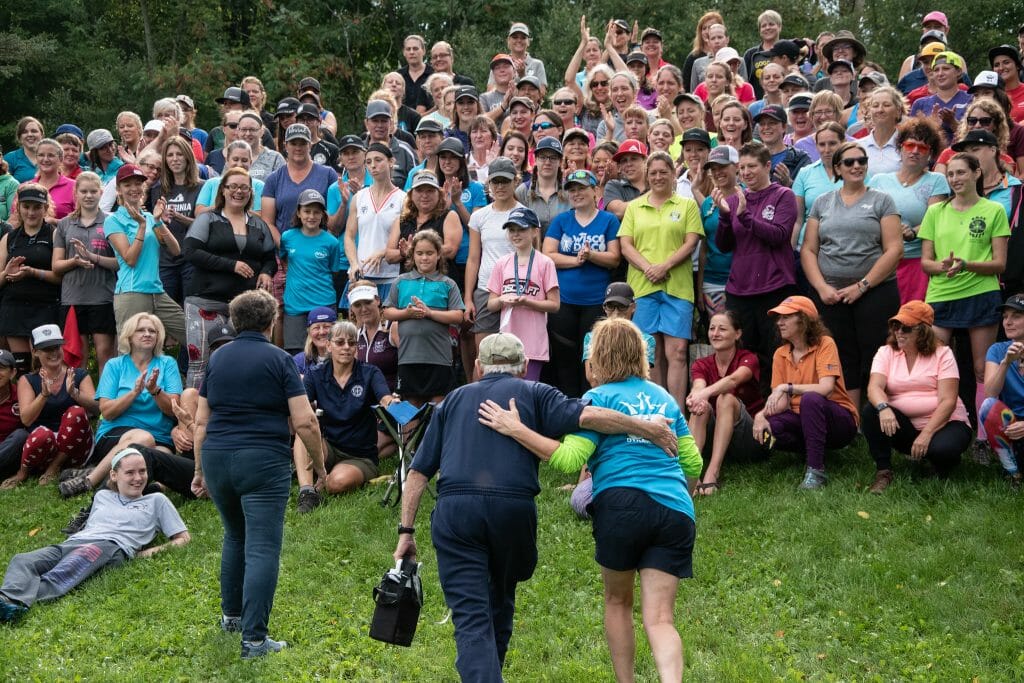 Beth Foister is from Tennessee and has been playing sanctioned events for almost 10 years. She has more than 20 career wins and played in multiple world championships. Foister is an involved member of her local disc golf community and has spearheaded efforts to get more women on the course.
For years I had been playing local events and was often the only woman, or one of only a few, which meant we mostly just had one division for women.
At that time the local disc golf community in general was much smaller and you could show up the day of an event to register. We have had explosive growth and now typically have multiple player pools playing multiple courses, with pre-registration being mandatory and often still a waiting list. Our community had the distinct advantage of having Will Schusterick as our local professional player, which brought other pros from the region to our local events.  Barring conflicts with the pro tour, we usually have some high-profile players like Will, Chris Dickerson, and Zach Melton come out.  Having so much talent in our local community and nearby regions has inspired everyone to improve and want to throw as far as possible.
As time passed, I started traveling to play regional events to play with more women and see what courses and events were like elsewhere. In 2015 I decided to play in my first tournament as an FPO player. I will be the first to admit that I made the decision not because I thought I was that good but because I was tired of playing for plastic I didn't want or need, and many of the women I had been playing with in regional events as intermediate or advanced women were making the decision to move up.  The next year was my first full season as an FPO player and it was quite a learning experience.
When I received my invitation to play in the Professional Masters World Championship I thought it was a mistake until it was explained to me how the invitations and ratings worked.  This was the spark that set me on a path to understand the system and what it all meant.  Having a degree in Chemical Engineering I tend to be fairly analytical and like to solve puzzles.
I never really thought twice about my disc golf rating or what that even meant until May 2016 when everyone started talking about the Women's Global Event (WGE).  Even then it didn't mean much until after the event when I was curious and looked at how I compared to women around the world. Lo and behold I thought to myself, "Boy do I suck. Why am I even playing in the FPO division?"  Months later when I saw coverage of the Daisy Chains WGE event in California a light bulb started to flicker.
I came to the realization that the course used for the Daisy Chains had only a handful of holes that were over 300 to 350 feet, whereas our WGE event only had a few holes under that distance. Our local WGE was merely an afterthought to an event already scheduled. Not only was the course longer—one hole was actually 1100 feet—it was a mixed event, and there were wind gusts of about 40 mph.  One of our recreational women threw a drive that the wind pushed backwards behind the tee pad.  Sadly, the recreational women that came out that day no longer play.
This event made me begin to question how the ratings are determined and why my rating should be based on how I perform compared to the men who can throw a putter farther than my longest drives.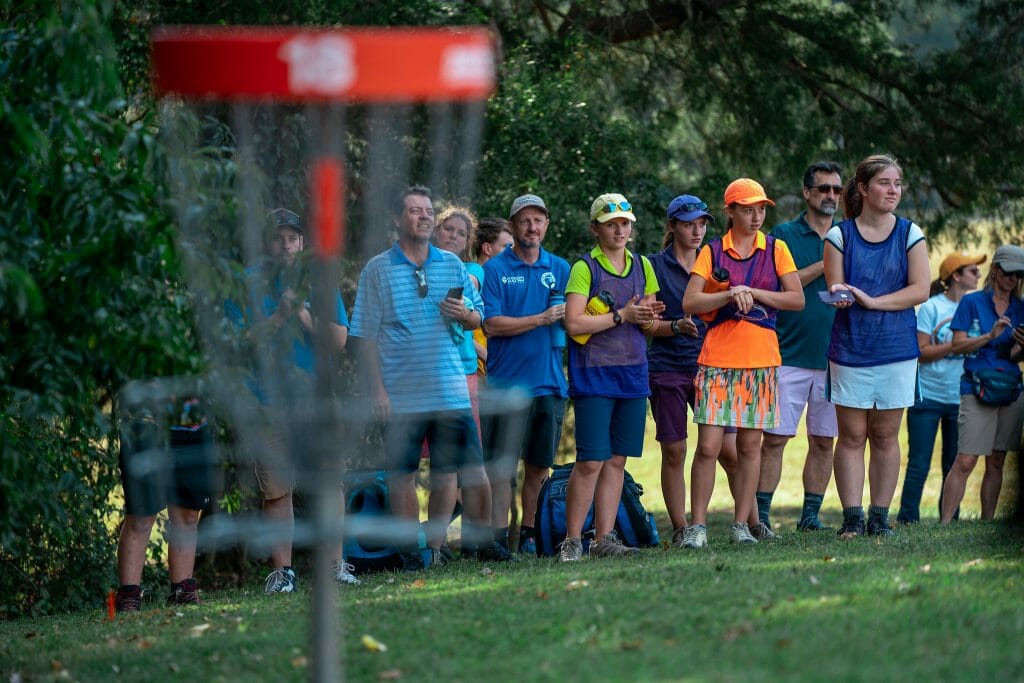 As I began asking questions, I was told it didn't matter who was playing or their level; it didn't hold my rating back, and examples of touring professional women were held up as proof.  As time passed though and I began playing higher level women's only or masters age events, I started to see an undeniable pattern of having higher round ratings when I played outside of our local community.  During this same time period I was being asked by many of the local guys how we could get more women to come out and play in events.
My brain was on fire with all of these questions rolling around, and I felt like my questions were part of what was keeping the women from coming out to the weekly league events and tournaments.
So I set out to determine how we could change things to grow our women's disc golf participation. Our first step was to start a weekly women's league, which I collaborated on with a couple of other women. It was a slow start, but we started gaining momentum.  Simultaneously, I began reaching out to tournament directors from events I had played and enjoyed, which led me to communicating directly with Chuck Kennedy at the PDGA about how we should change our events with an eye to encouraging and retaining female participation and how low ratings can be discouraging.
The overwhelming consensus was that women will typically have better ratings when they are in a separate pool from the men and play a layout that challenges their skills at appropriate distances.  To determine an appropriate layout for women, the advice was twofold:
On a longer open course, the women should not play the long tees with the men; on shorter more technical courses, the differential in skills was not as great, so playing with men was appropriate.
Because many communities don't have enough women as propagators to have their own layout, a recommended solution was to group the women with the age-protected men's divisions or group the women in mixed divisions of the lower men's divisions. I began nagging our local organizers to experiment with some of these concepts to see how it impacted the female ratings. Because our newer women were having higher ratings and more rapid progression than those of us who had been playing events for years we considered the changes successful and appropriate.
Fast forward to 2018 and all our efforts were paying off: I had played in the Masters World Championship and US Women's Championship in 2017, and ended that season with my highest round ratings for a single event ever at 937 and 890 in route to securing a win against a visiting touring pro. Our local women were getting really active in the community, and we were preparing to put on our first-ever, women-only event for the WGE.  The WGE was wildly successful and enjoyed by all the women and the gentlemen that volunteered and caddied.  It was a bittersweet season for me as I realized just how stressful the process was and the effect it had on my own personal game, but I was happy to pay it forward for our women's community.
Unfortunately for me, it was yet another eye-opening experience.  I discovered that not only should I not play an event that I helped organize, but not play any in the time surrounding the event and have any thoughts of performing well.  I also turned 50 and hit the wall; I suddenly could not stand the heat and humidity and put myself through some miserable events with horrific round ratings.  At the same time the local club changed leadership, and I started to get negative push-back on the women-centered changes we were experimenting with.  There was a perception that the local women just didn't want to play challenging layouts and that visiting FPO players would be disappointed. So we went back to playing the same layout as the top pro men.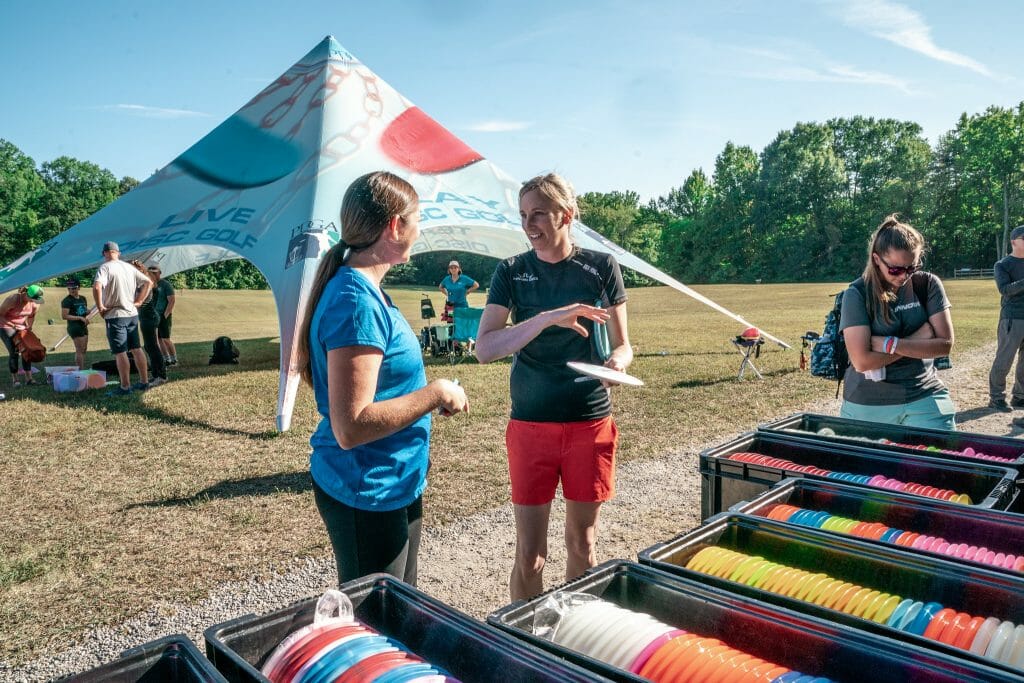 By the end of the year, I was ready for a break and had decided to minimize the events I would play for 2019 and strive for a better balance between disc golf, rock climbing, work, and family life, thus beginning my new chapter in disc golf.  I was making great progress with my game by having a better life balance and had chosen my events for the year.  Then the unthinkable happened — I injured my throwing arm and saw no reasonable timetable for recovery.  What a soul-crushing blow after working for months towards my goals and preparing for a week-long climbing trip.  At this point I could have withdrawn and spent months on the couch, waiting to recover.  Instead, the next day I looked at my husband and asked, "Do you want to go throw?"  He was dumbfounded, and I explained I couldn't just sit on the couch and waste my hard work.  I decided to throw with my left hand and do whatever I could.  I wrapped my right arm with an ace bandage until I could get a sling and set off on a new journey.
April 2, 2019 was the start of being a "newbie" again, learning everything from the beginning, this time with the firm realization of how terrible I was.  I spent nine weeks honing the most rudimentary of skills and then jumped into playing my first tournament left handed and, yes, at the FPO level.  By then I could at least putt with my right hand, but I had already signed up for the Masters World Championship and needed a test drive, so to speak.  I scored my current rating, which was already on a downward spiral, so I took that as a win.  By the end of the month I was in Vermont realizing that I had no clue how my left hand shots would react in the 40 mph wind gusts and torrential rain of round one at the world championship.
At one point I hit an amazing outside Circle 2 putt into a headwind to have Elaine King deadpan with, "Was that for 10?" as she took our scores.  Surprisingly, even with that terrible round and having severely limited use of my dominant hand, my rating jumped 11 points.  Knowing I did not want to subject myself to heat and humidity, I took most of the summer off from tournaments until it was time to prepare for the USWDGC.  Once again, I experienced another jump in rating.  We were finally experiencing some comfortable temperatures in the South, and at a recent event, I finally had a great set of tournament rounds. My rating has jumped 23 points since June.
I've learned a lot in 2019 after being forced to play as a novice (sort of) again and utilize all of the knowledge I had gained over the years to understand what I needed to do to succeed without dropping my rating.  I did this mostly by selecting appropriate events and times that suited me and avoiding situations that would set me up for failure.
Lately, I've been hearing and seeing discussions about whether the rating system is fair to women and older players, whether it discourages participation, suppresses women's ratings and inflates the top men's ratings, etc.  I fully understand the rating system is completely relative to conditions on any given day and the group of players and that ratings in equals ratings out.
"It is just a meaningless number in the grand scheme of things."  Typically, the people who will state that have good ratings and no longer remember what it feels like to have a pro outthrow them by 20 stokes per round because the pros can throw far and have more opportunities to score well.
It is an incredibly complex issue to determine how to design events for all participation levels and what ratings are even worth.  I will tell you without a doubt all these issues are true and need to be addressed for the future of the sport.  This is not just a women's issue but as the field ages it will become an everybody issue.  I have personally overheard masters-aged men complain that they are the new "bitches" of disc golf because they are not getting the same payout or attention as the young guns.
Well, welcome to the woman's world!
So, I ask is it time to update the ratings system and give the women a little love to keep the participation growing?