They all dropped in the bucket, but who did it best?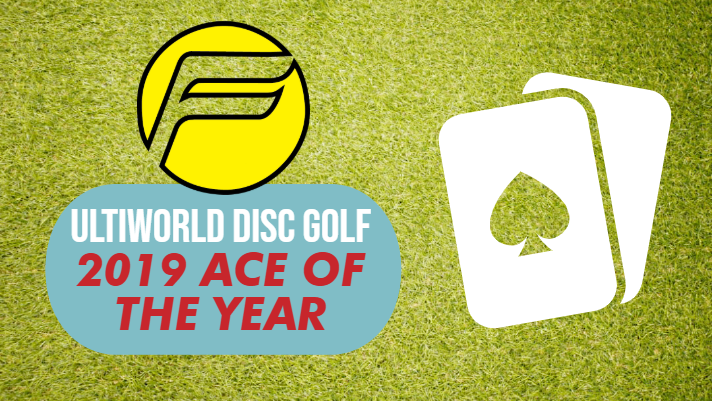 Ultiworld Disc Golf's 2019 Ace of the Year voting is presented by Friction Gloves; all opinions are those of the author. Check out our review of Friction's DG Gloves here.
The 2019 professional season was one for the books, filled with shots causing us to pick our jaws up off the floor. And there were so many, we figured we'd enlist Ultiworld Disc Golf readers to help us decide on the season's best.
With that in mind, we are proud to present the second of four bracket challenges to close out the year. We've culled highlights from the sport's best media providers and broken them down into four categories: Ace of the Year, Roller of the Year, Air Shot of the Year, and Putt of the Year. After each bracket is decided, the winners will battle in a four-way, College Football Playoff-style bracket that will determine the 2019 Shot of the Year.
Pick up to five shots for Ace of Year to make it to the semifinals. And if you're having fun with this, feel free to share the love on social media.
A special thanks to Jomez Productions, Central Coast Disc Golf, Spin TV, Disc Golf Pro Tour, Par Save Productions, Anhyzer TV, Dynamic Discs, SM Disc Golf, Foxx Hills Productions, Ace Run Pro, Cut Roll, Howard Disc Golf, Gatekeeper, Disc Golf Examiner, and others for capturing these clips. And we're off!
---
January: Andrew Presnell at the Las Vegas Challenge
March: Isaiah Esquivel at the Monkey Island Open
March: Josh McElwaney at the New World Spring Fling
April: Brian Earhart at the Glass Blown Open
May: Joe Rovere at the 303 Open
April: Austin Lytle at the Springtime Classic
Austin Lytle Ace Springtime Classic
May: Nicholas Masters at the Chain Hawk Spring Fling
Nicholas Masters Ace Chain Hawk Spring Fling
May: James Bergman at the Chain Hawk Spring Fling
June: Susan Stephens at Pro Masters Worlds
June: James Conrad at Zoo Town Open
July: Kelly Tucker at Bravest vs Greatest
July: Silver Lätt at Tyyni
Silver Lätt with the Tyyni ace

Shot of the day award goes to, Silver Lätt on Team 64°! Check out this ace he made during Tyyni, round 2!Ford Course, Hole 8, 120 meters (394 ft), with a Tournament Ahti? DG Academy

Posted by Latitude 64 on Friday, June 28, 2019
July: James Conrad at the Idlewild Open
July: Eddie Ward at the Idlewild Open
July: Jesse Nieminen at the European Open Ace
July: Kyle Griffin at Kiss The Sky
July: Rhys Kruger at the QLD Championship
August: Nicole Johnson at Rocky Mountain Women's Championship
August: Knut Valen Håland at Pro Worlds
August: Chris Clemons at the Vacationland Open
September: Corey Ellis at the Seth Burton Memorial
October: Chris Dickerson at the Hall of Fame Classic
November: Juliana Korver at the Phoenix Ladies Open
November: Philo Brathwaite at Drava Forester