Nine players within two strokes of the lead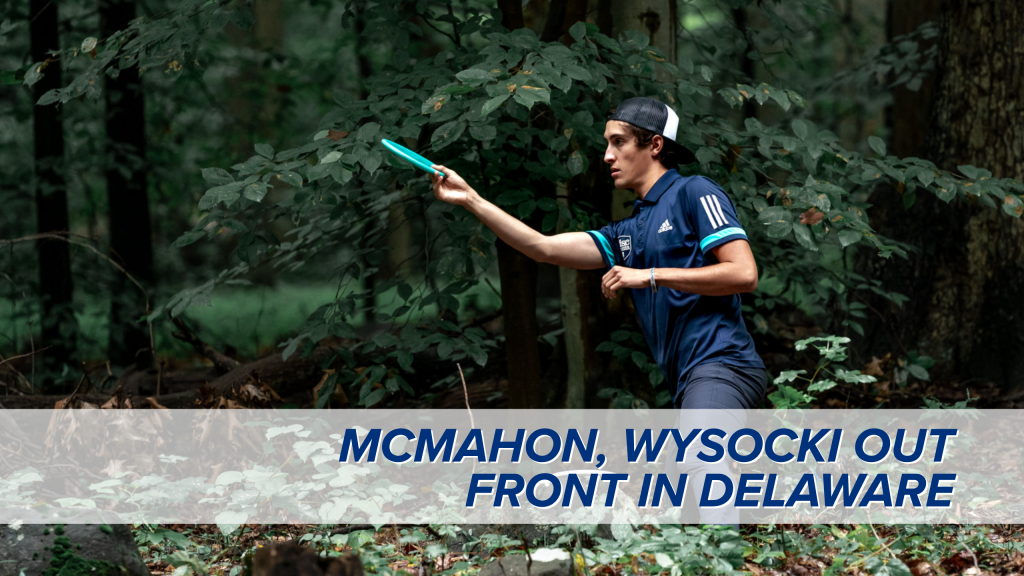 A wet Friday in the Mid-Atlantic damped discs and scores at the year's fifth PDGA National Tour event. 
Through one round, Ricky Wysocki and Eagle McMahon are tied atop the leaderboard at the Delaware Disc Golf Challenge, both shooting 1041-rated, 5-under par 64s. Wysocki went bogey-free, while McMahon carded one bogey and a double bogey. 
McMahon was 100% from inside the circle and added four birdies from Circle 2. Wysocki was the only player to come in with a clean scorecard, and was first and second in C2 and C1 in regulation, respectively. 
One stroke off the pace and tied in third are James Conrad and Albert Tamm at 4-under par 65. Conrad had a similar day to McMahon, hitting every putt inside 10 meters, but taking three bogeys. 
Simon Lizotte, Zach Melton, Dave Feldberg, and Joel Freeman are one behind of Conrad and Tamm at 3-under par 66. Feldberg had four C2 putts in the first seven holes and Freeman was 6-under through the front nine until both players calmed down after the turn.
Iron Hill is notoriously difficult, as evidenced by the numbers atop the leaderboard. Only one hole is playing at or below par, with hole 4 averaging .19 strokes under par, probably because it is easily the most "open" hole on the course. Overall, the course is playing at 4.76 strokes over par.
Hole 1, 10, and 15 were shortened since last year's event, yet only yielded six combined birdies out of 219 attempts. Väinö Mäkelä birdied both holes 1 and 15.