Blær Örn Ásgeirsson makes his Pro Worlds debut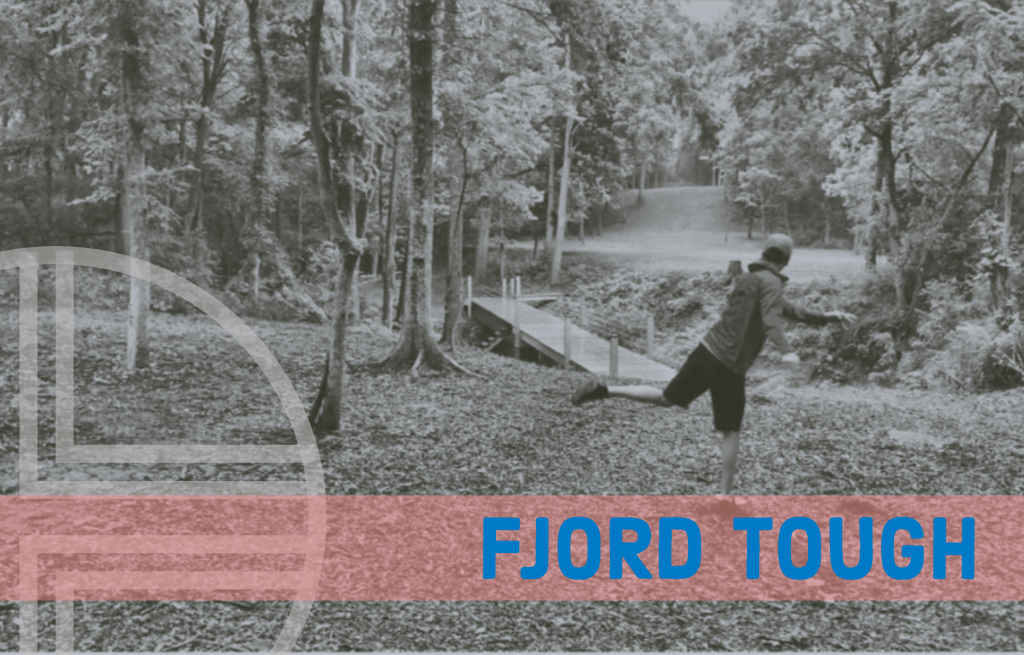 Ultiworld Staff Writer and Team Innova Iceland's Bogi Bjarnason traveled to Peoria, Illinois from Iceland for 2019 PDGA Pro Worlds with teenage undrabarn Blær Örn Ásgeirsson, who would be playing in his first Worlds. What follows is a jet-lagged recollection of Bogi and Blær Örn's adventure through the midwest. 
We ricochet like errant drives off of the Northwood Park tree trunks as we make our way between the most far-flung corners of the world in various versions of undercarriages and steel tubes. Blær Örn is fresh from a bout with the Estonians at the very borders of Russia as Nate Sexton's sidekick, while I myself am ticking off a fourth continent on this year's bucket list, and now we're off to the Windy City together.
Afternoon jaunts across the pond are a weird concept that spark a protracted fugue state carrying us on auto-pilot through a day prolonged by the passing of time zones. Encounters with rental car clerks, as I'm sure you know, feel like having your sleep-deprived mind wrung through a vice wrought out of obscure jargon and a deep-seated fear of long term financial ruin and protracted legal battles. In the end I throw caution to the humid, mid-western wind, and without a sliver of auto insurance, we strike out into the dark night in a massive Detroit chariot with a flatbed in the back and a tendency to veer towards the side of the road whenever I rest my weary eyelids for too long.
Along the way we stop for a slice of pizza thicker than a brick, and when we arrive in Peoria, the name of the motel we booked six months ago has changed, causing unwanted confusion this far into my realm of sleeplessness. 
Friday morning, August 9, comes all too early, and with it a blind run of Lake Eureka in a Flex Start that has me finding 11 OBs, either by chance or repetition, or the fact that four holes have OBs straight off the tee, too long for my noodle arm to safely traverse. The end result is a pitiful +17 to the tune of a surprising 903-rated round. Meanwhile, Blær Örn rattles off a practice round with Canadian far-slinger Thomas Gilbert, and a brief guest appearance by experienced title fighter Barry Schultz.
Bogi Bjarnason Beats The Water Hazard At Lake Eureka
Sadly we must share Eagle McMahon's opinion of Peoria. This ain't no Venice of the Midwest, and the endless drives between each and every venue quickly become tedious and, furthermore, push most forms of nighttime social interactions between participants deep into the zone of inconvenience. 
By the grace of adjacent accommodations I do, however, manage to sit down for a drink with fellow Ultiworld Disc Golf contributor Jamie Thomas in a pub within walking distance, stuck deep in the darkest recesses of the strip mall hell we inhabit. 
More socializing is to be had at the opening ceremony dinner sponsored by Innova and the proceeding ceremony itself, featuring a heart-wrenching awards acceptance speech by the newly-crowned World Distance Driving Champion himself, Garret Gurthie, that leaves no cheek in the building dry. Later, Blær Örn and I were treated to another highlight from Innova, attending the team dinner at a glamorous Airbnb villa in a suburb 15 minutes out, where delicious tacos are consumed and a spirited patio putting extravaganza ensues involving some of the chain-hittingest people ever to fling plastic at a steel target. At the dinner table, another sort of battle breaks out between Sexton, Jeremy Koling, and Steve Brinster. This one to decide who can come the closest to pronouncing the word "Eyjafjallajökull" correctly. Everyone ties for last place.
The Innova dinner wasn't our first rendezvous with Sexton. The Saturday after our arrival sees a six degrees of separation-style series of communication snafus result in Sexton losing his airport pick-up, and as a reward for quickly remedying the situation, we are treated to a Lake Eureka practice round with a former Ledgestone Open champion.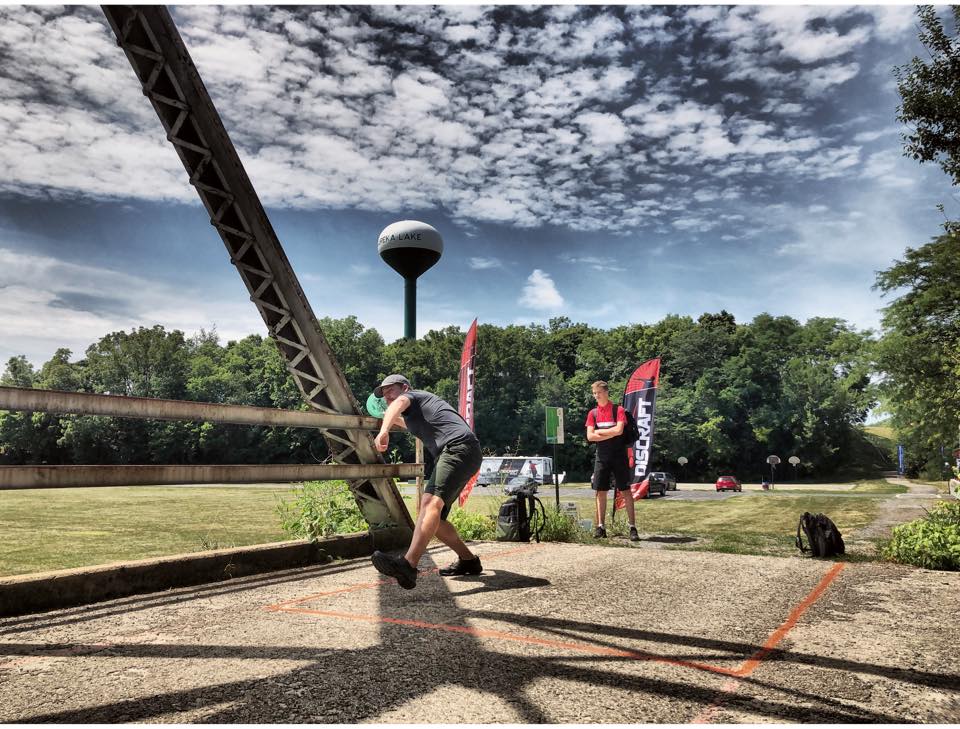 Nate's legendary out of bounds aversion, unfortunately, does not rub off on Blær, who revels in seeking out punishable landing spots for his disc during his first career Pro Worlds round the following Tuesday. Most notably so on the opening hole, where he wets his discs both off the tee, from the drop zone, as well as on the putting green, resulting in a chilly snowman score to see him off into the round, the lowest-rated 18 holes he's shot all year.
But if you think Eureka is punishing, wait until you've met Lady Northwood. Every time you hit her in a stem or branch, she'll hit you right back with a natural OB penalty, and Blær seems very fond of hitting her. All this hitting sees him relegated to the B Pool for the third round, where he's forced on another date with the lady. Getting intimate two days in a row proves to be a blessing in disguise, as the memory of where her nooks and crannies lie is still fresh, and the kid finally logs a round north of his rating.
Back at the lake for the Friday morning fourth round, something finally clicks in the young kid's brain, and as I'm checking the scores during my own leisurely round on the course nestled in the woods behind hole 4, I see that his card is lit up with more green than the trees around me. After going turkey right out the gate, he rattles off a cumulative eight birdies to mitigate the effect of only three single bogeys caused by close OB calls. The result: a B-Pool hot round of 1055-rated golf and a 5-under par 58 total. But the cut line doesn't care that you're only as good as your last round, so he spends the final round on the third card caddying for Garret Gurthie.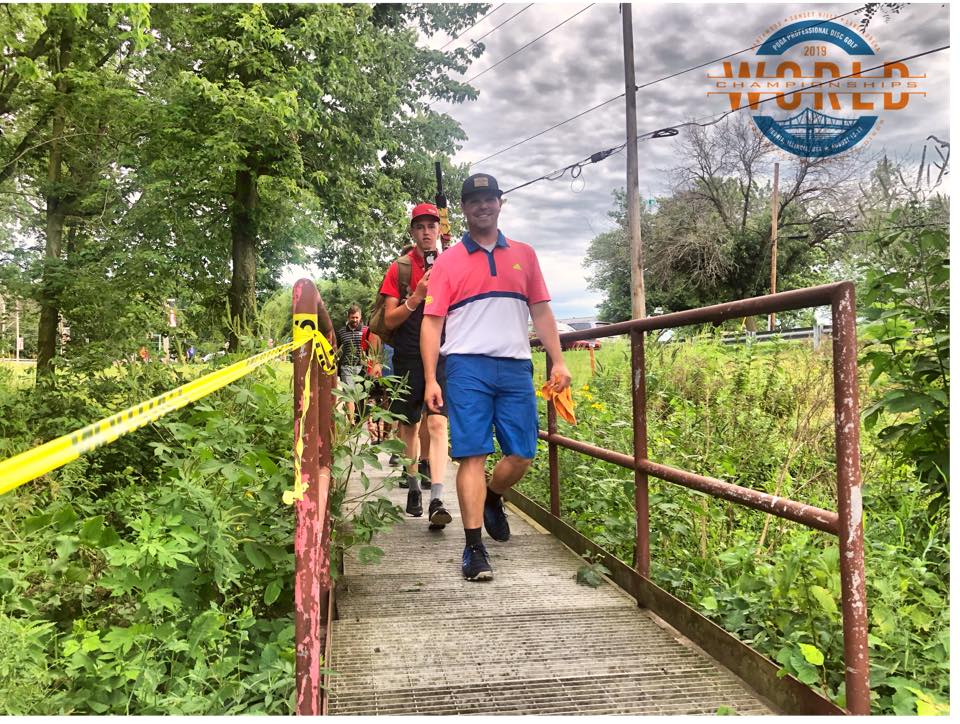 I could ramble on and on about our Worlds experience and tell you how I made a blind Circle 2 jumper for par around the water tower on my first and only round at Eureka, but I won't. Instead, I'll leave you with the story of our final day.
After watching my man Ricky Wysocki set the lake ablaze with a course record-tying 14 down, yet still succumbing to the power of the McBeast, we're taking three stairs at a time down the hill to the echo of McBeth's final chains in order to beat traffic on a mad dash to Chicago and the dulcet tones of Neurosis at Thalia Hall. In downtown Chi, Google Maps goes haywire and half an hour is lost on reroutes upon reroutes until we finally reach our cush, city center hotel. From there my cab driver goes all-out bumper car-mode to a bodega-filled neighborhood where we are stopped short of my destination by roadblocks and wire fences of a waning pride parade. I'm forced to hoof it the last five minutes through a raucous crowd and the maddening din of revelers. 
Out of breath I finally find the front doors to Thalia Hall, and the night, as well as the whole journey, climax to the crushing chords of "Stones from the Sky" as the band bursts through the doom-laden riffage of their final number.
NEUROSIS – "Stones From the Sky"