Pierce capitalized on lead card chaos.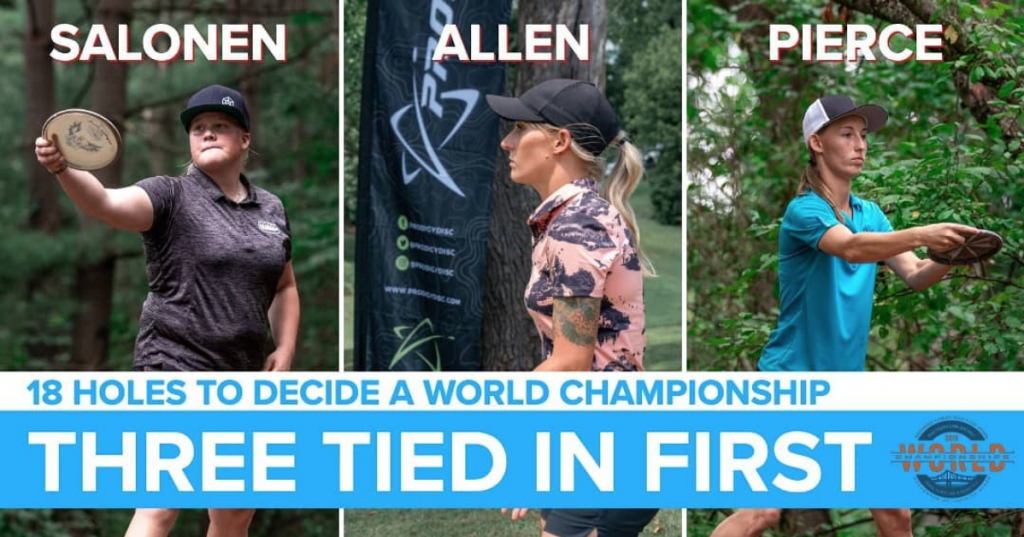 Chaos reigned on day four at the top of the FPO Division and set up a thrilling final round for Saturday. Paige Pierce surged up the leaderboard, while no one around her could hit any putts. Eveliina Salonen and Catrina Allen both had moments of exceptional play and perplexing errors. The end result was a three-way tie for first place between Pierce, Salonen, and Allen that promises a dramatic final round to determine the 2019 world champion.
Pierce Strikes
Paige Pierce picked apart Sunset Hills on Friday, putting up a 9-under par 52 to match Catrina Allen's hot round on Wednesday. Pierce recorded a round without any bogeys and a 75% putting rate from Circle 1x, which was easily the high mark for the lead card.
Pierce's first 13 holes, in particular, were special. Through 13, she'd already put up all of her birdies and it felt as though she was headed towards taking sole possession of the lead by the end of the round. But a lengthy backup on hole 15 halted her momentum. She had a few quasi-looks for birdies on the final four holes but couldn't convert on any of them and ended the day on a run of four pars.
The four hole stretch was Pierce's longest stretch without a birdie on the day, but more importantly, Pierce avoided any complete disasters when she wasn't hitting her ideal lines. The rest of her competitors on the lead card could not say that, and that's why Pierce was able to make up so much ground on the day.
Pierce said that she wasn't following scores, but she could feel that she was closing in on the lead throughout the round. "I wasn't looking at scores at all," she said. "I just knew I was on the box and so I know I was playing well. On hole 11, I took a two, and Catrina took a four, and I knew that was monumental. I knew I was getting close."
As well as Pierce played, she did fall short of the target score she had before the round. "I wanted to put down a ten under, and it was a nine under, so I feel pretty good about it," she said. "It was windier than I thought it was gonna be, but there was two air balls that I wish I could get back. Other than that, I feel pretty happy with my score."
Pierce was confident of her ability to win a championship after her third round, but she surely didn't expect to fully close the gap before the final round even started. She has no strokes to make up and is playing the best overall golf of anyone in the field.
"I'm happy that it's a tied ball game going into tomorrow," she said. "Whoever shoots the hot round tomorrow wins and I think I'm more than capable of shooting the hot round. I think it's gonna be a putt off. Whoever's hitting more putts tomorrow wins Worlds."
Up and Down Battle for the Top
Pierce tore it up, but the reason she ended the round tied for the lead was because of Allen and Salonen's inability to putt at a consistent level. Allen and Salonen both bested Pierce in fairway hits and in greens hit in regulation, but Allen hit circle 1x putts at a 46% clip and Salonen at 57%.
The two missed their putts in different ways. Allen put up some inexplicable airballs, while Salonen left a lot of her putts short, hitting the cage. But neither had any confidence with the putter in their hand.
Even without hitting her putts, though, Salonen was mostly able to find par, with one glaring exception. On 15, Salonen looked out of bounds off the tee. She ended up catching a break and found herself in bounds by a couple of inches. But on her second shot, she tried to punch through the OB woods to beat the dog leg left and hit a limb that immediately killed her shot OB. She gained virtually no ground on the shot and was left still trying to scramble, now with two extra shots on her score. She was able to give herself a look to save bogey but missed the putt and had to take the six.
The back nine was filled with big swings, though, as Salonen and Allen each took turns falling off of and then getting back to the lead once Pierce had closed the gap. Allen went out of bounds on 11 and settled for par on 13, where Pierce and Salonen both birdied. After Salonen's double bogey, she rebounded with a perfect drive to set up a birdie on 16 to get a stroke back on both players. It felt like every hole saw some type of change to the lead between the three.
But no hole featured a more shocking twist the the round's final hole. Salonen carded the only birdie thanks to another perfect drive; Pierce's birdie attempt hit the band. With Allen lying just a few feet away for her par, it looked as though Allen would take a lead into the final round at -17, with Pierce and Salonen tied for second one stroke behind her.
Instead, Allen, with her backpack still on her shoulders, badly missed the putt, barely hitting any chains. She came back with a bemused smile on her face and then almost missed the subsequent putt, too. The disc teetered on the cage, and flopped back in to create the three way tie at the top of the leaderboard.
The miss was shocking, but was also emblematic of the chaos and misplay that defined the round from Salonen and Allen.
"It was really tight," said Salonen of how back and forth the back stretch of the round was. "I didn't know the scores every hole, but my round felt so bad because I missed so many putts, and had the double bogey [on 15.]"
The two are both obviously still very much in contention, but they'll have to tighten up the unforced errors if they're going to keep up with Pierce's much higher level of play from today and have a chance at winning the world title in the final few holes.