Top shots from the top video providers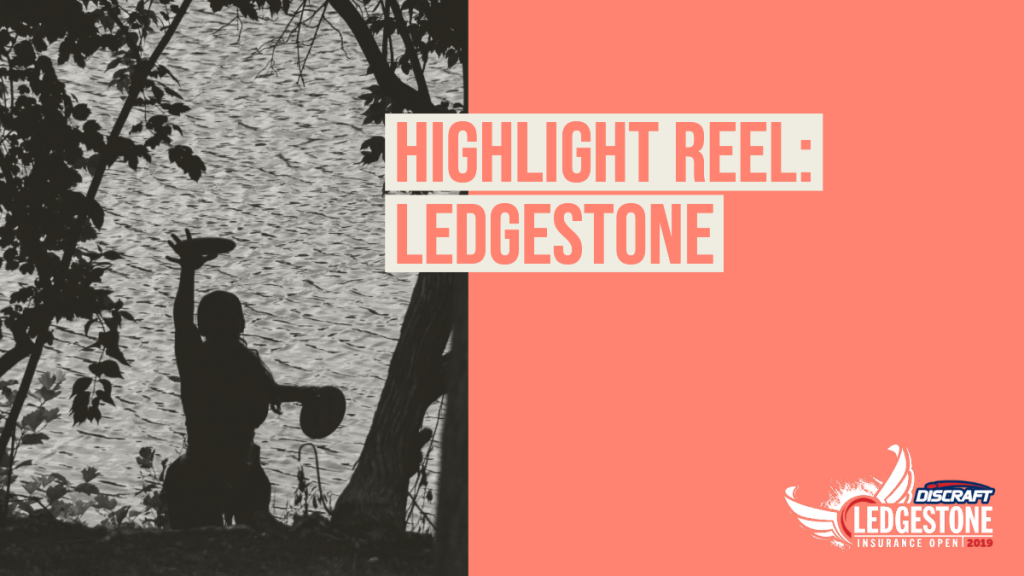 In anticipation of next week's Pro Worlds in Peoria, Illinois, we're looking back to some of the best shots we saw at the Ledgestone Insurance Open this season.
While the Northwood course is not represented in these clips, see how the pros attacked Lake Eureka and Sunset Hills, two courses that will still be featured at Worlds.
We've broken down highlights by course and included shots from GK Productions, JomezPro, and Central Coast Disc Golf.
Did you favorite shot make the cut? What did we miss?
---
Sunset Hills
Ledgestone Round 2 Paige Pierce hole 1 putt
Ledgestone Round 3 Paige Pierce hole 2 putt
Ledgestone Round 1 Hailey King hole 3 putt
Ledgestone Round 1 Paige Pierce hole 5 drive
Ledgestone Round 3 Catrina Allen hole 6 approach
Ledgestone Round 1 Hailey King hole 9 putt
Ledgestone Round 3 Catrina Allen hole 9 putt
Ledgestone Round 3 Paige Pierce hole 10 drive
Ledgestone Round 2 Catrina Allen hole 11 putt
Ledgestone Round 3 Paige Pierce hole 18 putt
Lake Eureka
Ledgestone Round 3 Reid Frescura hole 1 putt
Ledgestone Round 3 Reid Frescura hole 2 approach
Ledgestone Round 1 Paul McBeth hole 3 drive
Ledgestone Round 3 Kevin Jones hole 3 drive
Ledgestone Round 3 Garrett Gurthie hole 3 drive
Ledgestone Round 3 Emerson Keith hole 3 drive
Ledgestone Round 3 Paul McBeth hole 3 putt
Ledgestone Round 3 Paul McBeth hole 4 putt
Ledgestone Round 2 Paul McBeth hole 5 drive
Ledgestone Round 1 Matt Orum hole 5 putt
Ledgestone Round 1 Simon Lizotte hole 5 putt
Ledgestone Round 1 Paul McBeth hole 6 putt
Ledgestone Round 3 Garrett Gurthie hole 6 putt
Ledgestone Round 3 Paul McBeth hole 6 putt
Ledgestone Round 2 Alex Russell hole 7 drive
Ledgestone Round 2 Chandler Fry hole 7 putt
Ledgestone Round 1 Paul McBeth hole 8 approach
Ledgestone Round 1 Simon Lizotte hole 8 putt
Ledgestone Round 2 Reid Frescura hole 8 putt
Ledgestone Round 1 Paul McBeth hole 10 drive
Ledgestone Round 1 Garrett Gurthie hole 10 drive
Ledgestone Round 2 Drew Gibson hole 10 putt
Ledgestone Round 2 Reid Frescura hole 10 putt
Ledgestone Round 3 Ricky Wysocki hole 12 drive
Ledgestone Round 3 Jeremy Koling hole 13 putt
Ledgestone Round 2 Ricky Wysocki hole 14 approach
Ledgestone Round 3 Emerson Keith hole 15 drive
Ledgestone Round 1 Simon Lizotte hole 15 putt
Ledgestone Round 1 Calvin Heimburg hole 16 approach
Ledgestone Round 3 Paul McBeth hole 16 approach
Ledgestone Round 2 Chandler Fry hole 16 putt
Ledgestone Round 1 Paul McBeth hole 17 drive
Ledgestone Round 3 Reid Frescura hole 17 drive
Ledgestone Round 2 Alex Russell hole 18 approach
Ledgestone Round 2 Paul McBeth hole 18 putt
Ledgestone Round 3 Ricky Wysocki hole 18 putt