Europe sees Swedish Championship and Prodigy Disc Pro Tour stop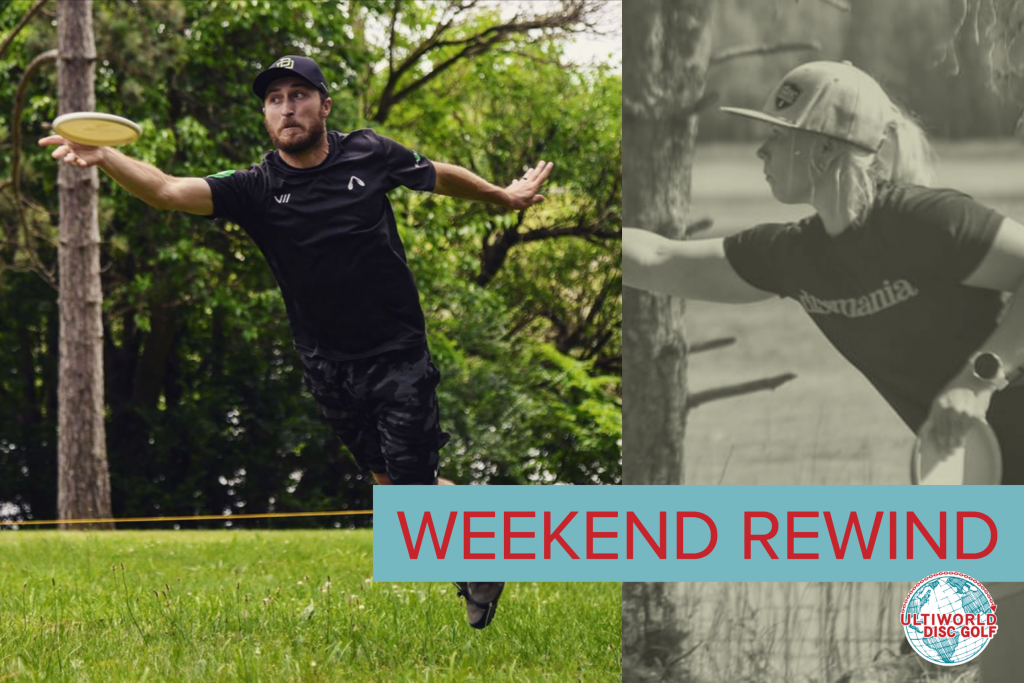 Course modifications did not stop Chris Dickerson from making it three-in-a-row at the Music City Open in Nashville.
An opening round 62 from Dickerson on the newly redesigned, 13,000+ foot Ravenwood course set the tone for the weekend and would hold as the lowest score turned in over three rounds. While only rated 1048, the first round gave Dickerson a three stroke cushion he would continue to grow every day, as he would finish rounds two and three just one stroke off the hot rounds.
The 26-under par final score stretched Dickerson's winning margin to eight strokes over second place Calvin Heimburg, a much more comfortable victory than last year's playoff success over James Conrad.
Jordan Castro overtook Sam Lee in the final round for third place.
Averaging 980-rated golf over three rounds, Catrina Allen dominated toward the Open Women's victory. She beat second place Missy Gannon, the only other FPO player to come in under par, by 16 strokes to finish at 17-under par total. It's Allen's first individual win since May's Santa Cruz Masters Cup.
---
The 2019 Mid America Open lost a bit of its shine when JomezPro announced it would not be filming the event as originally planned, but playing Harmony Bends can rectify any lost "prestige."
It's a shame we didn't get next day coverage1 because it would have been fun to watch Emerson Keith shred Missouri. Keith threw the hot round each day to win by seven with a final score of 21-under par. He bogeyed only once over three rounds, and led the division in fairway hits, 83%, and finding Circle 2 in regulation, 65%.
Joel Freeman hit a C2 putt on the final hole, but the 38-footer was to save bogey. The late blemish dropped him into a tie for second place with Zackeriath Johnson. Freeman was even par with four bogeys over the back nine of round three to Johnson's 3-under par. Nikko Locastro was tied with Keith after round one before falling to a tie for sixth.
Courtney "Pixie" Cannon came from behind in the final round to win Open Women and defend her 2018 title. Her 1-under par round three was the only FPO round under par for the weekend and helped her to a one stroke win over Kimberly Giannola. Cynthia Ricciotti was third.
---
In Europe, Väinö Mäkelä got his first A-tier win of 2019 at the Prodigy Disc Pro Tour – Oulu stop.
Mikael Räsänen looked like the man to beat after posting a 15-under par round two that included back-to-back eagles and put him in the lead. Mäkelä fought back with a 12-under par of his own during the final round, seven strokes better than Räsänen, to win by two. Niklas Anttila finished in third, seven strokes out of first.
Jenni Eskelinen shot above her rating all three rounds to win her first career PDPT event by a convincing eight strokes. She continues to play well in 2019, having already won the Tyyni over Kristin Tattar back in June. Her rating is five points higher than it was at this time last season.
---
The Swedish Championships were also going on last weekend, and we can't overlook a national competition.
Henric Hagman defended his 2018 title to win, besting Linus Carlsson by three strokes after a five-round battle over three days. The difference was Hagman's 1050-rated fourth round where he gained seven strokes on Carlsson to give himself some leeway over the final 18 holes.
Sofie Björlycke won her third consecutive Open Women's Swedish Championship and did so in style, cruising to a 15-stroke victory.
---
Several women's events going on around the States, and none more active than the Rocky Mountain Women's Championship in Colorado.
Playing the beautiful Purple Park in Superior, Nicole Johnson got an ace on film but it wasn't enough to get past Paige Bjerkaas. Bjerkaas, who used to live in Colorado, won by 10 strokes over Johnson to notch her second RMWDGC title and first since 2011 when it was still a C-tier organized by her father, Doug. She shot the hot round every day, including a 1002-rated second round.
Sarah Hokom was in Ohio to play the Ladies at the Lake. Her 13 stroke win was the fifth W of the season and third women's only crown.
---
It was a tight one in Wisconsin at the 27th Mad City Open.
Cale Leiviska beat out Donny Ferguson by two strokes for his fourth career Mad City win. Leiviska averaged over his 1032 rating across three rounds and topped the field that included Garrett Gurthie, Adam Hammes, and Matt Bell.
In FPO, Jessica Weese handily took down Holly Finley for her fifth win of the season.
---
GK Productions should have coverage soon ↩