The anonymous poster behind the parody Fake PDGA account opens up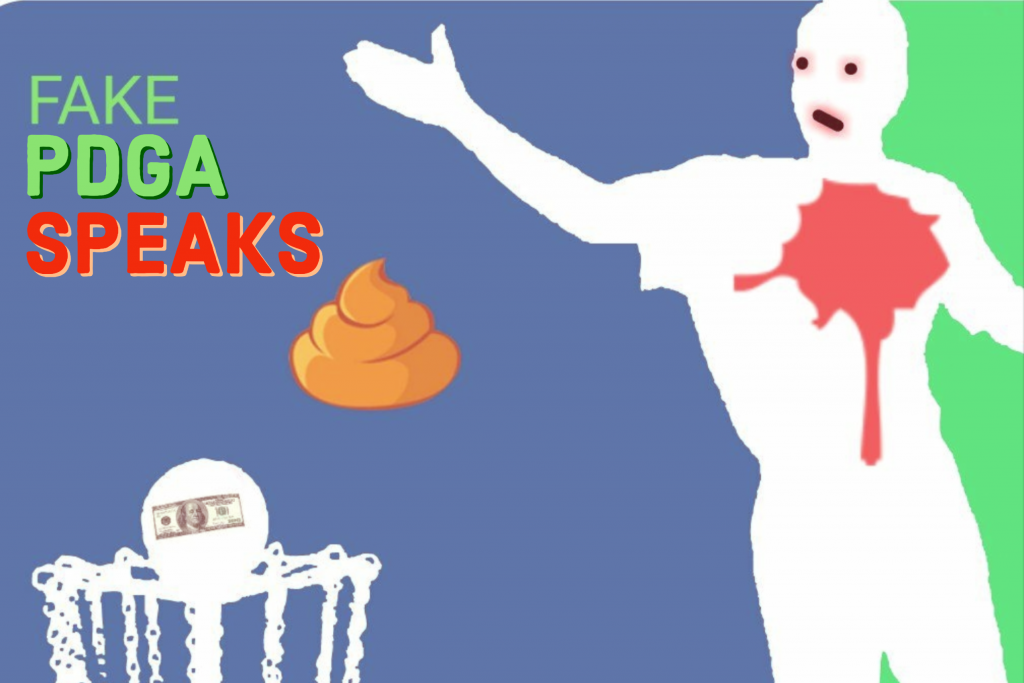 Standing out among the meme accounts and reposters on disc golf Facebook and Instagram can be difficult.
Having come online in April 2018, Fake PDGA is relatively new in the social media world, but it quickly became clear it had staying power as one of the better parody outlets.
Ultiworld Disc Golf's Chris Wiklund caught up with the anonymous user behind the Fake PDGA account to find out what it's like to have players push back at jokes, what keeps the account alive, and advice to others wanting to venture down the same path.
---
Ultiworld Disc Golf: Your page is one of the most popular social media pages out there, what's it like for you and how did it get started?
Fake PDGA: It's been unanticipated. I started the Fake PDGA because I wanted to crack some jokes. I didn't know that there were other pages out there like Disc Golf Humor, Dilligaf. I didn't know about these things so I just created my own. 
My personal page is kinda family-related and family-friendly. I wanted to make some jokes that were a little bit more edgy, but I didn't want to put them on my personal page so I could be anonymous and make jokes and roast players and clown on manufacturers and say a lot of the things that people think but either don't wanna say or contractually can't say. So I started doing that and it quickly created an audience. I was shocked by how fast it grew, I guess there was a need for that kind of thing. There's a twitter account called @fakesportscenter and I play on that a little bit.
UWDG: Have you gotten any backlash from players or manufacturers?
FPDGA: Yes, I have. I've roasted pros and they've messaged me on the page, and sometimes on my personal account so that's sort of weird or unsettling. There is a growing number of pros who know who I am, so that's a little unsettling only because I enjoy the anonymous side of Fake PDGA. I've had them message saying I have to take that post down and "Hey, I've been struggling with what happened can you please not post." I've had one of the most popular players in the world message me and say, "Hey, don't post because I'm trying to move on." 
I try to honor those and most of the time I do because I'm not trying to mess with a season because I make a meme. But there are times when I say, "Hey, it's funny and not personal," so I leave it up.
UWDG: Do you have a professional background in social media?
FPDGA: I do not have any substantial media background, at least not professionally. I've written for online media publications before, I've had a podcast, I've done some things where I've used social media as a platform to market, but as far as marketing and using it to market a brand, no. I'm just trying to keep content going. 
I had a couple contributors in the past including Mike Castillo and Jamie Mosier, both of which are kinda polarizing people in the sport, and Mike really, really wanted — he came to me and said I want to do something for the page. For Jamie, I went to him. Once they came on it felt like the page wasn't mine anymore and it had gotten away from me. I decided to go back to being just me, a one-man show, because I wasn't getting joy from it anymore.  it's hard to explain. It felt like I created something and let it get out of hand and so the only reason I stopped having those two as contributors wasn't because of the fans or outside influence it was just me wanting it to feel like it used to feel. 
I got a lot of messages saying, "We missed what it used to be," and that wasn't what made me make the decision to stop the contributor situation. It was my own decision.
UWDG: Do you have a comedy background or are you just a funny guy?
FPDGA: I'm not a comedian, never done stand up. I used to dabble in theater when I was younger. This was just making jokes that I think me and others like me might think are funny and it's as simple as that
UWDG: You obviously follow the pro tour. Thoughts on this year?
FPDGA: The biggest spotlight is on McBeth with changing sponsors and bag altogether. I'm a sponsored player and I understand changing your bag, and he's been — most people think his bag has been fixed, but even now he's still deciding on what's staying and going and the fact that he's killing it is freaking awesome. I think the conversation surrounding Worlds is, can Paul pull it off, and if so is he the GOAT. You know, I respect the argument for Ken Climo because of the 12 [world championships], but I think Paul is the GOAT. I think it's great that GG and Gibson got their wins, too.
UWDG: Any advice for pros and others trying to build their social media branding?
FPDGA: People seem to love to laugh. Put out compelling content, consistently helps too. There are times when I've gone days without posting to the page and my likes and my engagement struggles after I put something out. Iif it's been four days and I put a meme out the algorithm falters or something. If I put something out every day, even if it's a meme I put together in short order, then each post gets plenty of engagement because I'm out there.
Be consistent and keep it positive. If you put positive content out there daily it'll succeed.
We sold out "Foot Fault" mini and that was my first foray into merch, and it was well-received and they sold really quickly. We're always looking for ideas for content and merch, like, what do you guys want to see? We're always looking for content and people will send me content, they'll send me memes and videos and I'll give them credit.