Wysocki and McBeth on pace to beat best final score at event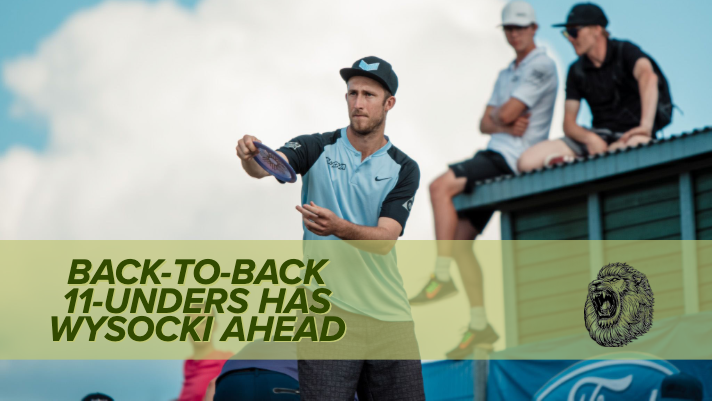 The continental reign at the top of the European Open did not last long.
Three Americans were chasing a Finn after one round, but it's back to the United States occupying most of the podium.
Starting the day one stroke back in second place, Ricky Wysocki has taken a two stroke lead at Nokia DiscGolfPark. Wysocki fired off a 1072-rated 11-under par 53 complete with 100% putting inside Circle 1X and a run of birdies from hole 8 to 14. His lone bogey came on hole 4 and kept him from tying the course record, matched by Jesse Nieminen in round one. Wysocki is at 22-under par 106 overall.
Before starting his birdie run through the middle of the course, Wysocki had dropped several strokes off the pace and was in fourth place.
Paul McBeth had overtaken Nieminen for the lead by hole 4 while starting his round with five consecutive birdies. From there it was a bit of a strange day with the putter. McBeth was only 63% inside C1X, two-putting three times, but was hitting 67% from C2. He continues to lead the division in fairway hits, 92%, C1 in regulation, 67%, and C2 in regulation, 83%. McBeth is in second place at 20-under par 108 total.
Austin Hannum made a jump up to a three-way tie for third alongside Eagle McMahon and Albert Tamm. Hannum started the day in 10th place, and shot a 10-under par 54 to move up the leaderboard. Hannum didn't put together a huge string of birdies, but he also didn't make any mistakes and hit his C1X putts at 92%. Hannum leads the field in scramble rate at 90%. Tamm is the lone European left in the top three and is sitting at 17-under par overall.
Assuming the scores of the final rounds keep pace with the opening two, Wysocki and McBeth will both beat the four-day tournament record score of 219 set by McBeth in 2017. Hannum, McMahon, and Tamm are also on pace to beat the average winning score of 223.25 since the event moved to the Beast in 2011.
Wysocki and McBeth are on pace to beat the record for highest average tournament rating set by Dave Feldberg in 2011, a 1059.77-rated four day mark. Wysocki is trending toward 1071 and McBeth toward 1064. The three players in third are already all close to the typical average rating range of winners, 1051.25 to 1059.75.