Wysocki, McBeth, McMahon in top three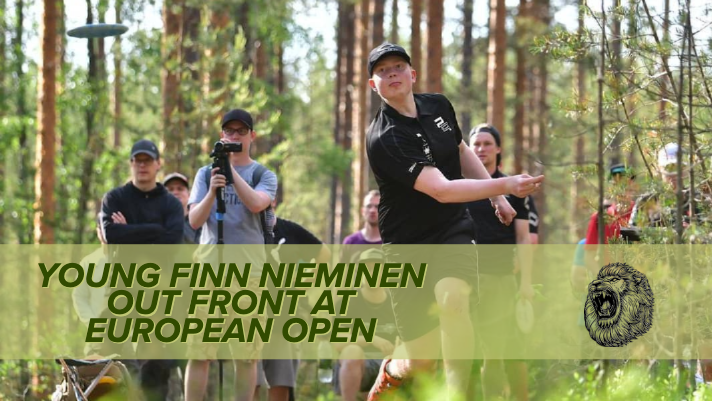 After one round at the European Open, we have a Finn at the top protecting the homeland.
Jesse Nieminen is in sole possession of first place with a 1077-rated, course record-tying 12-under par 52. Nieminen went eight down over the front nine, only missing hole two by way of a two-putt. After that hiccup, he ran off ten straight birdies from holes 3 to 13 before closing out the round with bogeys on holes 17 and 18. His hot hand over the early and middle portion of the course was enough to earn him the hot round on the day. 
Nieminen leads the division in reaching Circle 1 in regulation by 11 percentage points at 78%, and is tied for second in C2 in regulation at 83%.
There are some big guns hot on Nieminen's tail, though. Ricky Wysocki is sitting in second, only a single stroke off the pace at 11-under par 53. He was one of three players tied for 10th place or better who finished bogey-free. Paul McBeth and Eagle McMahon are tied for third at 10-under par. McBeth and McMahon each carded two bogeys, and McBeth's three OB strokes were tied for most in the current top 10. 
Along with McBeth and McMahon, Väinö Mäkelä, Albert Tamm, and Niklas Anttila are tied for third. If the tournament were to end today the Europeans would have four players on the podium, matching their all-time total.
Kevin Jones, who was the hero of the Presidents Cup and is clearly capable of shredding the Nokia DiscGolfPark, is sitting all the way back in a 13-way tie for 44th at 2-under par 62. Jones finished his round with a quadruple-bogey eight on the final hole of the round and at a poor 60% putting from C1X.
Jeremy Koling nabbed the only ace of the day on hole 5, his second ace of the week. 
"Big Jerm Thunderbird, slight flex/straight sidearm with a mini skip straight into the chains!" Koling posted about his 328-foot hole-in-one. "I also thought that it was pretty cool that I called it less than a second out of my hand."
Jeremy Koling European Open Ace