Who are we missing? Who is in your top three?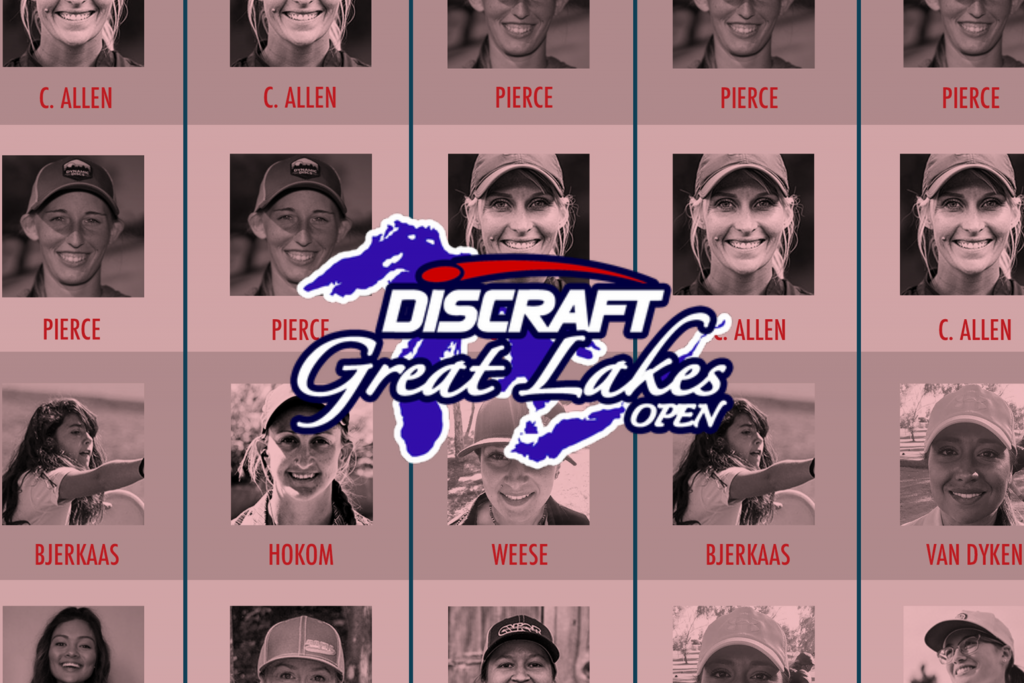 Often overlooked when we remember the two thousand (minus) eighteen Great Lakes Open is that there were only two rounds better than 11-under par: Paul McBeth's doozy of a second round (you know, the one where he offset a par on 10 with an eagle on 2 to notch 18-under par numero uno) and Willie Prince's 14-under par — eerily similar to McBeth's record round through 10 holes — in the third round. Notably, McBeth played to the 11-under benchmark in his non-perfect* rounds. Ignoring his nine stroke margin of victory over the aforementioned Prince, scoring separation was actually hard to come by for the rest of the field. Assuming lightning doesn't strike twice, we should be in for a barn burner on the toboggan slopes this weekend in MPO.
Scoring was quite variable in FPO, on the other hand, where twenty strokes separated 2018 winner Sarah Hokom (-8) from 10th place finisher Tiger Borth (+12). This year could be a bit more competitive. While several of the top American men are already abroad, all of the 940+ rated women save Jen Allen will be in Milford this weekend. Will the battle for gold and silver come down to another epic Catrina Allen vs. Paige Pierce showdown or will a new victor emerge? Picks tip: the top two rated women in the game come into the event having won every NT or DGPT event since the Memorial.
Dark Horse Criteria: This week we're excluding the top 8 in FPO and the top 15 in MPO from the Power Rankings. Additionally, any players falling outside the top 10/15 who are rated 950 or higher in FPO and 1030 or higher in MPO can't bat DH. Sorry, Andrew Fish and, well, Andrew Fish — you too good.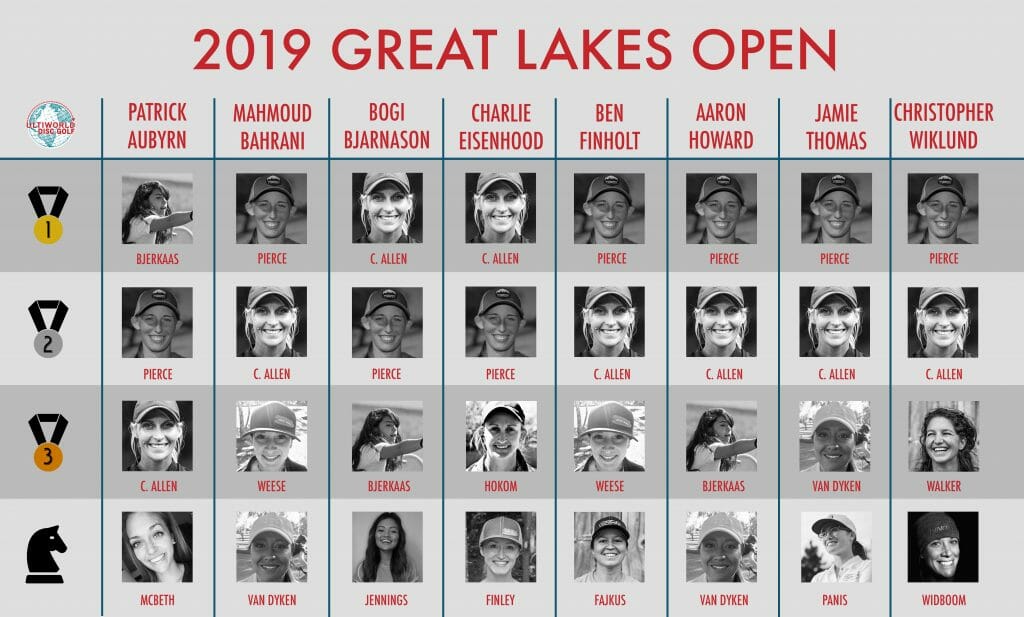 Rationale
AIR HORN! We have a first place vote-getter not named Paige Pierce or Catrina Allen.
Paige Bjerkaas, who finished in second at last year's event to Sarah Hokom, got the nod from one writer to take the title home. She just finished outside the top 10 for the first time this season at Ledgestone, so she'll need to rally quickly. While we're on strong performances from 2018, Hokom only received one vote to make the podium. She proved last year that you don't need elite distance to score well at Toboggan.
Two players who do have top tier power are Pierce and Allen. Neither was at the first DGPT event last season but have prior experience at the tournament. Pierce last played GLO when it was a National Tour stop in 2013, finishing second, and Allen is a four-time winner of A-tier GLOs, the last victory coming in 2016.
Vanessa Van Dyken has never played the Michigan event but still has the confidence of several writers, making one podium and a couple of dark horse selections.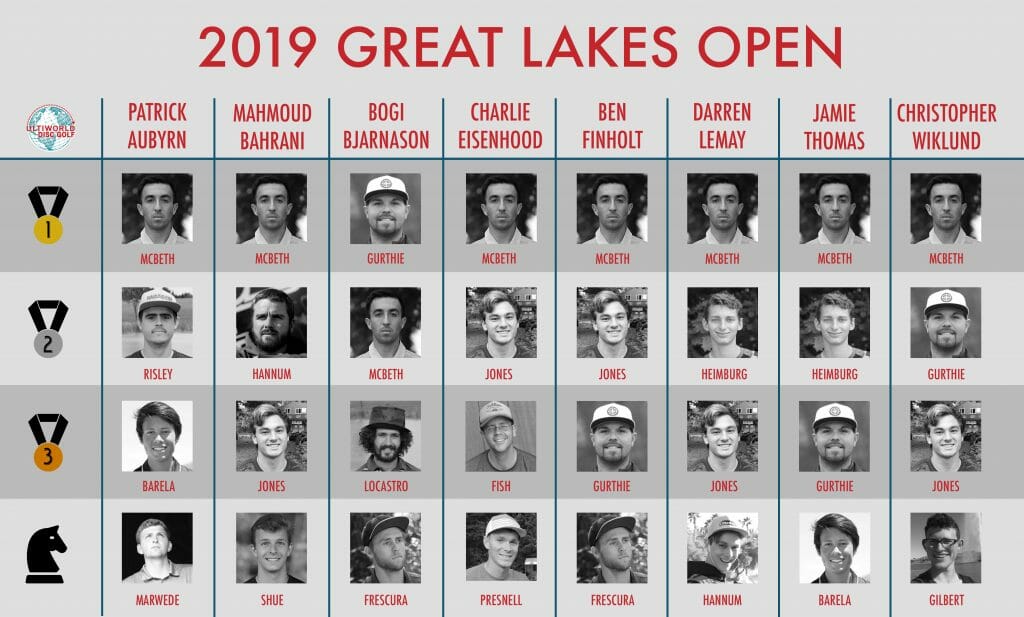 Rationale
OMG! Bogi rolling the dice on a Double G double V over Paul McB. In layman's terms, he's betting on Garrett Gurthie to beat McBeth on back-to-back weekends in Michigan, after besting Mr. 4X by four strokes in the final round of the CCR Open to win by two. Everyone else on the UWDG staff is rollin' chalk atop the podium and taking last year's GLO champ.
Toboggan seems like a course where Kevin Jones should thrive. He posted an 11-under par in the first round to grab an early share of the lead, but only managed five birdies on the second day when McBeth logged sixteen. That said, of the other podium picks this week, only Nikko Locastro played better than Jones last year, and A.J. Risley was part of the five-way tie for seventh with KJ USA.
Neither Calvin Heimburg nor Andrew Fish played the event last year, but they are the second and fourth highest rated players in the field, so it's no surprise to see them picked. Austin Hannum earns a solitary nod for runner-up while JohnE McCray, Alex Russell, and Andrew Presnell — all top 10 by rating — received nary a vote. Last, but not least, 2015 US Amateur Champion Anthony Barela for the bronze! After falling off the pace following consecutive top 10 finishes at GBO and SFO, he's trending upwards again.