From chase card to playoff win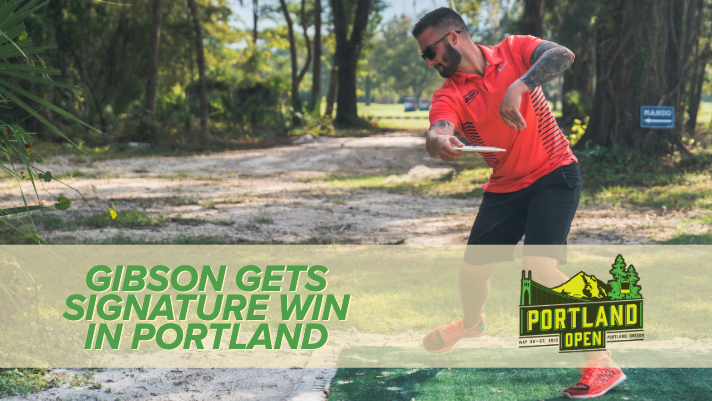 At its inaugural event, the Portland Open wasn't the only major first. A player who has been on the cusp finally broke through for their first elite win.
Drew Gibson bested Eagle McMahon in a single playoff hole to take his first win of the season, and biggest of his still young career. Gibson played sneaky good golf all weekend, averaging an under the radar 1055 rating over the three rounds. He jumped up from fifth place to force the playoff with McMahon, who had climbed to the top of the leaderboard after starting his day in sixth place on the chase card.
Both Gibson and McMahon had chances to take the lead outright down the stretch but elevated baskets and uncooperative putters kept things interesting. On hole 16, Gibson was in "tap-in" range for the birdie but splashed out right. On 18, McMahon's putt for sole possession of the lead and what could have been the win hit the chains left and low, went for a spin around the back side of the basket, and fell to the ground.
2019 Portland Open – Final Round Part 2- Drew Gibson hole 16 putt
2019 Portland Open – Final Round Part 2- Eagle McMahon hole 18 putt
McMahon finished the round at 13-under par 53, and Gibson at 12-under par 54. Both were waiting on the top card to finish up as they sat in a tie for first at 27-under par 171 total.
Meanwhile on the first card, Simon Lizotte had multiple chances to seal the victory for himself, but wasn't able to keep his drives under control and had to scramble his way to the green through much of the back nine. Lizotte, who came into the round leading the tournament with James Conrad, had a long look at birdie on hole 18 which would have seen him join the playoff, but missed the putt and finished in a tie for third with Seppo Paju at 26-under par 172 total.
A sudden death playoff between McMahon and Gibson started and finished at hole 1. McMahon had the honors of the box, and his roller clipped some branches down range but had enough oomph to get up the fairway. Unfortunately, the drive also found OB along the left side. Gibson, seeing McMahon's drive land in the rough, played a safe hyzerflip down the tunnel, and laid up for his Circle 1X par putt and the win.
For the event, Gibson was first in Circle 2 in regulation at 78%, and second in both fairway hits, 90%, and C1 in regulation, 56%.
Ricky Wysocki shot the hot final round, a 14-under par 52, to move into a tie for fifth place with Nate Sexton and Conrad at 25-under par 173 total.