Who are we missing? Who is in your top three?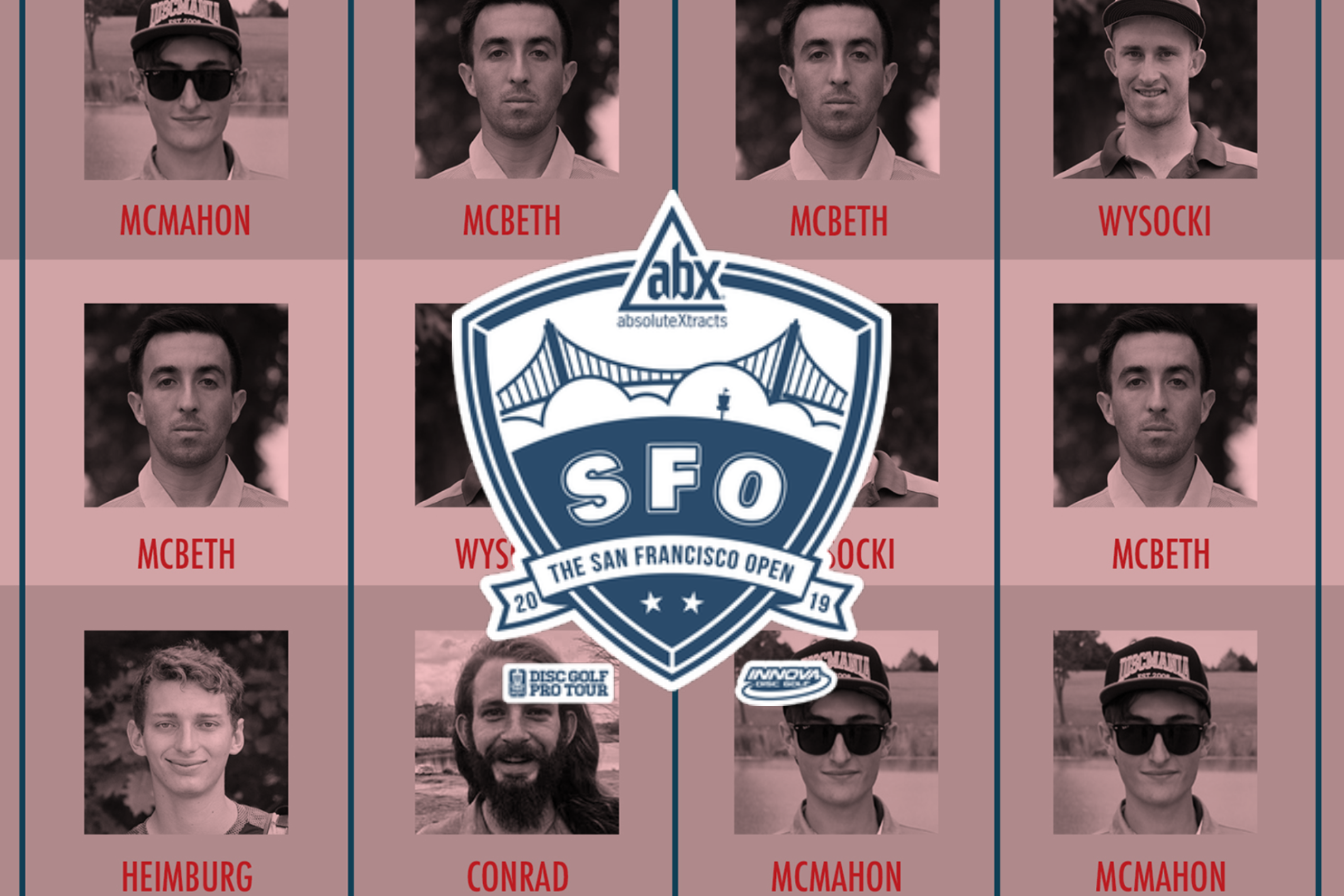 We've got the 2009 World Champion Avery Jenkins in the house this week makin' picks for the San Francisco Open! Not only is he pickin', he's playin'! Check this: Mr. Jenkins, the owner of the third lowest PDGA number in the field (7495), has only seen his player rating fall below 1000 twice since July 2001 and never for consecutive updates. In other words, he's been 1000+ rated since his pick to win, Eagle McMahon, was three years old. Curious coincidence: one of those two times he dipped into the high three digits was in May 2018 when he was 997-rated. No matter, he still took 11th at the first edition of the SFO that month, shooting well to the tune of 1031-rated golf over three rounds. Neither he nor any of the writers gave him a Dark Horse nod. For shame!
As always, we're excluding the top eight in FPO and the top 15 in MPO from the Power Rankings. Additionally, any players falling outside the top 8/15 who are rated 950 or higher in FPO and 1030 or higher in MPO can't bat DH. Sorry, Joshua Anthon, Matthew Orum, Seppo Paju, Michael Johansen, and Gregg Barsby — y'all too good.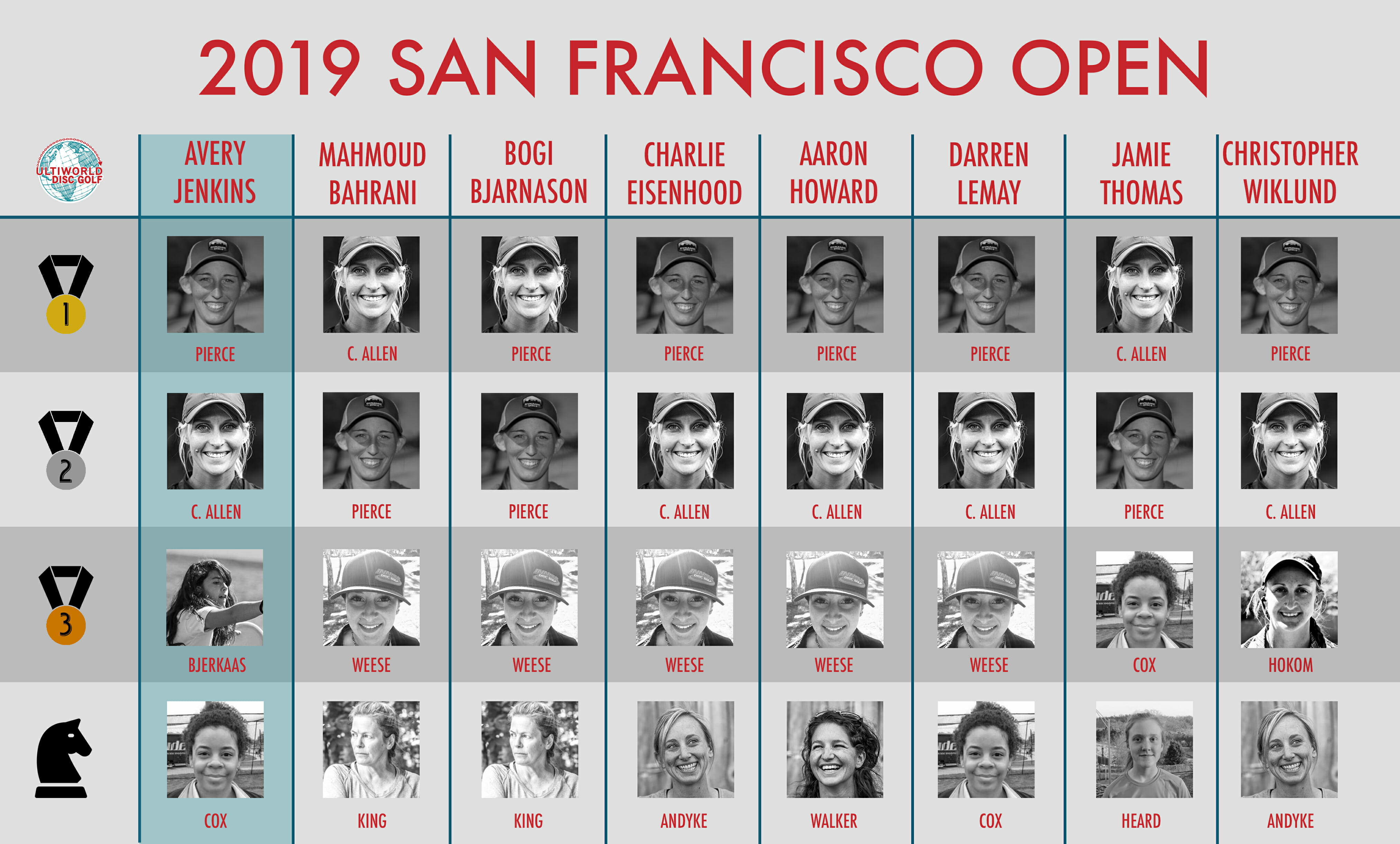 Rationale
We're into the middle third of the touring season and the Open Women's field has settled into a familiar place. It's Catrina Allen and Paige Pierce at the top, and then everyone else. Pierce holds the slight edge at the SFO, receiving five first-place nods to Allen's three, and no other player made the top two picks besides the duo. In the inaugural SFO last season, Allen and Pierce tied for second, and with their recent run of form it doesn't look like any other players have what it takes to knock them off this week.
History is not playing into Sarah Hokom's hand. Hokom won the 2018 SFO in commanding fashion, putting an end to Pierce's unbeaten streak and recording an impressive ace in the process. This season, maybe due in part to the newness of her bag change to MVP Disc Sports, Hokom has not been able to put together a consistent tournament at an elite event, but is coming off a solid fifth place finish at the Glass Blown Open. Jessica Weese just wrapped up a W at the Utah Open and makes five brackets as a podium finisher; she was fourth at SFO last year.
A big welcome to youngster Edie Heard, who made some moves at GBO and gets a Dark Horse selection.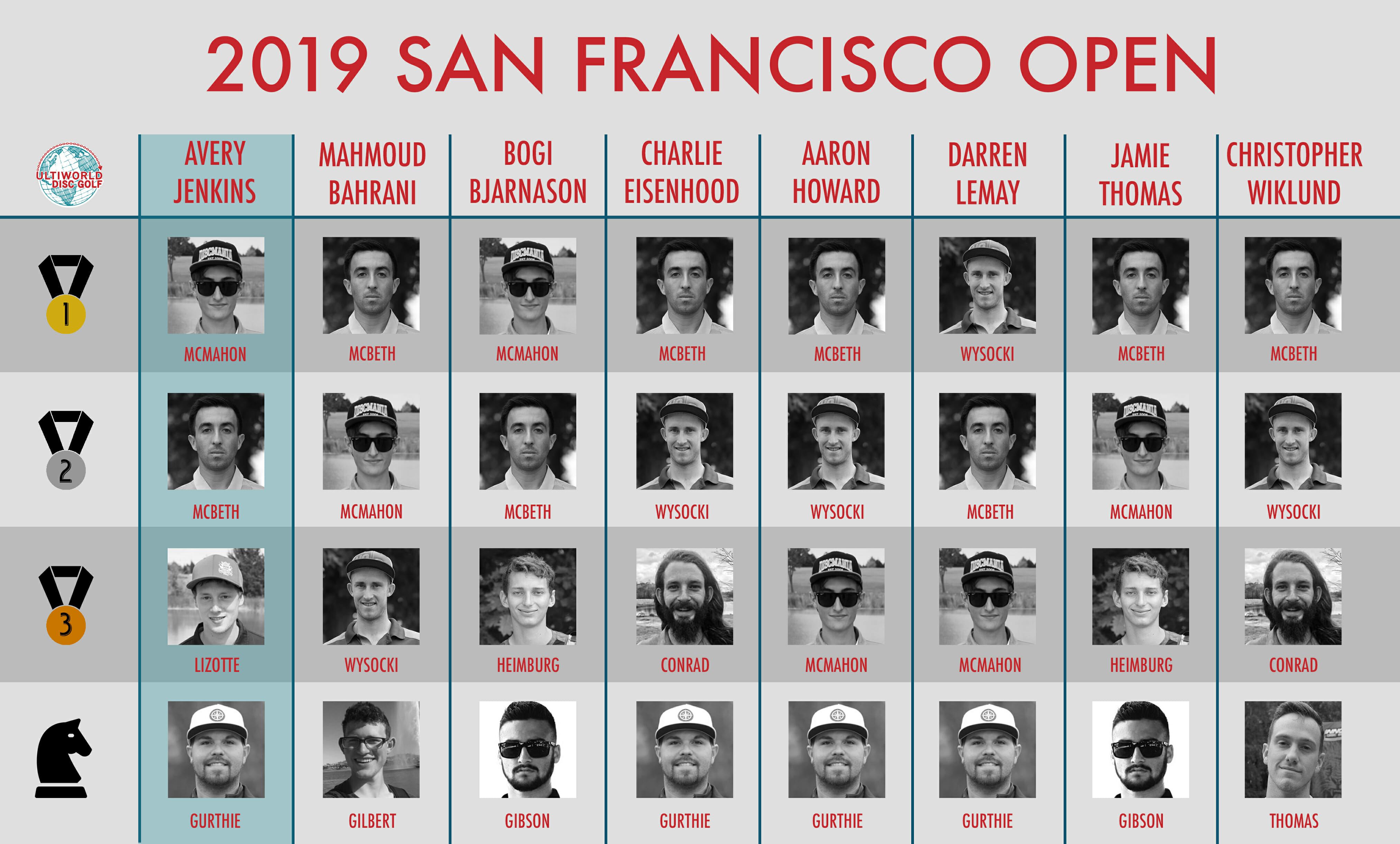 Rationale
The MPO side is looking a lot like the FPO picks when it comes to diversity near the top — it is low. Paul McBeth is on a tear, having won five of the last six tournaments he's entered, and finishing second in the other. Five pickers decided not to go against the hot hand and gave McBeth the win, and the remaining three still knew better than to put him no lower than second. McBeth is top five in the division in all major driving statistics on UDisc Live — fairway hits, parked, greens in regulation — and will use that to his advantage as the players navigate the massive Gleneagles course. Eagle McMahon, a late addition to the tournament field, made seven of eight podiums. Ricky Wysocki, who finished third last year and is still looking for a signature win of 2019, made five podiums and got one first place vote.
Only nine players were chosen across all picks, and they all have one thing in common. Everyone who received a vote can easily throw 500+ feet. Garrett Gurthie was a trendy DH pick, as was Drew Gibson. Both players had great showings in 2018 at this event, but have been inconsistent or injured this season. James Conrad has the skillset to mash down a fairway while also being able to access some of the trickier wooded greens around the property. He was two off the lead after round one last year before falling off the pace. It will be interesting to see how Calvin Heimburg attacks the course. He got a couple votes to finish third despite this being his first visit to San Francisco. To be fair, no one has played the property much.
We'll give another DH shoutout here for Ulitworld Disc Golf's own Jamie Thomas. We'll see if the lefty gets lucky and finishes in the cash.