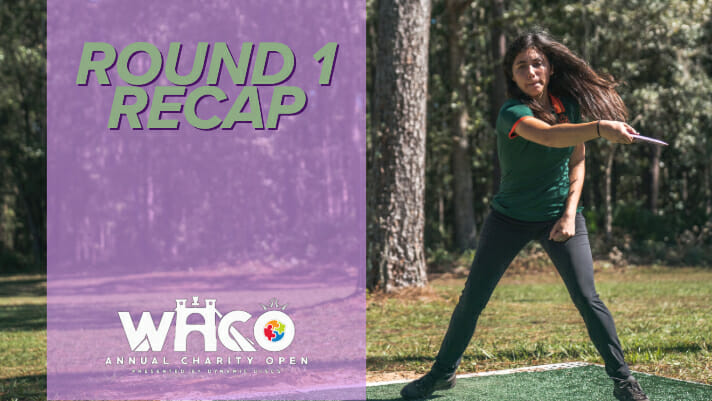 At some point or another, Brazos East, host course of the Waco Annual Charity Open, will get you. But even when the bEast does bite, it's still possible to tame.
Paige Bjerkaas and Catrina Allen stepped into the den ready to play and are the co-leaders after round one after shooting 3-under par 64s. Both women's rounds looked similar as they tied for the most birdies, at eight apiece, and kept the OB strokes to a minimum.
"I had a lot of birdies," Bjerkaas said after the round. "I had a lot of good drives that put me in great positions."
Bjerkaas was first in the division with a 72-percent Circle 2 in regulation rate; Allen was second at 67-percent. Mistakes were made as the leaders picked up a double bogey each, but both recovered well.
"Yeah, that sucked," said Bjerkaas of her double on the 303-foot par 3 hole 14. "I just knew that there were still a few birdies left on the course that I could take advantage of. I just worried about my next shot. I shook it off and moved on."
Bjerkaas birdied hole 15.
Sarah Hokom and Vanessa Van Dyken will round out Friday's lead card after carding a 1-under par 66 and even par 67, respectively.
Takeaways
The 3-under par 64s were two strokes better than any FPO opening round at WACO in 2018, but three strokes worse than the hot rounds shot last year by Hokom in round two and Paige Pierce in round three, coming in at 6-under par 61.

The par 5s, tournament hole 9 and hole 12, each played more than one stroke over par during round one. Neither eclipsed that mark last year.

Hole 11 proved to be a bruiser with no birdies recorded and 42-percent of the field playing it above par.

Briana Ainsley made the round one live card through fan voting and had a highlight 70-footer for birdie on hole 6. She finished the round at a division-best 88-percent putting percentage from Circle 1X.