Leaderboard still tightly bunched as field moves to Vista del Camino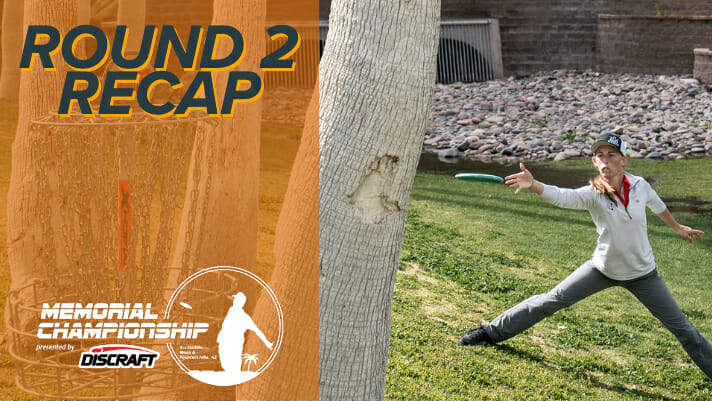 No player in the Open Women's field looked like they wanted to take control during the second round of the Memorial Championship. On the lead card, Jessica Weese was under par for the first half of her round, but the others were basically maintaining. Farther down the leaderboard, only a few blue box birdies were sprinkled in the sea of white and orange on UDisc Live.
Then Paige Pierce hit hole 8.
Pierce, playing from the chase card, wasn't doing herself any favors early, quickly going 4-over par through the first five holes. As she faced the turn, however, Pierce found her second gear and rattled off eight birdies to finish the round. The big highlights coming on back-to-back Circle 2 putts for birdie on holes 10 and 11.
"I think the rust is still a little bit there," Pierce said after the round. "But I threw the disc really well and just gave myself the opportunities."
With no bogeys through the final 13 holes, Pierce carded a 1000-rated, 4-under par 52 to move her into first place at 3-under par 109 total. Weese, Eveliina Salonen, and Missy Gannon all dropped from their share of the lead but remain on the top card. Weese and Salonen each shot ever par 56 and are tied for second at even par 112 total. Gannon was 1-over par 57 on Friday and is in fourth at 1-over par 113 total.
Takeaways
Two OB strokes on hole 7 — the shortest and fourth-easiest hole to par — kept Catrina Allen from coming in under par on the day. She did move up six places into a tie for fifth.
Rebecca Cox had five birdies, the second most of the round to Pierce, and jumped eight places into the top 10.
Pierce is leading the tournament in fairway hits, parked shots, birdies, Circle 2 putting percentage, and C1 and C2 in regulation.
---
The lead card of Pierce, Weese, Salonen, and Gannon tees off at 8 a.m. local time (10 a.m. Eastern) and will be streamed on the DGPT YouTube channel. Scores can be followed on UDisc Live and check Ultiworld Disc Golf's Instagram for updates.