Separation starts but top 10 still within seven strokes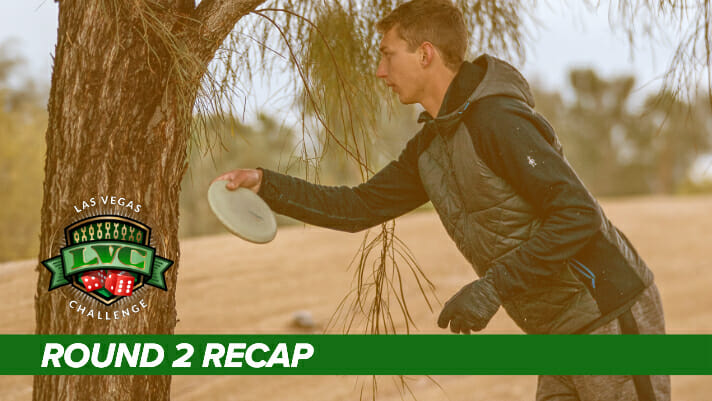 Ultiworld Disc Golf's coverage of the 2019 Las Vegas Challenge is presented by Innova Discs; all opinions are those of the authors. 
The field has started to open up after two days at the Las Vegas Challenge. Calvin Heimburg is ahead of the lot by four strokes and is in the driver's seat after shooting an 11-under par 50 second round at Wildhorse Golf Club. Heimburg tied his Innova teammate and captain Nate Sexton for the 1085-rated hot round of the day. Sexton moved up an insane 46 places into a tie for fourth with Joel Freeman at 18-under par 102 total. Heimburg is at 24-under par 96 total.
Austin Hannum is in sole possession of third at 19-under par 101 total following a 10-under par 51 showing on day two. He's made his living off the tee, and currently leads the event with a 36-percent parked rate. Josh Anthon had a relatively quiet day on chase card, but his 7-under par 54 was enough to move him into second at 20-under par 100 total.
This was the Open division's first crack at the Innova Course, and the more challenging track knocked some of the early leaders back down the earth. Anthony Barela, who was the leader after 18, shot a full 15 strokes worse than he did on the Infinite Course. He is still in contention thanks to his remarkable first round and is in a tie for sixth.
Takeaways
The average score for round one at the Infinite Course was 5.25-under par. The average score for round two, the first at the Innova Course, was 2.44-over par, almost a seven-stroke swing, due in part to winds picking up.

Only one player finished round two bogey-free. Atlanta's John Matlack had a 5-under par 56 and is in a tie for 41st at 10-under par 110 total.

Barry Schultz is loving the desert. He is hanging around in a five-way tie for 12th along with Eric Oakley, Paul McBeth, and Thomas Gilbert. Schultz is second at the event in birdie rate at 61-percent.

Of the 12 players to eagle

hole 7

, seven were parked within 10 feet. The hole kinda shapes up that way, being reachable but with hazards near the green. Still an impressive stat.

Sexton wasn't the only player to make a big jump into the top 10. Hannum moved 25 spots up to third, Andrew Presnell up 30 spots to sixth, and Cale Leiviska up 22 spots to sixth.
---
The lead card of Heimburg, Anthon, Hannum, and Sexton tees off at 1:32 p.m. local time. Jomez Pro will feature next day coverage, and live scores can be followed at UDisc Live.