Hokom moves in opposite direction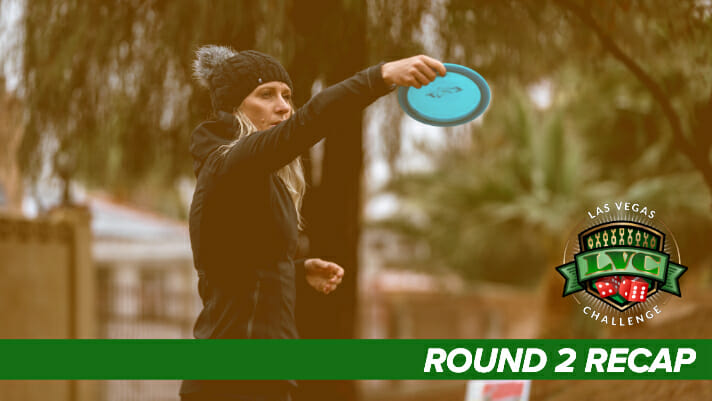 Ultiworld Disc Golf's coverage of the 2019 Las Vegas Challenge is presented by Innova Discs; all opinions are those of the authors. 
The Open Women's field knew the second round of the Las Vegas Challenge would play tougher with the move to the Innova Course, but add in a gusty day and scoring became a luxury.
Round one leader Sarah Hokom went from being bogey-free on Thursday to going birdie-free on Friday. Her 14-over par 75 round dropped Hokom to a tie for eighth with Callie McMoran at 8-over par 128 total.
Catrina Allen and Jessica Weese shared the hot round, a 994-rated, 1-over par 62, to move them into first and a tie for second respectively. Allen was the only player to not bogey on the back nine, and also had the fewest holes scoring over par with three. A double bogey for Allen on the 601-foot par 4 hole 9, the second easiest hole to par on the day, kept her from coming into the clubhouse with the only under par round. She is currently 2-under par 118 total.
Weese, on the other hand, benefited from hole 9 by way of a 250-foot throw-in for eagle. She led the field in fairway hits and Circle 1 and Circle 2 in regulation.
Paige Bjerkaas was again hampered by C1X putting but remains in second place with Weese at 1-under par 119 total. Eveliina Salonen moved up a spot to take over solo fourth at 3-over par 123 total.
Takeaways
Only three players — Catrina Allen, Jennifer Allen, Paige Pierce — birdied on the back nine, and all did so on hole 16. The Innova Course's back half also played tough during round two of the 2018 LVC, but opened up a bit for the final round when better weather moved in.

On a windy day, McMoran finished with 100-percent putting from C1X, including five in a row to end her round. She is currently first overall at the event for FPO in C1X putting at 73-percent.

Paige Pierce is still on the outside looking in, having dropped three spots to 14th. Eight OB strokes really hampered any momentum.
---
The lead card of Catrina Allen, Weese, Bjerkaas, and Salonen tees off at 8:04 a.m. local time. Jomez Pro will feature next day coverage, and live scores can be followed at UDisc Live.