Who are we missing? Who is in your top three?
Ultiworld Disc Golf's coverage of the 2019 Las Vegas Challenge is presented by Innova Discs; all opinions are those of the authors. 
And so it begins! The touring season proper. Break out your parkas, desert dwellers, it's going to be a cold one in Vegas. And breezy as per usual. How much of an impact will the elements have on our intrepid competitors? We hope they bring the heat.
Pickin' the podium remains the same as ever — who you got 1-2-3 — but we mixed it up the Dark Horse selection process a bit this year. If you're new to the game, the DH is a player we bet will perform better than their relative ranking in the tournament suggests they will; a strong outside candidate to crash the podium. Last year we used PDGA player ratings to determine Dark Horse status, this year we're utilizing our newly retooled Power Rankings. For the Las Vegas Challenge, we're asking who has the best odds outside of the top 8 in FPO and top 15 in MPO?
Charlie Eisenhood and Jamie Thomas made their picks on The Upshot, now the Ultiworld writers have their say.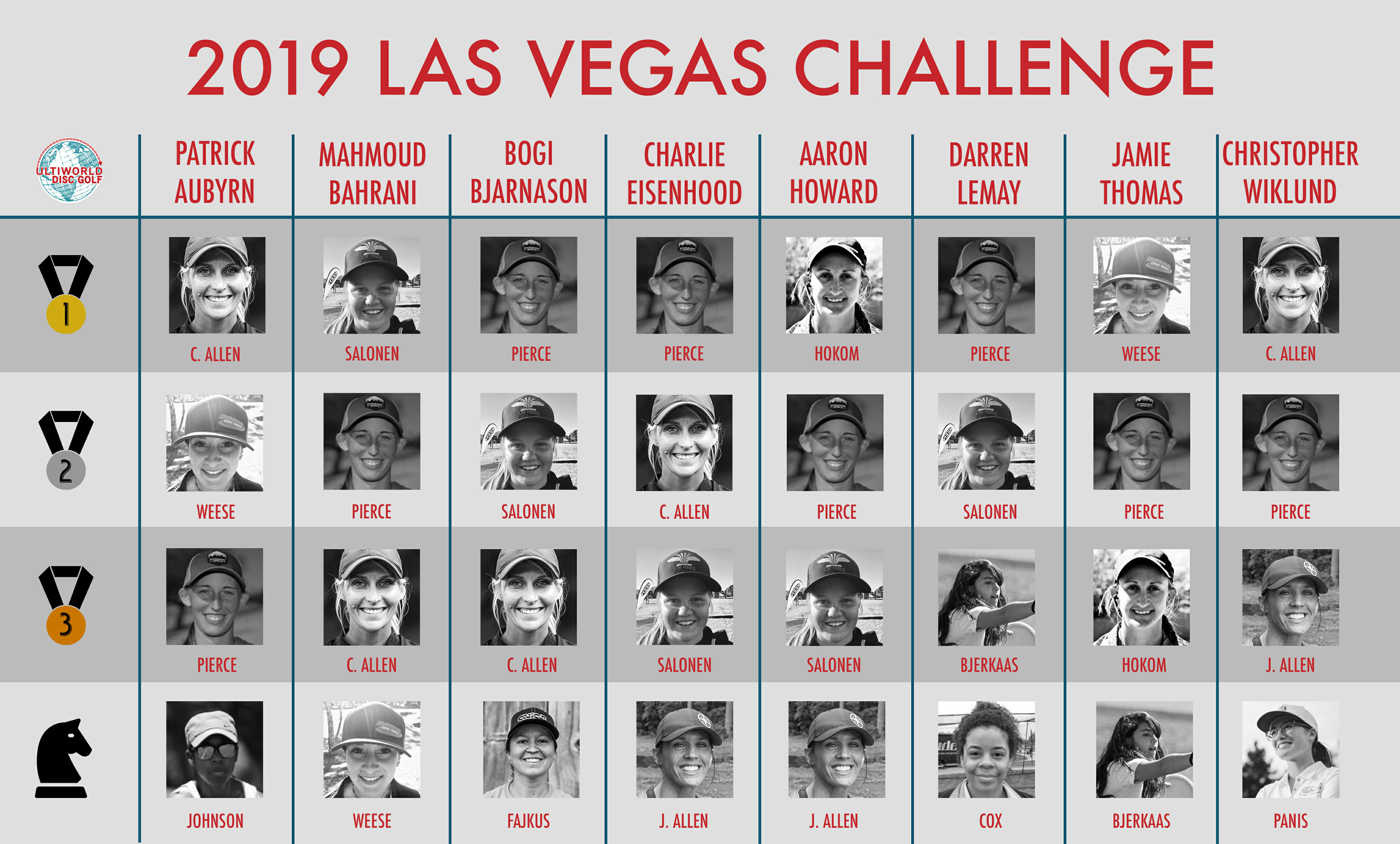 Rationale
With five different women chosen to take home the FPO title, we're starting the season with more parity in our picks than we saw in all of 2018. Paige Pierce is still the favorite to win and was the only player to make it on every picker's podium. Jessica Weese is getting some credit for her W at the Wintertime Open, but Sarah Hokom is not getting enough considering the year she is coming off. Does the sponsor change for Hokom scare our voters?
Catrina Allen played well in Pasadena last weekend, so we expect her to do the same in the desert where she is able to use every shot in her arsenal. When she came over to this event in 2017, Eveliina Salonen shook off a slow start for a respectable fourth place finish, and now she's a Major winner, which provides a whole new level of confidence. As for Jennifer Allen, we haven't gotten to see her play against a full field since last May, will it affect her game? And don't sleep on reigning world champ Paige Bjerkaas, although a lot of our writers certainly did.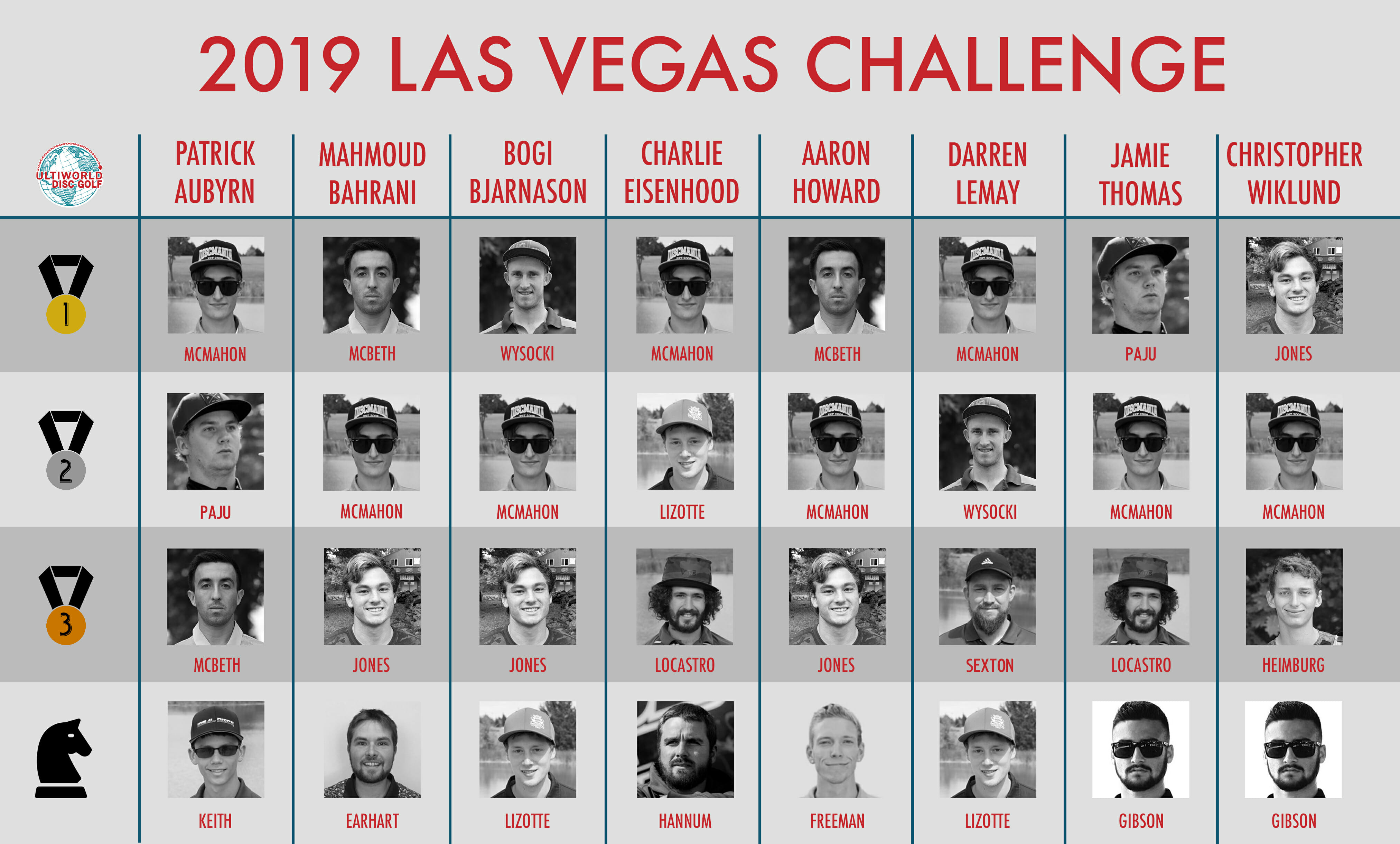 Rationale
Eagle McMahon for the repeat? He's got the power hyzer game to handle the wind and his acclimation to the Colorado cool temps should give him a leg up on the snowbirds. Or will Paul McBeth snag his first win in Vegas since 2015? Word on the street is that the PMB Kong (aka Discraft Destroyer) is in the bag this weekend. Was it the missing piece last weekend in Pasadena? Ricky Wysocki and Kevin Jones get the nod from one writer apiece to round out the trio of big name free agents that signed with new sponsors in 2019. On the other hand, Seppo Paju knows his bag inside and out and recently spent some time training in windy Málaga, Spain before hopping the pond. That Finnish blood should keep him plenty warm when the temperatures drop in the late afternoon.
Simon Lizotte a Dark Horse? His tepid end to 2018, which saw him playing sub-1010 golf on the regular, bumped him from the top 15 in the Ultiworld Disc Golf Power Rankings. So yeah, DH status. Adam Hammes won the Wintertime Open in true Wisconsin-boy form last weekend — wearing shorts in pants weather — but isn't on anyone's list. Will he prove us wrong and go back to back? Or will Austin Hannum avenge the cruel twist of fate that denied him the opportunity to putt for a playoff with the Wisconsinite? He's already finished second at three tournaments in 2019 and is averaging 1038-rated golf over his first nine rounds of the year. Don't count the Okie out.