A difficult 2018 season on the course has Koling looking ahead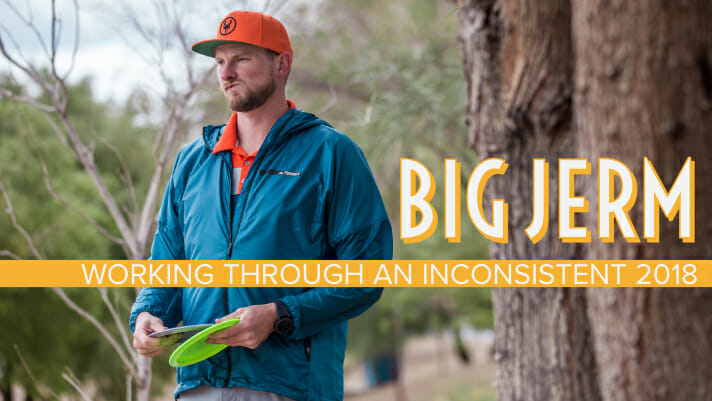 By all measures and predictions, 2018 should have been a monster year for Jeremy Koling as he became more familiar with his Innova plastic and discs.
Alas, Koling did not have the sort of year he expected on the course. His lone win came defending his 2017 title at the Waco Annual Charity Open, but aside from that early season victory, his year was underwhelming. Through the first week in December, Koling played 27 tournaments and has 13 top 10 finishes, but only three of those top 10s have been at Disc Golf Pro Tour, National Tour, or Major events. By comparison, in 2017, Koling played in 33 tournaments and placed in the top 10 in 21 events, including seven top 10 finishes at DGPT, NT, and Major events. Across the board, his 2017 uDisc Live stats are down compared to his 2018 stats.
While his tour series discs continue to sell, he's picked up a couple new sponsors, including Grip6 belts and Lenny Boy Brewing Company, and his commentary skills have markedly improved, the play has not been there. This begs the question, what gives?
---
Age could be one factor, Koling is officially in his mid-30s and has been touring for quite some time. Disc golf may not be the most physically demanding game to play, but the years on the road may have caught up to him mentally and physically. Meanwhile, the competitive field has gotten younger, deeper, and more talented.
"Take players like A.J. Risley and, especially, Zach Melton," Koling cited. "Players who, you never know how they'll develop, but [Melton] has been such a good 1015 player for so many years and you think they've plateaued. But nope, not Zach Melton.
"There are several players. Eric Oakley, another player who played so much better this season. The young kids coming to the game too. Obviously, you have Kevin Jones out there and Eagle [McMahon] who, we need to remind ourselves, is only 20 years old. It's amazing how tough the competition is becoming."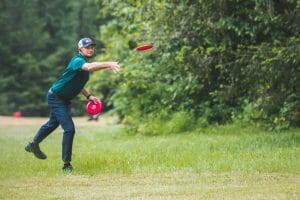 Looking at Koling's stat line this season the numbers tell the tale of a player who just wasn't able to play as consistently as he has in the past. He admits, this was not his year.
"This season, I definitely ran into the bogey blues and the double bogey blues," Koling said. "In the round, things were going exactly how I wanted to and then all of a sudden there was a hole where you wouldn't expect that something would happen and it was unexplainable. I have no idea how I would fall off like that."
In 2018, he averaged 20 spots worse when finishing outside the top 10 than he did in 2017. Last year, his average finish when he placed outside the top 10 was 13th place. In 2018, he averaged 33rd when falling outside the top 10.
Digger deeper, in 2017, Koling shot only one round over par: a 1-over during a very wet and stormy Idlewild Open. In 2018, he shot six rounds over par, with those rounds averaging out to 3.6 strokes above par. Only one of those over par rounds in 2018 featured any sort of inclement weather — the Jonesboro Open where temperatures were below freezing and a dusting of snow covered the ground.
During the tournaments where he did play well, his top 10 finishes in 2018 are averaging about half a stroke worse than in 2017. Round-by-round he is shooting, on average, one full stroke worse in 2018 than in 2017, even when he does finish in the top 10.
When Koling is on and feeling good, he has shown that he can still put together some dominant rounds, but consistency is clearly an issue. In events where Koling fell outside of the top 10 in both 2017 and 2018, his round-to-round scoring varies by around four strokes.
This year in his top 10 finishes, Koling's round-to-round scores are much more consistent, varying only by an average of a single stroke. His 2017 average round-to-round score swing was a surprising 3.12, implying that he was able to put together one real scorcher of a round that was enough to hold him over when he fell back to earth in the other rounds.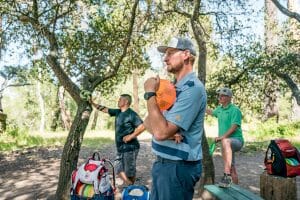 Revisiting his 2018 finishes outside the top 10 confirms something of the opposite hypothesis: Koling has been having major blow-up rounds and is unable to recover. Those big number rounds are killing his round average, but not on their own.
For Koling in 2018, as he observed, it has been the bogey and double bogey blues getting him down. In 2017, Koling had nine rounds shooting 10-under par or better, including events where he finished outside the top 10. In 2018, Koling has only had three rounds when he scored 10-under par or better. He only had 10 rounds where he scored worse than 5-under par in 20171. In 2018, he has 26 rounds worse than 5-under par.
Stat legend Aaron Howard put together this chart to illustrate the point: In 2017, the round-to-round scoring variance between his top 10 and not-top 10 finishes aren't that different, essentially showing that regardless of his finish, his game was consistent. His not-top 10 finishes could have been owed to some bad breaks, or just better competition. In 2018, the round-to-round variance between his not-top 10 finishes and his top 10 placings was significantly more drastic and indicative of something other than bad breaks and a strong field.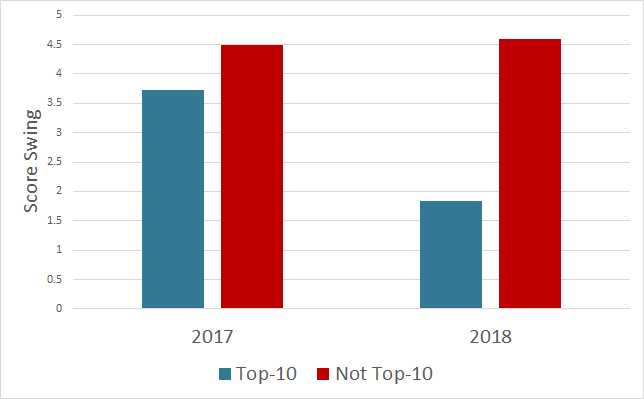 "You look at my rating it hasn't really dropped off, I'm still in the low 1020s," Koling explained. "I've been in the mid-1020s, and my best was 1033. I've never been super high-rated, I've just always been able to show up on a given weekend and average 1060 and win. It was just a matter of when it would happen. It only happened one time this season. I'm coming into the middle of November, I'm probably gonna play two more before the season is over, and even if I win it's the lowest win total of my career and it's tough because I'm ultra competitive."
Everyone is entitled to a bad season. It happens. On the other hand, Koling is right, his rating hasn't really dipped much at all, and in a deeper, stronger field, any mistakes are magnified. A double bogey in 2018 is going to be more punishing than a double bogey in 2008; remember, Eagle McMahon was only 10 in 2008.
"When you play against the world's best over and over again, staying mentally tough is so difficult, especially when you are continuously being beat down," Koling continued. "It's hard to handle. It challenges your perseverance and I felt challenged so many times this year. The one thing I always believe is there are peaks and valleys in the game of golf. It's a mental game and when you have a bad season it doesn't mean anything other than how well you can bounce back. And that's what makes a great player, how you respond when you're not playing great. My rating hasn't changed, the competition has just gotten so much better."
There are a couple of tournaments which serve as good examples for how when things go right for Koling, they go very right…and the opposite.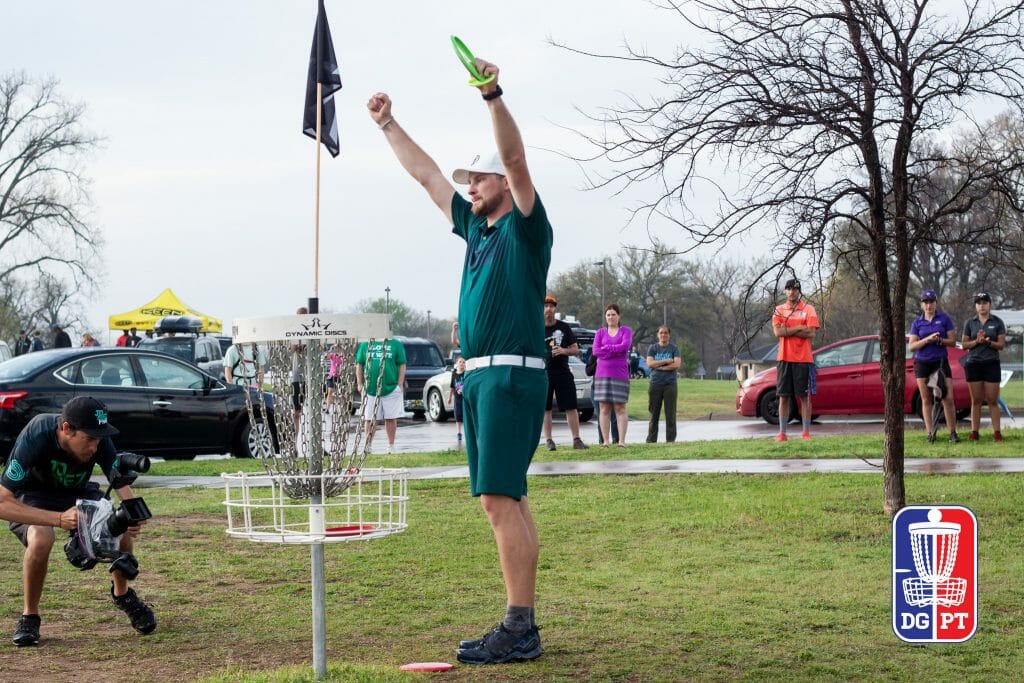 WACO
Koling won WACO in 2017, and was able to repeat this year, which seemed like a good sign for the rest of his season. The course at Brazos East is challenging and has some of the tightest, woodsy-est golf on tour, as well as some park-style holes we see more often on the West Coast portion of the tours.
In 2017, Koling was dialed-in. Take a look at his stats from that tournament on uDisc Live. Even though he only putted at 85-percent from inside Circle 1, he was so good in every other aspect of the game that he could afford those missed putts.
His 2018 showing was less impressive across-the-board, but clearly was enough to get the job done. A stellar 13-under par 54 during the second round, and two eagles in the final round which erased two early bogeys, helped him to a sudden death victory for the second straight year.
His first round set the tone for WACO both years. In 2017 he shot a 13-under with an eagle, and in 2018 he shot a 10-under with an eagle and two bogeys.
WACO was a bit of a tease, the sort of tournament we expected to see from Koling throughout 2018. He played an accurate game, made his putts, and won in a playoff against Nate Perkins, a testament to his veteran mental toughness and stick-to-it-ness.
Nick Hyde Memorial
The Nick Hyde Memorial is another Texas tournament and another event where Koling finished in the top 10 in both 2017 and 2018.
In 2017, the tournament was shortened to two rounds due to weather, but had the tournament been completed, Koling would have gone into the third round after shooting a very hot 12-under par 52. He was putting at 97-percent from C1 and had put together some strong scoring runs.
In 2018, Koling finished in sixth place, shooting a 9-under par 54 in the second round and a 10-under par 53 in the final round. His putting wasn't great, but he was landing in the fairway at a 78-percent rate and giving himself a look for birdie on most holes.
He opened both tournaments with good, but not great, 6- and 5-under par rounds respectively.
Utah Open
In 2017, Koling finished fourth, powered by an 8-under par 50 during the opening round. His second round, he shot a 4-under par 54, and in the final round, notched a 5-under par 53. As usual, Koling's putting wasn't great — 86-percent inside Circle 1 — but he racked up the second most birdies in the tournament. He also went OB 15 times yet scrambled well enough to limit the damage to a par save or single bogey on all but one hole.
In 2018, Koling finished in a tie for 16th. He stumbled out of the gate shooting a 3-under par 55. Koling went into the clubhouse after round two with a 2-under par 56. His final round got off to a truly disastrous start: two OB throws, missed twice from Circle 2, and two-putted inside the circle for a 4-over par snowman 8 to start the day. The rest of the round wasn't too bad by comparison, and he even aced hole 3, but the damage was done and he finished with a 3-under par 55.
2017 Green Mountain Championship, 2018 Pro Worlds
Obviously, Worlds is a different beast than a "regular" tournament, but serves as a good point of divergence between 2017 and 2018, with Koling finishing ninth at GMC and 32nd at Pro Worlds on (basically) the same courses.
At the 2017 Green Mountain Championship, which lasted on less round than Worlds, Koling opened action at Brewster Ridge with a 7-under par 53. He'd replicate that score with his second crack at Brewster in round three. In round two at Fox Run Meadows, he shot a very strong 11-under par 51. His final round was a bit underwhelming, shooting 5-under par 57, partly due to a double bogey on Fox Run's hole 4.
At 2018 Worlds, Koling was never able to shoot a round better than 6-under par, which he carded in round two at Fox Run, and round four at Brewster Ridge. He shot an even par 63 during the opening round at Fox Run. Again, it was the big numbers that killed him. Koling took two double bogeys in round one, and a triple bogey in round three. If those are just regular old single bogeys, Koling finishes in sole possession of 19th place at 26-under par.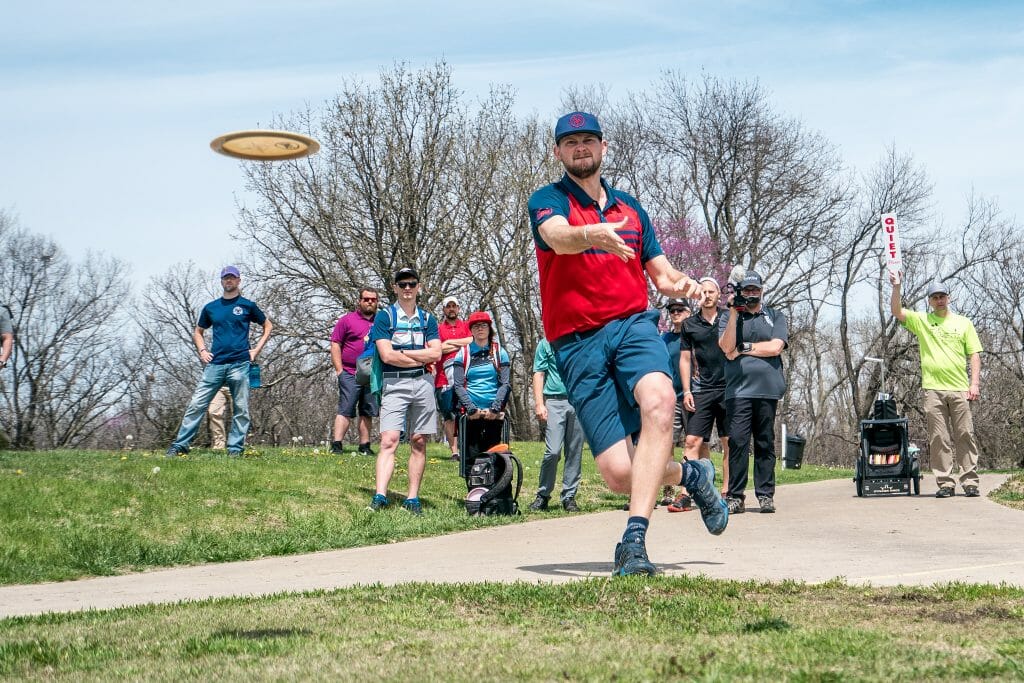 Takeaways
Strolling through the statistics reveals a couple of takeaways:
Koling places best when he is able to get out of the gate strong with a quality opening round. In his 2017 and 2018 top 10 finishes at NTs and DGPT events, he averaged 7.5-under par in the opening round.
Koling averages about 90-percent putting inside the circle according to uDisc Live, and there isn't much variation in those numbers when he is finishing well or poorly. At Beaver State Fling, Koling putted at 88-percent from inside 10 meters, and finished in a tie for 51st. At WACO, he putted at 86-percent inside the circle on the way to a win. Go figure.
Koling took some big numbers this season. Using the available uDisc Live statistics, Koling carded eight triple-or-worse bogeys, and 24 double bogeys. In 2017, during which uDisc was not as widely-used, he only had one hole where he scored 3-over par or worse, and had only 13 double bogeys.
Looking Ahead
Koling knows that 2018 wasn't his best year on the course, and as disc golf is an individual sport, he isn't about to make any excuses.
"For me as a player who has set out to achieve what I wanted to and more," Koling reflected. "I think it's important to set achievable goals, and the shoot for the stars ones, to stay motivated. For the first five years, I set those goals and it kept me going, and I wanted more. I think once I lost sight of that, maybe the drive to grind and fight was less strong, and so I think it's really important to really have a goal set to have the motivation.
"Turning my stats into the stats of when I was in the top 10 is achievable. My world ranking tanked, and I might have been top 10 to start, and now I'm in 34th. I'm blown away by how one season would do that but that's how the sport is. There are so many people out there doing the things I was doing earlier in my career and I have to find out if that's the type of player I am. I'm moving into the part of my life where I have to decide if that's who I am."
In the period following this interview, Koling has made it clear that he is approaching this offseason, and the 2019 touring season, with renewed focus. Those "pesky, motivated 20 year olds" that Koling talks about in interviews and on his Instagram may be driving Koling back to the gym, and back up the leaderboard and rankings.
Another wrinkle for 2019 will be the change in disc golf media, with the DGPT announcing it would bring most of its video production in-house. The change led to a severing of ties with Jomez Pro, Koling's commentary home. While there is a likelihood where we will still hear the Nate Sexton and Koling team at NT events, it will be interesting to see if Koling follows the Jomez film crew to other A-tiers instead of DGPT events to play and commentate. In the case that does happen, we'll have to wait and see how those decisions impact Koling's play and placings.
Regardless of anything else, the sport feels better off when Koling is playing well. Whatever the future holds, he will have left the game better than when he found it on the campus of Appalachian State.
---
5-under par chosen arbitrarily to set benchmark ↩