"Color me shocked"
The weeks-long rumor of Paul McBeth leaving his sponsor, Innova Champion Discs, came true and the internet obviously had some opinions.
Today would be a great day for me to drop some news and still stay under the radar. Too bad my game and DG life is boring, and I have no news to drop. Still throwin' Discraft.

— Andrew Fish (@Fish58320) October 31, 2018
Wishing Paul Mcbeth all the best in any of his future endeavors whatever they may be! The few times I got the opportunity to meet him he was always a standup guy and although it's sad to see him moving on from Innova I'm glad I got to see some of the mcbeast magic! #goodluckpaul

— Ted Drex (@Kushwizard420) October 31, 2018
@Paul_McBeth the question on everyone's mind… Discraft, Trilogy, or something cool we don't eveb know about?

— UnionBeer (@UnionBeer) October 31, 2018
Ima be honest I really thought the record coming out today was going to be the biggest news of the day for me, this Paul Mcbeth situation really throwing me for a loop

— Guy Woodhouse (@Guy_Whouse) October 31, 2018
OMG PAUL MCBETH IS LEAVING INNOVA THE SIMULATION REALLY CRASHING FIND YOUR LOVED ONES

— Guy Woodhouse (@Guy_Whouse) October 31, 2018
Holy shnikes @Paul_McBeth leaves @InnovaDiscs where will he land?!

— M a s o n (@Spacin_Mason) October 31, 2018
Paul mcbeth shaking up the disc golf community on Halloween. We will have to wait and see what company McBeast goes to! https://t.co/ErpIQVhVP1

— t r o y (@troyw1194) October 31, 2018
Everybody wanted the Reddit karma.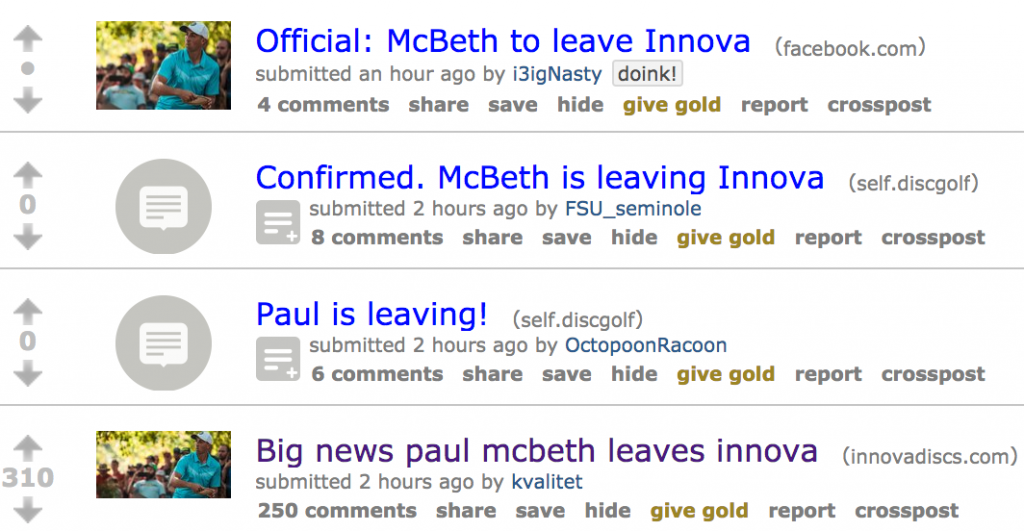 Retailers know the deal.
The internet rumors have been aBuzzz around Paul McBeth. Apparently they are true! Pick up some Paul McBeth stamped Innova discs before they are gone!… https://t.co/O7MjhG5dNb

— Marshall Street (@marshall_street) October 31, 2018
So it seems that the cat is out of the bag ?
-> Time to stock up on some McBeast discs while you still can ?

Find all of Paul's signature discs here:
FIN: https://t.co/axv2WlokmU
EU: https://t.co/e84DJVSOfh https://t.co/Lb4IOAdOGX

— InnovaStore (@InnovaStoreNet) October 31, 2018